Student Loan Forgiveness: Biden's New REPAYE Plan Doesn't Include Parent PLUS Borrowers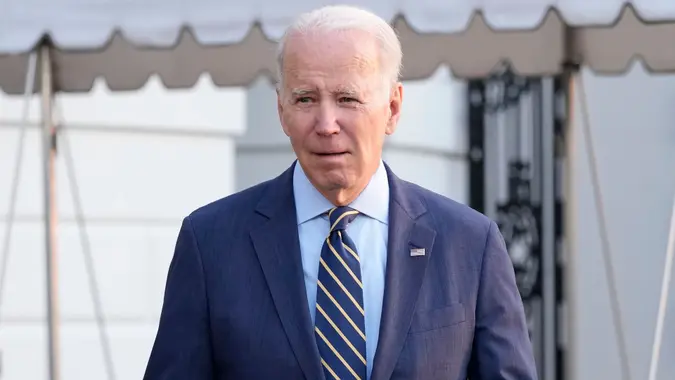 Susan Walsh / AP / Shutterstock.com
While millions of student loan borrowers are awaiting their fate — as the Supreme Court is set to hear cases in February surrounding President Biden's student loan relief program — the administration announced a proposal to reduce the cost of federal loan payments on Jan. 10. This new income-driven repayment (IDR) plan will benefit many American borrowers, but some, such as Parent PLUS borrowers, will not be included.
See: States Whose Economies Are Failing vs. States Whose Economies Are Thriving
Read: Get Your Credit Score On Track With These 3 Tips for Success
Find: 10 Things To Stop Buying in 2023
The administration said that the regulations will update the Revised Pay As You Earn (REPAYE) plan, with changes including $0 monthly payments for any individual borrower who makes less than ~$30,600 annually (and any borrower in a family of four who makes less than ~$62,400).
However, Parent PLUS loans — which currently cannot benefit from the REPAYE plan — will remain excluded, despite advocacy efforts. "There will be no changes to the longstanding treatment of Parent PLUS loan under income-driven plans," senior administration officials told Forbes.
ICR Payment Plan Available to Parent PLUS Borrowers (Under Certain Conditions)
The Department of Education explained on its website that the income-contingent repayment (ICR) plan is the only available IDR option for Parent PLUS loan borrowers — a "far more expensive income-driven repayment option," according to Forbes.
"Although PLUS loans made to parents can't be repaid under any of the income-driven repayment plans (including the ICR Plan), parent borrowers may consolidate their Direct PLUS Loans or Federal PLUS Loans into a Direct Consolidation Loan and then repay the new consolidation loan under the ICR Plan (though not under any other income-driven plan)," the Department of Education detailed.
Borrowers who use this option pay 20% of their discretionary income — or what they would pay on a repayment plan with a fixed payment over the course of 12 years, adjusted according to their income (whichever is lesser) — according to the Department of Education.
In comparison, under the current rules, borrowers on the REPAYE plan must make payments equal to 10% of their "discretionary" income — income in excess of a protected amount set at 150% of the federal poverty guidelines, according to a fact sheet. The proposed regulations would increase the amount of income protected from repayment to 225% of the federal poverty guidelines, also dropping the payment rate to 5% of discretionary income as newly determined.
Take Our Poll: Are You In Favor of More Inflation Relief in 2023?
More: Student Loan Payments Can Help Build Your Retirement Fund — Here's How
The exclusion of Parent PLUS loans from the new REPAYE plan is "denying many low-income parents the opportunity to break free of student debt in their lifetime," Abby Shafroth, director of the National Consumer Law Center's Student Loan Borrower Assistance Project, told the Washington Post. According to CNBC, 600,000 parents take out student loans for their children each year, up from around 450,000 in 2000, and the average outstanding Parent PLUS loan rests at approximately $30,000.
More From GOBankingRates