Student Loan Forgiveness: Republican Lawmakers Petition Supreme Court To Stop Biden's 'Political Gambit'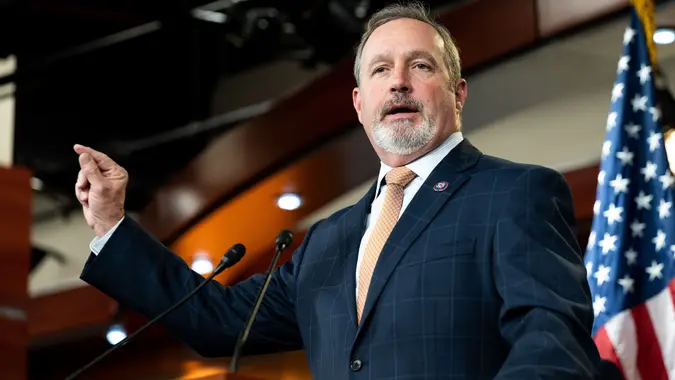 Michael Brochstein / SOPA Images / Shutterstock.com
A total of 128 House Republicans, as well as another 43 Senators, petitioned the Supreme Court on Feb. 3 to stop President Joe Biden's student loan forgiveness program. The Court is set to hear cases about the program on Feb. 28th.
Student Loans: Biden Administration Makes It Easier for Misled Students to Have Debt Erased
More: Will Ending the National COVID Emergency Affect Biden's Plan?
Education and the Workforce Committee Chairwoman Virginia Foxx (R-NC) and Representative Jeff Duncan (R-SC) led 126 House Republicans in filing an amicus brief to the Supreme Court of the United States in the upcoming case.
"The Biden administration's student loan bailout is a political gambit engineered by special interest groups; abusing the HEROES Act for such a ploy is shameful," said Foxx in a Feb. 3 press release. "Moreover, this administration is bypassing Congress, which is elected by the American people to protect their interests. Congress is the only body with the authority to enact sweeping and fundamental changes of this nature, and it is ludicrous for President Biden to assume he can simply bypass the will of the American people."
Biden's program uses the HEROES Act — enacted in the wake of the Sept. 11 attacks. It provides authority to grant relief from student loan requirements during specific periods, such as "a war, other military operation, or national emergency, such as the present COVID-19 pandemic," according to the Education Department.
Take Our Poll: Are You Concerned the US Debt Ceiling Issue Will Endanger Food Stamps/SNAP?
When the program was announced in August 2022, the Justice Department said in a brief of support of the program that the HEROES Act "authorizes the Secretary to address the financial hardship arising out of the COVID -19 pandemic by reducing or canceling the principal balances of student loans for a broad class of borrowers."
However, lawsuits against the program have been arguing that the HEROES Act does not allow the administration to implement the student loan program.
"The Program is thus an unconstitutional exercise of Congress's legislative power and must be vacated," according to the court documents. "In this country, we are not ruled by an all-powerful executive with a pen and a phone. Instead, we are ruled by a Constitution that provides for three distinct and independent branches of government," Judge Mark. T. Pittman, of the U.S. District Court for the Northern District of Texas, argued in his Nov. 10 decision.
In response, in January, the Departments of Education and Justice filed a legal brief with the Supreme Court, countering that argument.
Student Loans: You Might Qualify for Interest Deduction During Payment Pause
Explore: Will Student Loans Become More Expensive After the Fed Interest Rate Increase?
"We remain confident in our legal authority to adopt this program that will ensure the financial harms caused by the pandemic don't drive borrowers into delinquency and default," according to the Jan. 4 statement. We are unapologetically committed to helping borrowers recover from the pandemic and providing working families with the breathing room they need to prepare for student loan payments to resume. As previously announced, student loan payments and interests will remain paused until the Supreme Court resolves the case because it would be deeply unfair to ask borrowers to pay debt they wouldn't have to pay, were it not for meritless lawsuits."
More From GOBankingRates