Biden's Student Loan Forgiveness: 5 Takeaways From Supreme Court Hearing Day One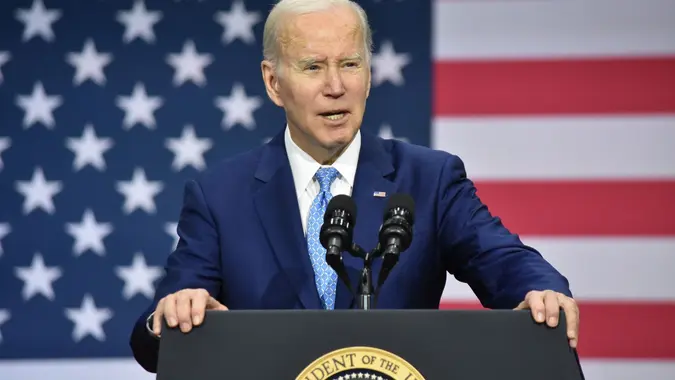 Kyle Mazza / NurPhoto / iStock.com
Feb. 28 marked the first day of the Supreme Court hearings on President Biden's student loan forgiveness program. Many borrowers are keeping a close eye on this court hearing, as they could potentially qualify to have up to $20,000 of student loans dismissed.
Student Loan Forgiveness: Biden's 'Fresh Start' Plan Deemed $34 Billion Success — How It Benefits Borrowers
Find: 3 Signs You're Serious About Raising Your Credit Score
One case was brought against the program by six Republican states: Arkansas, Iowa, Kansas, Missouri, Nebraska, and South Carolina. These states allege that the Biden administration does not have the legal authority to cancel billions of dollars of student loans. A second was filed by two borrowers who do not, either partially or fully, qualify for student loan forgiveness. Their case is based on the argument that their procedural rights were ignored because the public was not given the opportunity to provide their opinions and input on the forgiveness plan.
Take Our Poll: Do You Think Bankruptcy Is an Acceptable Way To Escape Student Loan Debt?
Here are 5 key takeaways from the first day of the Supreme Court hearings on student loan forgiveness:
Biden's administration argues that the plaintiffs do not have 'standing' for their cases: The Biden administration's main argument is that there is no basis for the cases brought by challengers of the loan forgiveness program. If they can prove this, then they can avoid arguing the merits of the cases altogether.
Another main argument hinges on presidential authority during a state of emergency: The Biden administration argues that the 2003 Heroes Act gives the Department of Education the authority to provide student loan forgiveness. This law grants the Secretary of Education authority, during national emergencies like the COVID-19 pandemic emergency declaration, to alter the federal student loan system.
Conservative justices seem skeptical: At times throughout the hearing, the six conservative justices of the Supreme Court seemed unconvinced of the Biden administration's arguments.
Justice Barrett may support Biden's argument of lack of standing: According to University of Texas law professor Steve Vladek, it seems possible that Justice Barrett might be a fourth vote agreeing that neither of the cases have sufficient standing in court. He tweeted: "It seems like Justice Barrett may well be a *fourth* vote to hold that neither the six red states nor the two private plaintiffs have standing to challenge the Biden student loan debt relief program. The multi-billion dollar question is whether there's a fifth. I'm skeptical."
Biden still needs to find a fifth vote: To prove lack of standing, the Biden administration is still challenged to find support among at least one more of the six conservative justices to get the majority ruling in their favor. At this time, there is no clear indication of which justice besides Justice Barrett would support this argument.
More From GOBankingRates