Student Loans: Does Your Medical Condition Qualify You for Latest $10 Billion in Approved Forgiveness?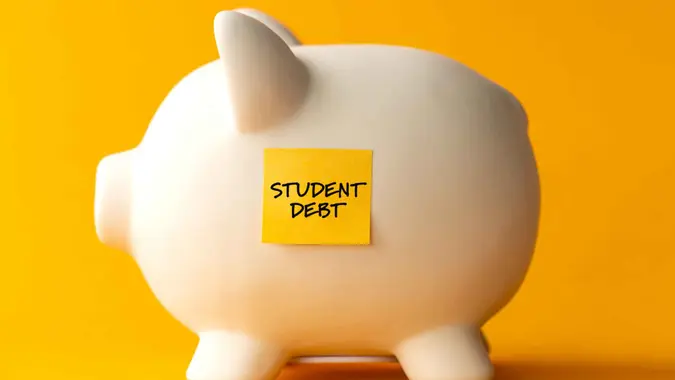 solidcolours / Getty Images/iStockphoto
Last month, the Biden-Harris administration officially launched the Saving on a Valuable Education (SAVE) plan, which aims to cancel more than $117 billion in student loan debt for 3.4 million Americans — and save many other borrowers $1,000 per year in payments.
Part of this relief is earmarked to cancel $10.5 billion in student loan debt for 491,000 borrowers who have a total and permanent disability (TPD). As of May 2023, around 492,000 borrowers have received loan forgiveness through a TPD discharge, according to the U.S. Department of Education's (ED's) Federal Student Aid site.
If you are permanently unable to work now and in the future due to a physical or mental disability, you may qualify to have your Direct Loans, Federal Family Education Loans (FFELs), Perkins loans and TEACH Grant service obligations canceled.
As the ED kicked off its "Week of Action" outreach campaign, student loan expert and attorney Adam Minsky broke down the TPD discharge program this week for Forbes. Minsky explained how more deserving Americans are receiving student loan forgiveness than before due to recent reforms instituted by President Biden.
"The TPD discharge program has been around for many years but has historically been mired in bureaucratic and administrative red tape," said Minsky. "The confusing requirements and long application process had often made it difficult for disabled borrowers to navigate, resulting in consistent rejections or reversals of disability determinations."
Among the reforms Minsky addressed were streamlining access to the TPD program through data sharing between the ED and the Social Security Administration (which will enable some borrowers to automatically qualify for the program without applying), a suspension of post-discharge income monitoring and the activation of new regulations building upon expired pandemic-era relief measures (including expanding the number of Social Security benefits recipients who can qualify for student loan forgiveness though the TPD program).
How To Qualify for a TPD Discharge?
To qualify for a TPD discharge on a federal student loan, you must meet one of the following three determinations:
Certification by the U.S. Department of Veterans Affairs (VA) determining that you are totally unemployable either due to a service-connected disability or based on an individual unemployability rating.
Eligibility for Social Security Disability Insurance or Supplemental Security Income benefits, with a review date of no less than five to seven years from the date of your most recent Social Security Administration (SSA) disability determination.
Certification from a physician that you are totally and permanently disabled, which means you are "unable to engage in any substantial gainful activity" because of a mental or physical impairment that can be expected to result in death; has lasted continuously for at least 60 months; or can be expected to last continuously for at least 60 months.
What Disabilities Qualify for Student Loan Forgiveness?
Any permanent physical or mental impairment that prevents you from working can qualify for student loan forgiveness. Borrowers have received TPD discharges due to stage IV or terminal cancer, chronic fibromyalgia, degenerative disc disease (severe back pain), major depression and bipolar disorder.
Less severe ailments — for example, attention-deficit hyperactivity disorder (ADHD) — are not typically qualifying conditions. However, if a doctor or the VA or SSA determines it causes a significant impairment, you might be qualified for TPD discharge. The SSA maintains a list of adult impairments, any of which could qualify you for disability discharge.
How Do I Apply for a Total and Permanent Disability (TPD) Discharge?
Unless you qualify automatically for a TPD discharge using personal information data listed in the SSA or VA system, there are four ways to apply for this disability discharge.
More From GOBankingRates