Joe Biden May Not Be Able to Prevent an Auto Strike: Here's How a Strike Could Impact Your Wallet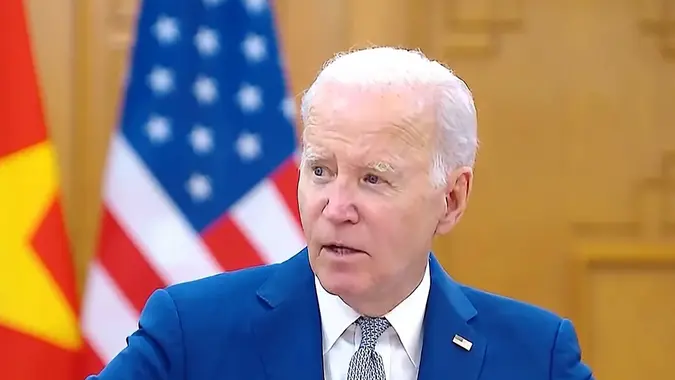 UPI/Shutterstock / UPI/Shutterstock
With just a few days remaining to stop a strike against the "Big Three" automakers — Ford, General Motors (GM) and Stellantis — negotiations seem at a stalemate. 
If there is no deal reached, more than 140,000 United Auto Workers (UAW) members could go on strike, triggering significant consequences for the economy and consumers.
"After refusing to bargain in good faith for the past six weeks, only after having federal labor board charges filed against them, GM has come to the table with an insulting proposal that doesn't come close to an equitable agreement for America's autoworkers," UAW President Shawn Fain said in a statement released following GM's Sept, 7 proposal. "GM either doesn't care or isn't listening when we say we need economic justice at GM by 11:59pm on September 14th. The clock is ticking. Stop wasting our members' time. Tick tock."
According to an analysis by consulting firm Anderson Economic Group (AEG), a strike on all three automakers by 143,000 United Auto Workers (UAW) members could result in a total economic loss of more than $5 billion after 10 full days.
Impact on Consumers
AEG also noted that while vehicle inventory was slowly trending upward to reach 162,000 units in June, it is still well below September 2019's 649,000 units. In turn, a strike could have negative effects for consumers as it could boost prices.
"Consumer and dealer losses are typically somewhat insulated in the event of a very short strike," Tyler Theile, vice president at AEG, said in the analysis. 
"However, with current inventories hovering around only 55 days, the industry looks different than it did in during the last UAW strike." She added that automakers now have "about one-fifth of the inventory that was on-hand in 2019, so a strike in current conditions would likely affect dealers and customers much sooner."
Make Your Money Work for You
Yet, as The Washington Post explained, a short strike wouldn't raise prices for most vehicles, partly "because there are plenty of non-UAW-produced vehicles on the market, including Teslas, Hondas, Toyotas and other brands."
It's a different story for some popular models that are already in relatively short supply, however, such as GM's Tahoe and Yukon SUVs.
Pat Ryan, chief executive of CoPilot, tols The Washington Post that these could become scarcer if a strike drags on, "which could end up costing consumers more if dealers charge more than the sticker price, according to a car-shopping app that tracks dealers' inventory and pricing."
"Selection is going to get worse, prices are going to get higher if there is a strike, but it's going to be focused on the most popular brands and models. It's not going to be everywhere," Ryan said.
More From GOBankingRates