What Happens If You Don't Repay Your Student Loans?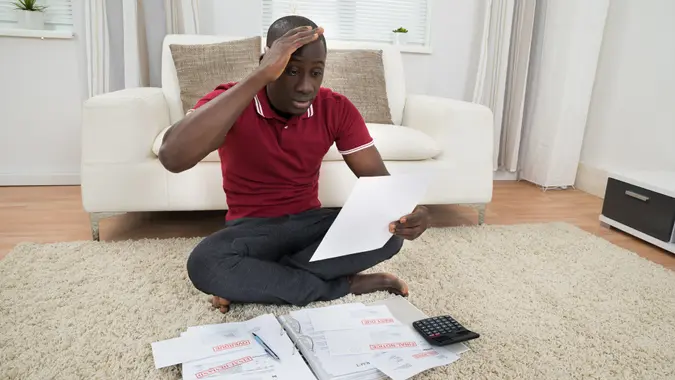 Andrey_Popov / Shutterstock.com
After a three-year payment pause, an estimated 27 million borrowers will resume repayments on their student loans in October.
While many borrowers are preparing to start making repayments again, some wonder whether they should boycott student debt payments altogether. Key findings from an Intelligent.com survey in August reveal that 62% of borrowers said they are likely to boycott federal loan payments. Half said they believe a boycott could lead to total debt forgiveness. 
The idea of a boycott being powerful enough to lead to mass student loan debt forgiveness is a pretty good daydream, but not likely to become a reality. Borrowers who make the choice not to pay back student loans face serious, long-lasting repercussions because of it.
Here's what happens if borrowers never repay their student loans.
Loans Enter Default
When borrowers aren't making consistent payments on their student loans, the loans will go into default. 
According to FAFSA, loans made under the William D. Ford Federal Direct Loan Program or the Federal Family Education Loan Program are considered to be in default if scheduled student loan payments are not made by the borrower for at least 270 days.
Detrimental Impact on Credit
Lamine Zarrad, CEO and founder of StellarFi, said a single late payment can harm your credit. Those who default on their loans or continue making late payments may see this behavior reflected in a lower credit score.
"A lower credit score not only affects the ability to obtain credit, but also impacts the terms of credit available," Zarrad said. "Borrowers with damaged credit may face higher interest rates and difficulty in being approved loans, resulting in additional financial strain."
None of this goes away or can be repaired overnight either. Zarrad said a negative credit history resulting from unpaid student loans can persist on a borrower's credit report for seven years. 
Inability To Achieve Financial Goals
In addition to credit obstacles, lingering student debt can be a roadblock to achieving financial goals. 
High monthly payments, Zarrad said, can make it challenging to save for a home or a car, two financial goals that require a substantial amount of money.
Struggling To Afford Emergency Expenses
What if a borrower decides to never repay loans and receives the bill for a sudden emergency expense like a car repair? If the borrower doesn't have an emergency fund to cover this bill, Zarrad said it can limit the ability to pay for unexpected expenses. 
More Repercussions
Other serious repercussions that could result from not repaying federal student loans include garnished wages and Social Security benefit reduction. 
FAFSA said your loan holder can order your employer to withhold up to 15% of your disposable pay to collect on your defaulted debt. This will continue until you resolve the default status or the defaulted loan has been paid in full.
According to CNBC, withholding on Social Security benefits generally happens after 425 days of delinquency has passed. If the borrower does not restart repayments, the withholding amount is either 15% of the total monthly benefit or the amount by which the benefit exceeds $750 per month.
More From GOBankingRates