Will Resuming Student Loan Payments Hurt the Economy? Here's What an Expert Says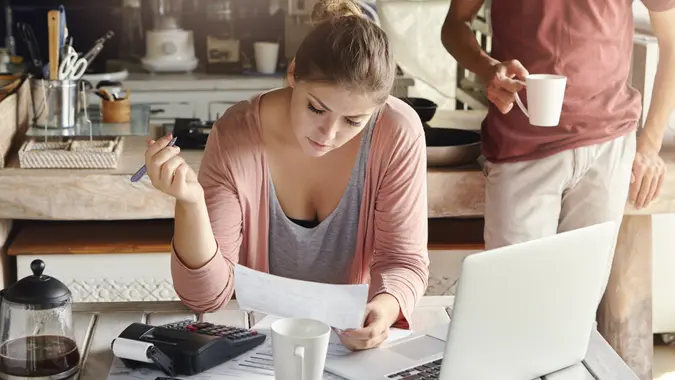 WAYHOME studio / Shutterstock.com
This October, an estimated 27 million borrowers will resume repayments on their student loans after a three-year payment pause. According to The Wall Street Journal, typical loan payments will be between $210 and $314 each month. This amount, per a Wells Fargo analysis, is the equivalent to a pay cut of about 4% to 5% off U.S. median household income before taxes. 
As households feel the financial pinch, it's likely the economy will feel it too. An estimate from Moody's Analytics states resuming student loan payments will pull $70 billion a year out of the economy. GOBankingRates surveyed 1,028 Americans in July 2023 to find out if they believe restarting student loan payments will negatively impact the economy. Nearly 57% of overall Americans think there will be a minor, or major, economic impact in 2023 and beyond.
Will the impact ahead be significantly negative or not? Here's what one expert has to say about whether resuming student loan payments will hurt the economy. 
It Will 'Be a Headwind' To Resume Payments Again
As borrowers add student loan payments back into their monthly recurring expenses and budget, Stan Milovancev — CPA and executive vice president at CBIZ Investment Advisory Services — said the addition "will be a headwind" to navigate again.
Borrowers, especially those who got used to a three-year break, will find it challenging to reallocate their once-available dollars toward loan payments instead of putting the money into savings or using it for discretionary spending. When payments resume, Milovancev said cash flow will be tight for the typical consumer. 
Discretionary 'Extras' Will Feel The Pinch
Over the last three years, borrowers suddenly had more money available every month during the payment pause. Because there were a few extra dollars, Milovancev said it became easy to step up fun discretionary spending on items and experiences borrowers would have previously skipped because of their loans. Some of these include the option to dine out at nice restaurants or eat out more often every month, buying better gifts during the holidays, joining a gym and replacing electronics sooner than normal. 
"It is in these controllable and discretionary parts of the economy where one would expect to feel the greatest impact," said Milovancev, adding that the discretionary extras will feel the pinch of resuming loan payments.
The pause in student loan payments, Milovancev said, made it easier to rationalize making these extra expenses. Borrowers might have had an internal conversation with themselves in which they were able to justify their spending, instead of saving the money, because the pause gave them the chance to do a few extras for their family and themselves. When the pause ended, the borrower would know they would just have to stop. 
Milovancev imagines an internal conversation noting the time during the pause was the "perfect chance" for borrowers to spend a little money to catch up or do things they really wanted and might not have the chance to do later. This conversation ends with acknowledging the pause can't last forever. "We will just adjust back whenever our payments resume."
More From GOBankingRates