Student Loans: 70% of Americans Believe Payments Will Hurt the Economy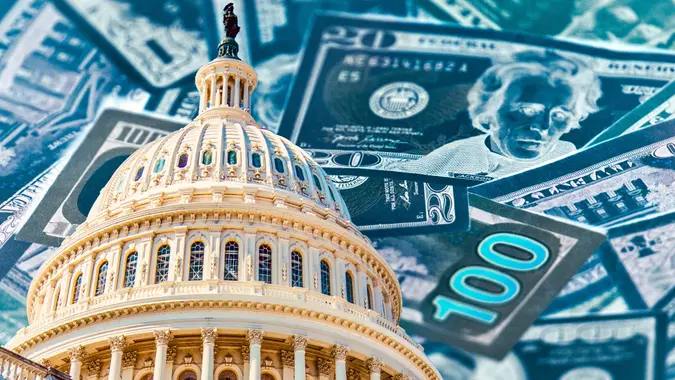 Douglas Rissing / iStock.com
Student loan repayments, which paused during the pandemic, are set to resume soon. While the resumption will have direct and immediate consequences for borrowers — the average monthly student loan payment is $503 — the economy at large might also take a hit.
Student loan interest will resume starting on Sept. 1, 2023, and payments will be due starting in October, the Department of Education said earlier in June, adding that it will notify borrowers "well before payments restart."
But already, a new study found that beyond the personal impact this will have on millions of borrowers, 70% of Americans believe it will also affect the U.S. economy, according to a survey by exchange-traded-funds (ETF) firm Global X.
"It is only natural for consumers to take into account their own budgetary concerns when contemplating the resumption of payments on a broader scale and realize that they may not be the only ones looking to reduce spending. When financial resources are allocated to one area, they are usually withdrawn from another," said Mayuranki De, thematic ETF research analyst at Global X. "This observation is closely linked to the expectation that the retail sector will bear the brunt of the impact."
Indeed, the survey found that 50% of borrowers believe the resumption will affect monthly spending, with 20% saying it will dramatically reduce all spending.
"The payment pause enabled many student loan borrowers to allocate their funds toward other pressing needs and increase their savings," said De." However, the results now indicate that borrowers are likely to curtail their spending on various discretionary categories, emphasizing the financial impact resumption of payments will have on consumers."
This thesis is further supported by the planned decrease in mandatory spending, which typically offers less flexibility, added De. Interestingly, borrowers also intend to reduce their expenditures on groceries and utilities by 32% and 23%, respectively.
"If these personal decisions weren't evidence enough, the [data] shows that sectors across almost all industries may suffer from limited spending as a result of the resumption–and even everyday consumers think so," she added.
According to survey respondents, retail, with 39%, will be the most impacted industry due to the resumption, followed by leisure and hospitality at 34%, and real estate at 28%.
In terms of where borrowers think they will cut spending once payments resume, 33% said it will be on dining out, the leading category within discretionary spending, followed by vacations at 29% and extracurricular activities/hobbies at 24%. In addition, 32% of borrowers will reduce spending on groceries, the leading category within mandatory spending, followed by cuts in utility usage at 23% and healthcare at 18%.
The money that was freed up during the pause allowed 27% of respondents to increase cash flow for immediate financial needs and 25% of respondents to reduce overall debt aside from student loans, the survey found.
As for non-borrowers, they might be affected by the resumption of the loan payments as well, as when consumer spending drops and businesses curtail production, the economy undergoes a slowdown and may eventually slide into a recession, said De.
"In the worst-case scenario, businesses face bankruptcy, resulting in widespread layoffs, while the government's tax revenue would decrease," added De.
De explained that in such circumstances, the economy would have to rely heavily on exports, assuming other countries sustain their consumer spending.
"Though it is likely the result of student loan payment resumption will not be this extreme, the crux of the matter is that even if consumers themselves do not possess loans, it doesn't render them immune to the effects of student loans and their impact on consumer spending," added De.
Finally, other key findings include the fact that although the average U.S. student loan debt per borrower stands at $37,338, 57% of respondents believe it is lower — a finding De deemed "surprising."
"There is already a widely held perception of the exorbitant cost of education," she said. "You would assume that respondents, cognizant of this fact, would take it into consideration when providing their answers. However, the data reveals that a staggering 57% of respondents actually underestimated the true magnitude of average U.S. student loan debt. This finding serves as a reminder of just how substantial the debt burden is for the average borrower."
More From GOBankingRates