Want to Work in the Media? Don't Overlook This City
You can find great media jobs outside of LA and NYC.
According to a GOBankingRates study, Chicago is one of the 10 best cities for communications majors.
Of all the cities analyzed, Chicago ranks eighth nationwide for the percentage of college graduates with a degree in communications.

Chicago trails only Los Angeles in this same category among cities that had 300,000 graduates or more in 2017.
Some people believe the liberal arts major is dying a slow, but certain death — and many students are forgoing majors such as English, history and philosophy in favor of higher-earning degrees in engineering, business or science.
But if a degree in, say, communications, is on your radar, there is hope: Some schools, such as the University of Illinois Urbana-Champaign and the University of Florida, have created new degree options that incorporate computer science into students' liberal arts education, providing them the technical grounding they might need upon entering the professional workforce.
And if you think communications majors aren't being hired, think again: A recent GOBankingRates study found the top places for the most popular college degrees. It turns out there are a number of major cities across the country where communications majors are finding work.
See the Full Study: Here Are the Top Places for the Most Popular College Degrees
Chicago Is One of the Best US Cities for Communications Majors
To determine the top cities for communications majors, GOBankingRates analyzed U.S. Census Bureau data of the most popular bachelor degrees in cities that had more than 50,000 college graduates enter the workforce in 2017. GOBankingRates then found the highest percentage of graduates with a communications degree based on the total amount of degrees for that city. Chicago placed within the top 10 of GOBankingRates' findings for communications majors. If you've recently graduated with a communications degree and are looking for work, Chicago might be one place where you'll find the most job opportunities.
See: Americans Are Finding More Job Opportunities in These 20 States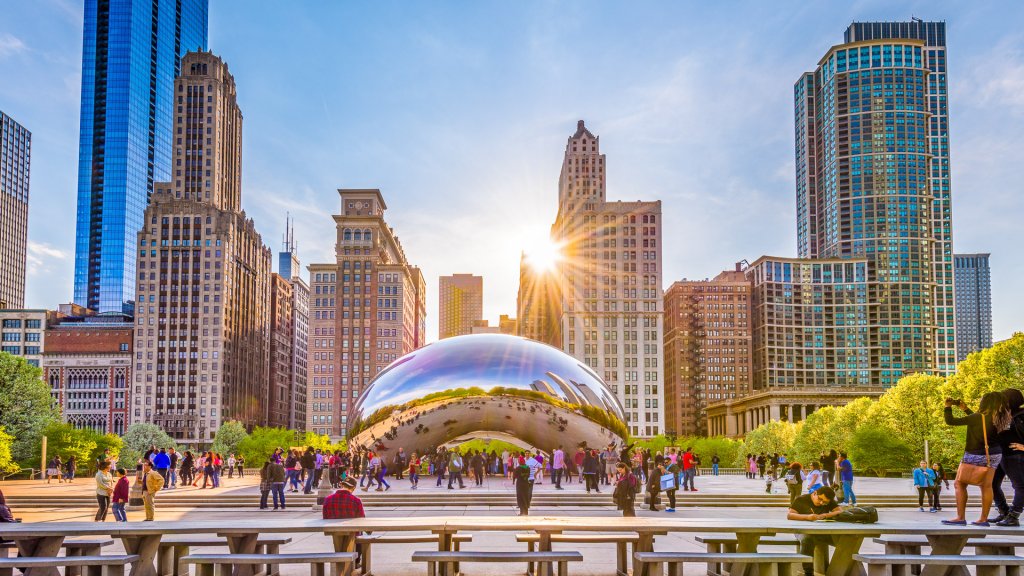 According to GOBankingRates' data, Chicago is the No. 8 most popular city for communications majors, with 6.6 percent of the city's total workforce having the degree. Of the cities that saw 300,000 or more graduates enter the workforce in 2017, Chicago ranks as the second-most popular city for communications majors, trailing only the entertainment capital of the world — Los Angeles — where 7.5 percent of the city's workers claim a degree in communications.
Both cities make for great options for communications majors seeking a job, and these numbers look even more impressive when compared with other major cities such as New York (4.9 percent) and San Francisco (4.2 percent), where communications majors do not represent a significant portion of the workforce.
Related: Forget Law, Tech and Medicine — These Majors Have the Best ROI
Average Salary for Communications Majors: Higher Than You Might Guess
As for pay, the average salary for communications majors varies, but they fall nowhere near the impoverished levels that some skeptics might have you believe.
Communications majors with less than five years of experience earned an average of $44,300, according to salary comparison site PayScale, and graduates with 10 years of experience or more earned an average of $77,500.
Those numbers are right in line with data from online employment marketplace ZipRecruiter, whose data shows that the average communications major in Chicago earns $63,796 a year. For communications majors seeking a fair salary, Chicago appears to offer that.
Check Out: 20 College Majors That Take the Longest to Pay Back
Chicago Offers a Number of Opportunities for Communications Majors
Communications is a versatile degree, and graduates who walk away with one can seek a job in advertising, public relations and human resources at the many corporations located in Chicago's downtown, including Kraft Heinz, Deloitte and Morgan Stanley. If the corporate life isn't your thing, check out some of the city's universities, such as the University of Chicago, which are always searching for job applicants with excellent communication skills for a variety of positions.
But for communications graduates seeking a job in media — a popular option — Chicago is home to a number of well-known media organizations. Job seekers can look to media outlets like the Chicago Tribune, Chicago Sun-Times, WGN Radio and WGN-TV for internships or full-time opportunities. Popular online publications such as Pitchfork and The Onion are also based in Chicago.
Also See: Best and Worst States If You're Unemployed — and Want a Job
Regardless of which field you choose to enter, the more you research Chicago, the easier it is to see why the city is one of the top places for communications majors across the nation.
Keep reading to see 10 six-figure jobs that don't require a four-year degree.
More on Careers
We make money easy. Get weekly email updates, including expert advice to help you Live Richer™.