62% of Minority Business Owners Are Feeling Burned Out, Survey Finds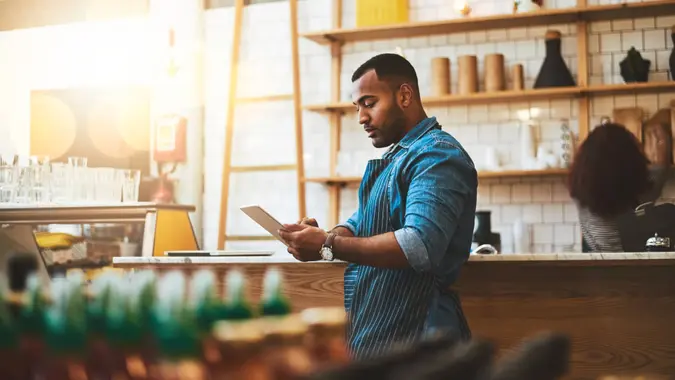 PeopleImages / Getty Images
Being a small-business owner is always stressful, but the past couple of years have been even more challenging than usual. Many businesses closed their doors — temporarily and, in some cases, permanently — during pandemic lockdowns, and once things were back up and running, many small businesses have dealt with staffing issues amid the Great Resignation and supply chain issues that have made it more costly to keep their businesses afloat.
See: 22 Side Gigs That Can Make You Richer Than a Full-Time Job
Tips: How To Get Rich With a Normal Job
Amid so much turmoil, it's no wonder so many small-business owners are feeling burned out. But a recent Capital One Business survey found that some small-business owners have been faring worse than others.
Minority Business Owners Are More Likely To Report Feeling Burned Out
Overall, 42% of small-business owners are currently experiencing burnout or have experienced it within the past month, the Capital One survey found. However, 62% of minority-owned business owners reported the same experience.
Make Your Money Work Better for You
"From my conversations with small-business owners, I am aware of the unique hardships that small businesses have faced during the past two years and that many still face a challenging road to recovery," said Jenn Flynn, head of small business bank at Capital One. "The COVID-19 pandemic has been unsettling for the broader small business community, and the acute impact to minority-owned businesses has been especially troubling."
Flynn notes that the COVID-19 pandemic has worsened the already-existing disparities between the financial assistance available to minority and non-minority small-business owners.
"Minority business owners have long faced a disproportionate number of challenges, namely lack of access to capital and unmet credit needs, and these obstacles have only been exacerbated by the pandemic," she said. "The combination of these preexisting inequities and pandemic-related concerns like rising inflation, staffing challenges and supply chain disruptions are likely contributing to the disproportionate rate at which minority-owned businesses are experiencing burnout."
Make Your Money Work Better for You
Another factor could be the demands that minority business owners face outside of the workplace.
"A Capital One Business survey from this summer found that, when compared with their non-Black counterparts (39%), Black business owners (61%) are far likelier to have taken a public stance on a social issue. Balancing the daily demands of running a business and using their platform to speak out on behalf of their community in light of recent social and racial justice movements could also contribute to higher levels of burnout," Flynn said.
Make It a Goal: How To Achieve Better Work-Life Balance
Nearly One-Quarter of Minority Small-Business Owners Face Constant Mental Exhaustion
The survey also found that 23% of minority-owned business owners have experienced constant mental exhaustion over the past year due to the stress of running their business.
"Many small-business owners are struggling to step away from work during the pandemic," Flynn said. "More than half of business owners cite that they have not taken a vacation in the past year. Many report feeling run down and mentally exhausted, with a third admitting they have been unable to get a proper night's sleep since the pandemic started."
Make Your Money Work Better for You
To battle this mental exhaustion, it's imperative that small-business owners take much-needed breaks and place a larger focus on work-life balance.
"Business owners can take small steps to recharge," Flynn said. "Promoting self-care, taking time off (even if brief), engaging in physical activity and practicing mindfulness will do wonders in the long run. Our survey shows that business owners are making self-care a priority, with 57% committing to new resolutions and a commitment to well-being in the year ahead."
As consumers, we can make an effort to support minority-owned small businesses to help ease some of the stress.
"The best way to support and strengthen minority-owned businesses is to divert more purchasing power to these businesses year-round," Flynn said.
Read More: How a Side Hustle Can Help You Achieve Your Financial Goals
Despite Hardships, Minority Business Owners Remain Optimistic
The Capital One survey found that minority business owners have a generally positive outlook for 2022 — even more so than the overall population of small-business owners.
"While minority business owners have experienced higher levels of exhaustion and burnout, they have also reported greater optimism than any other group of business owners, according to our survey," Flynn said. "In fact, 75% of minority business owners expect their work-life balance to improve in the first half of 2022, and 78% expect business conditions in their area to improve this year. Those higher levels of optimism — compared with the general population of business owners at 52% and 63% respectively — are a testament to the resilience and ingenuity of this community."
More From GOBankingRates
Make Your Money Work Better for You