Halo Top's President Shares How His Company Survived the 'Dark Years' and Took Over the Ice Cream Industry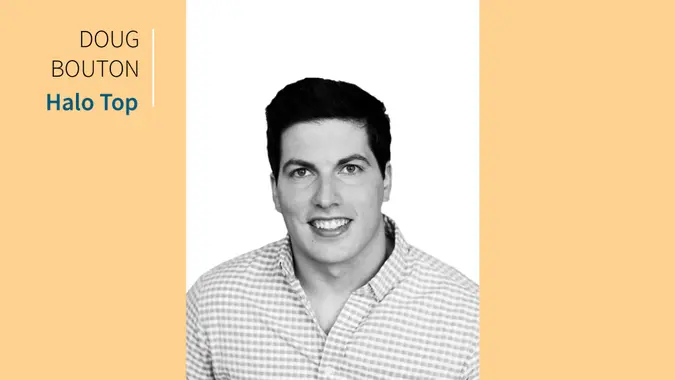 Halo Top ice cream launched its all-natural low-calorie treat in 2012 — by 2017, it had surpassed mainstay brands like Ben & Jerry's and Häagen-Dazs to become the best-selling pint of ice cream in America, according to Business Wire. The startup's president and chief operating officer Doug Bouton left a six-figure job as a corporate lawyer to help launch the company with founder Justin Woolverton — even though Bouton didn't have experience in the food and beverage industry. The gamble paid off, as the brand now tops $350 million in annual sales, according to LinkedIn.
In this installment of our "Best in Business" series, which sets out to discover what makes the people behind top innovative companies tick, Bouton told us what it was like to bet everything on such a risky venture, what kinds of questions everyone who wants to start a business should ask themselves — and how you can find (or build) your dream job.
What were your biggest fears about starting your own company? 
I think the thing that's always in the back of your mind is, "What if this doesn't work?" We didn't have a backup plan, so there's always that nagging feeling of, "What happens if Halo Top fails?" And when success doesn't come immediately, that voice inside your head can get louder and louder. Of course you do everything you can to silence it, but it's there. 
Related: Doing Something That Scares You Could Help You Build Your Wealth
Did any previous jobs inspire you to run Halo Top the way you do?
Critical thinking is integral to what we're trying to build at Halo Top. Always asking "why" — why are we doing this and not that? Why are we spending money here and not here? Question everything — even, or especially, conventional wisdom. Never accept "because that's what other companies do" or "because that's what has been done before" as reasons for doing something. 
Make Your Money Work Better for You
The thing [Justin Woolverton and I] struggled with the most at our prior jobs was probably the inherent inefficiencies of corporate bureaucracies. So our corporate "culture" — as much as I don't like that word — is decidedly and deliberately "anti-corporate" in the sense that we try to avoid inefficient corporate formalities, cookie-cutter corporate speak and things like that. 
Who do you lean on most? 
First and foremost, my business partner, Justin Woolverton. Misery loves company, and it really helped having a business partner to get through what we call the "dark" years — the early years where the company struggled to survive. Also my parents and now wife personally helped me have the courage to take the leap and quit a cushy law firm job, and also tough it out through the hard times. 
What advice would you give to someone who wants to start their own business?
First, make sure that you are supremely confident in your idea or concept. That confidence will sustain you through the hard times. Second, the hardest part is taking the leap and betting on yourself when there are no guarantees that it'll work out. But do it — there's nothing more fulfilling in the face of extremely long odds. 
See: 30 Places Where Small Businesses Are Thriving
When did you realize Halo Top was going to succeed?
For us, it came in early 2016 after the company got two big unsolicited PR pieces. Month-over-month, sales doubled — then doubled again, then doubled again — to the point where we were selling more in a month than we had sold the entirety of the prior year. It was very surreal as it was happening, but that four- to five-month period was when we knew that the company would be a hit. 
Make Your Money Work Better for You
How do you define success?
From the outside looking in, most people would base success on whether the company has "made it" — but I don't think that's the right way to define it. Halo Top, or any company, "making it" depends on a host of factors outside of your control, like the unsolicited PR pieces mentioned above. You can be the hardest worker, the smartest worker, with the best idea ever — an idea better than Halo Top — and still not make it because you didn't get any lucky breaks. So success to me is about controlling what you can control: You can control how hard you work, you can control the risks you take, you can control betting on yourself in the face of the longest odds. And if you do that, if you out-work everyone else, if you bet on you when virtually every start-up company fails — or, as the cliché goes, if you give it your best shot — then that's success in and of itself, regardless of the result. 
More on Entrepreneurship
We make money easy. Get weekly email updates, including expert advice to help you Live Richer™.