Best in Business: 9 Questions With Sugarfina Co-Founder Rosie O'Neill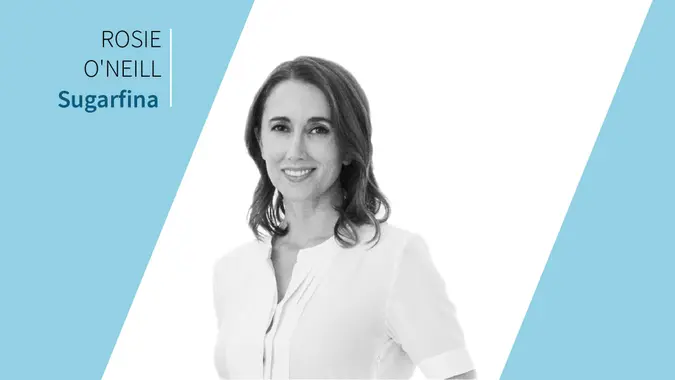 A date to see "Willy Wonka and the Chocolate Factory" led Rosie O'Neill and Josh Resnick to come up with the idea for Sugarfina candy, the "ultimate candy boutique for grown-ups" and one of Fast Company's most innovative retailers. CNN reports that in Sugarfina's first year, the company generated nearly $1 million in sales. Since then, sales have climbed to $40 million, according to Business Insider, and Sugarfina's champagne gummy bears and other sophisticated treats have taken Instagram (and the world) by storm.
In this installment of GOBankingRates' "Best in Business" series, which sets out to discover what makes the people behind top innovative companies tick, O'Neill reveals how her "hobby business" grew so rapidly, what it's like to run a company with someone you love — and how you can find (or build) your dream job, too.
When did you know you had to start this company?
I've always had a huge sweet tooth, so when Josh invited me to see the original "Willy Wonka and the Chocolate Factory" on our third date, I was smitten. After seeing the movie, we started chatting about our shared love of candy and wondered, "Why isn't there a candy store for grown-ups?" Nothing like that existed, so we started brainstorming ideas for our dream candy store… and that little idea eventually turned into Sugarfina.
What were your biggest fears about launching your own business?
We launched the company thinking it was going to be a hobby business, so we weren't putting too much pressure on ourselves. We were both surprised by how quickly it took off — something that was supposed to be a casual weekend project suddenly became a 100-hour-a-week madhouse that took over our lives… but in a good way.
Make Your Money Work Better for You
Related: How I Turned a Hobby Into a Side Hustle
What was the most surprising thing about the process?
We weren't sure if people were going to like or even understand the concept of a grown-up candy store. Most people are used to getting cheap candy from the grocery store, or shoveling it from a bin into a plastic bag. Candy was almost never given as a gift. Were people willing to pay more for high-quality, beautifully packaged candy? Would they give candy as a gift?
We thought we would have to do a lot of education around why our candy is different and special, but people understood the concept right away. In the first few years, our growth came primarily through word of mouth. People were discovering the brand and really connecting with it, and they wanted to share it with their friends and family.
What was the hardest part?
Getting it done! Anyone can have a great idea, but to have a successful company, you have to get so many things right along the way. In the early days, it was just Josh and I running the business and we did every single job, from packing and shipping orders to designing the website to customer service. If we didn't know how to do it, we taught ourselves and just figured it out. You have to be really scrappy, and fortunately we both love the challenge of diving into the unknown and stretching ourselves to learn new skills.
Make Your Money Work Better for You
Did any previous jobs inspire you to run Sugarfina the way you do?
My prior role at Mattel was an incredible education in product development and brand-building. I learned everything about the product development process, and how to take an idea and make it into a finished product. And the experience of working on an iconic brand like Barbie helped me understand how important it is to build a strong, identifiable brand, and that creating a brand isn't just about creating a product — it's about stirring up emotions and connecting with people on a much deeper level. That's my filter for everything — not just "How does it taste?" or "How does it look?," but "How does it make you feel?"
I've also worked at several big companies and I've seen first-hand how bureaucracy and having too many management layers can prevent great ideas from coming to life. We strive to have a risk-friendly, nimble culture where crazy ideas are encouraged and decisions are made quickly, even as our company gets bigger.
Related: 25 Best Business Partner Duos of All Time
Who are the people you lean on most?
My co-founder and fiancé Josh is my biggest inspiration. He's one of those people who isn't afraid of anything. He's crazy smart, an amazing leader — and always positive and uplifting.  Being around him makes me the best version of myself, and I couldn't do this without him.
Make Your Money Work Better for You
What advice would you give to someone who wants to start their own business?
It's so important to be differentiated in the market, to stand out and have a true opinion and point of view. Any industry can be disrupted — just look at all of the exciting things happening in mattresses, luggage, socks and underwear… categories that were never viewed as interesting. The thing that unites these disruptive companies is that they're bold, they challenge the status quo and they invite customers to join the movement. It's an exciting time for brands who aren't afraid to be radically different.
When did you realize Sugarfina was going to make it?
One of the customers from our Pasadena boutique called us to ask if she could get married in our store. For me, that's one of my favorite moments in Sugarfina's history, that someone would want to share one of their most important life events with us.
How do you define success?
Success is when you find happiness with yourself and accept your own flaws and limitations. Like many people, I used to strive for perfection, but "perfect" is an unreachable goal. When you realize that and let go, and start to celebrate and appreciate the current moment, that's when you'll truly feel successful.
Make Your Money Work Better for You
More on Entrepreneurship
We make money easy. Get weekly email updates, including expert advice to help you Live Richer™.