Big Names Committed To Saving Small Businesses in the Pandemic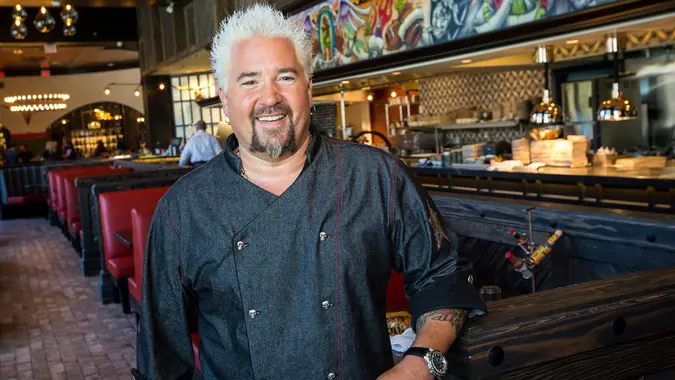 ©MediaPunch/REX/Shutterstock
When the pandemic hit, big-name people with big wallets came to the rescue of small businesses everywhere — and they surely needed the help. While Amazon, UPS and Walmart shareholders raked in the cash as corporate stocks soared, the owners of your local mom-and-pop shops stayed up late fretting about bills that were simply never going to be paid.  
2021 Small Business Spotlight: Check Out Our Small Business Stories, Plus the Nominated Businesses Near You
See: This Is the Living Wage You Need in All 50 States 
Some big wigs stepped up for nurses and other healthcare workers. Others came through for front-line workers like grocery store employees and delivery drivers. But others focused their clout and cash on the entrepreneurs who didn't have access to mountains of capital to see them through a disaster the way Jeff Bezos and company did. Some were household names from TV, the movies and sports. Others were celebrities only in their own small circles of elite and wealthy investors and financiers. Either way, their efforts helped countless small businesses make payroll, move inventory and keep doing what they had always done — survive.  
Make Your Money Work Better for You
Stephen Colbert
"The Late Show" host Stephen Colbert used his enormous platform to launch #ColbertSmallBizBump. The hashtag gave fans the opportunity to nominate a struggling small business that they believed was worthy of being featured on the show. It was much more than your standard shout-out. Take, for example, Foggy Pine Books in Boone, N.C., which Colbert featured shortly after the Super Bowl on Feb. 7. By mid-March, business had tripled and Foggy Pine had hired five new employees. 
Find Out: Who Made the List of the Richest Talk Show Hosts?
Guy Fieri
Food Network star Guy Fieri launched the Restaurant Employee Relief Fund early in the pandemic to support already vulnerable workers in the hard-hit food-service industry he knew so well. His efforts raised $22 million by the start of 2021. More than 43,000 workers received grants of $500. Then, he joined the Barstool Fund, an initiative from Barstool Sports to support small businesses. So far, the group has raised nearly $40 million — 100% of the proceeds go to small businesses, nearly 400 of which have benefited from the Barstool Fund. 
Make Your Money Work Better for You
Learn: What These 20 Food Network Stars Did Before They Were Famous
Charles Widger
You've probably never heard of Charles Widger — unless you went to Villanova. The law school there is named in his honor. But he's a great example of the many regular rich people — as opposed to rich and famous like Colbert and Fieri — who put their skills, contacts and cash to work for small businesses during the pandemic.  Widger earned hundreds of millions of dollars when he sold Brinker Capital, his investment firm, shortly after the virus struck, according to the New York Times. He saw small businesses struggling and the self-made man understood their troubles. In response, he launched a new firm, Family Legacy Capital, which loaned money to small, family-run businesses that couldn't get bank loans. The investors were other ultra-wealthy families that he knew and recruited. 
How To Help: Quick and Easy Ways To Support Small Businesses Today
Elizabeth Gore and Carolyn Rodz
Elizabeth Gore and Carolyn Rodz are the founders of Hello Alice, a small business whose first-of-its-kind machine-learning platform was designed to help other small businesses find customized resources and opportunities. Just before the pandemic, the company launched the Business For All Initiative, a nationwide program designed to bring small business owners together with everyone from celebrity mentors to policymakers. When the virus changed priorities for business owners across the country, Hello Alice changed direction with Business For All and launched its COVID-19 Business Resource Center. It partnered its Latina/woman-owned and run business-tech platform with the Chamber of Commerce and other players. In the process, it secured and distributed $20 million in grants, "making them the small business that saved small businesses," according to Forbes. 
Make Your Money Work Better for You
More From GOBankingRates
Last updated: June 15, 2021
Make Your Money Work Better for You