The Biggest Challenges Restaurant Owners, Small Businesses and Employees Are Facing in Fall 2021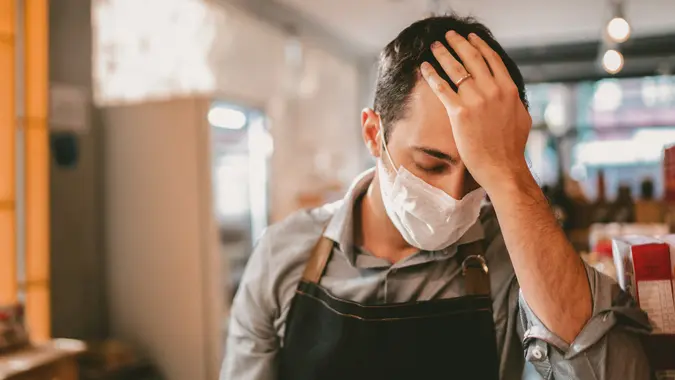 FG Trade / Getty Images/iStockphoto
Last year was a particularly rough one for small businesses. In addition to the 600,000 establishments that typically close each year, an extra 200,000 companies shut their doors as a result of the pandemic. Many of those that managed to stay afloat had to deal with issues such as lost revenue, supply chain disruptions and ever-changing COVID-19 restrictions.
Read: 3 Stories of Small Businesses That Opened During the Pandemic
Start Your Own: Small-Business Ideas for a Post-Pandemic World

As the country continues to grapple with COVID-19 and its variants, small-business owners will likely feel the brunt. We reached out to small-business owners to find out what types of challenges they expect to face in the fall. 
Shipping Delays
Similar to the shipping headaches businesses dealt with in 2020, this year is shaping up to be similar as we move closer to the holiday season, according to Courtney Buhler, CEO and founder of SugarLash Pro. "As people start to purchase holiday gifts, shipping companies and the postal service will become more strained," she said. "With in-store shopping still being impacted by COVID restrictions and people wanting to limit their exposure, online shopping will continue to boom and that will inevitably lead to longer delivery times."
Make Your Money Work Better for You
Discover: 25 Small Businesses Every Neighborhood Needs

Inflation
As the country recovers from the height of the pandemic, one side effect that's emerged is rising inflation. "Inflationary pressures, especially on raw materials and packaging, are already putting small business owners in a quandary on how much they can absorb without passing on higher prices to the consumer," said Ryan Novak, owner of the Chocolate Pizza Company. "As a gourmet chocolate manufacturer, we've seen chocolate prices rise by double-digits and lead times stretched from weeks to months in some cases." He added that inflation slowly constricts small businesses, squeezing already tight margins and slowing growth.
Small Business Spotlight: A Musical Couple Teaches Kids of All Ages How To Rock Out
More Local Stories: Sister-Owned Visual Studio Captures the Art of Authentic Storytelling
The Great Resignation
Remote work introduced much more flexibility for many employees, allowed them to switch jobs and even careers more easily. As a result, certain industries have faced a shortage of workers and large companies have attracted much of the top talent, according to Mohamed Sehwail, CEO of FullSession.io "Small businesses that don't have big budgets cannot compete," he said. "They either have to hire juniors only or invest much more resources…which may not be an option for some."
Make Your Money Work Better for You
See: Small Businesses That Celebrities Love
Vaccination Requirements
Though the COVID-19 vaccine has proven key to containing the virus and overcoming the pandemic, many Americans have chosen not to get it. And that could turn into a headache for small businesses as vaccine mandates are established. "This fall will be challenging for restaurant, food and tourism industry business owners as big cities roll out vaccination regulations on customers," said Blaire Brown, a brand strategist. As these businesses start getting back to "normal" as Americans return to their routines and travel, it will be a challenge for business owners to make up for the business they had been counting on recovering if a large population can't participate as customers.
More: Small Ideas That Turned Into Million-Dollar Businesses

Access to Capital
In 2020, small businesses received billions of dollars in federal aid to stay afloat. That assistance has been somewhat limited compared to last year. "Institutional finance has not recovered, leaving businesses with limited access to capital outside of core revenue, which may be limited based on consumer trends," said Isabel Strobing, director of marketing and communications for Mainvest. For instance, as it gets colder, shopping and dining outdoors will be a lot less attractive, and consumers may prefer to stay home. "If businesses want to shore up their working capital to maintain payroll and other expenses throughout the season and beyond, they'll have to turn to alternative forms of finance… or pivot to alternative forms of revenue if they're finding that customers don't want to spend time inside." 
Make Your Money Work Better for You
Read: How Our Businesses Will Continue To Move Forward Post-Pandemic
The Return to Office
After more than a year of working remotely, many businesses are working on plans to have employees return to the office. But not everyone is ready to give up their work from home lifestyle. "Those who go back to the office will have difficulties as employees try to adjust to a 9-to-5 workday without the freedoms they have gotten used to from working at home," said Michael Russotti, CEO of Nua Marketing. Plus, some employees may struggle to adjust to interacting with coworkers after being isolated for a long period, he said. Not to mention, the added overhead is a major expense for employers.
More From GOBankingRates
Make Your Money Work Better for You