These Major Brands Are Taking Cannabis Mainstream — Will You Invest?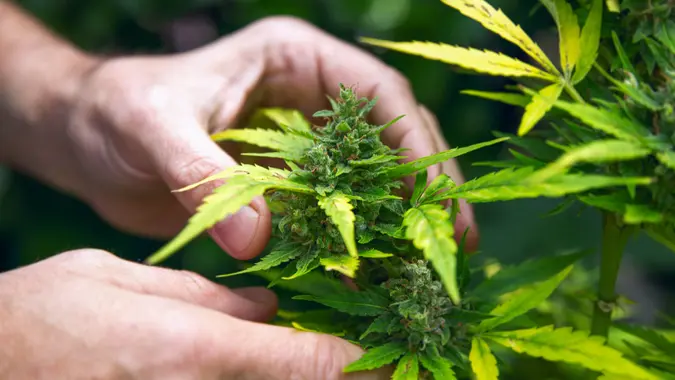 ©Shutterstock.com
With the increasing acceptance of marijuana as a medicinal and recreational drug, products that are made with extracts of the plant are becoming more mainstream. Medical marijuana is now legal in 31 states and Washington, D.C., and nine states and D.C. allow recreational use of the drug. Here's a look at how major brands are buzzed about the potential for developing new product lines and income streams by collaborating with cannabis companies on everything from beauty products to investment portfolios.

Click to read about how much states make from cannabis.
Major Brands Creating Mainstream Cannabis Consumer Products
Cannabidiol, or CBD, is a compound found in marijuana that's associated with decreasing pain and anxiety. Coca-Cola announced in September that it is watching the market for CBD-infused soft drinks.
In a recent statement, the company said, "Along with many others in the beverage industry, we are closely watching the growth of non-psychoactive CBD as an ingredient in functional wellness beverages around the world." Coke added, "No decisions have been made at this time."
Constellation Brands, which includes alcoholic beverage brands like Corona and Svedka, is also getting into the cannabis drink business. In August 2018, it invested $4 billion in Canadian cannabis company Canopy Growth, the world's biggest marijuana stock, according to Business Insider.
Make Your Money Work Better for You
Related: Kamala Harris Backs Marijuana Legalization in Her 2020 Campaign
In the beauty industry, mainstream cosmetics giant Estée Lauder has introduced "Hello, Calm," a cannabis-infused facial mask it is distributing through Sephora. The mask uses cannabis sativa seed oil, which is non-intoxicating and derived from the seed of the hemp plant. Cannabis sativa oil is used for its anti-inflammatory action on acne, eczema and rosacea.
Kiva Confections markets candies containing marijuana. A far cry from the homemade pot brownies of the pre-legalization days, Kiva makes chocolate bars, mints, and bite-sized candies that are advertised for medical use and are packaged like Godiva or other high-end sweets. Shoppers are encouraged to consult their doctor for the appropriate dose.
Check Out: CVS to Sell Cannabis-Based Products, but Only in These Key States
Political 'Brands' Interacting With Cannabis Companies

Politicians spend considerable time developing their own brands for campaign purposes, but some politicians are jumping on the pot bandwagon even if they oppose or previously opposed marijuana legalization in their own districts. Massachusetts Governor Charlie Baker, Massachusetts House Speaker Robert A. DeLeo and Boston Mayor Marty Walsh, for example, all opposed legalizing marijuana when the question was on the ballot but accepted campaign donations from cannabis interests. The three joined forces to create the Campaign for a Safe and Healthy Massachusetts in 2016, which spent $2.8 million to oppose the legalization of recreational marijuana in Massachusetts. The bill to allow pot use passed.
Make Your Money Work Better for You
See Why: New Industries Like Cannabis and VR Are Changing the Economy
Antonio Villaraigosa, former mayor of Los Angeles, is joining the board of MedMen, a publicly traded cannabis company that operates shops in California, Nevada and New York. Villaraigosa ran for the Democratic gubernatorial nomination in June 2018 but was defeated, prompting him to return to business.
Investing in Marijuana Stocks and the First Marijuana ETF

Last year, the first exchange-traded fund focused on marijuana stocks began trading in the U.S. The ETFMG Alternative Harvest ETF (NYSE Arca: MJ) tracks 39 companies, many of which trade on Canadian exchanges, and has grown quickly. As of Sept. 18, 2018, the fund had a little over $457 million in net assets with a year-to-date return of 3.18 percent.
As with any investment, however, there are experts who urge caution. CNBC's Jim Cramer admitted that marijuana stocks have risen faster than he expected, but he warned investors: "Don't get ahead of yourself with the cannabis cohort or your gains could go up in smoke."
On Sept. 18, Cramer interviewed Canadian cannabis producer Tilray's CEO Brendan Kennedy on "Mad Money." Tilray shares opened more than 50 percent higher the next day with a market value of over $21 billion, exceeding the value of American Airlines, Clorox, and CBS Corp., according to Bloomberg.
Click to check out six marijuana stocks to consider.
More on Making Money
Make Your Money Work Better for You