7 Brands That Donate a Percentage of Profits to Charitable Causes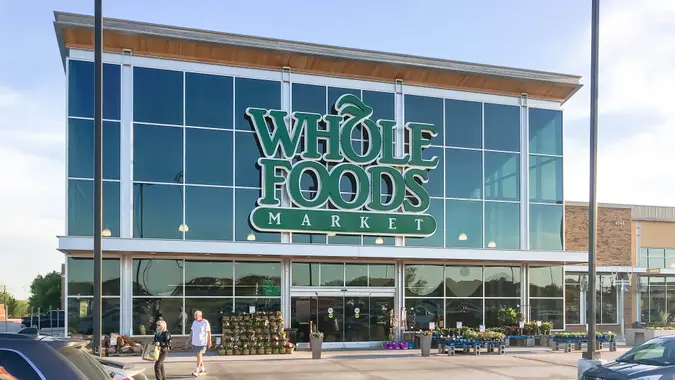 Trong Nguyen / Shutterstock.com
You likely have certain places you prefer to shop, but how much do you really know about the brands you support? Instead of blindly patronizing big-box brands, wouldn't it be nice to know what they stand for? After all, spending your hard-earned money at a company that you know supports charitable causes by making a positive impact can benefit everyone involved. Here are seven brands that are making an effort to help out others on a global, community or individual level. 
Read: 11 Things You Should Never Buy New
Learn More: 25 Secret Money Traps at Target, Walmart and Other Big-Box Stores
Target
Target is no stranger to charitable giving. It donates millions of pounds of food per year to needy families as a part of its partnership with Feeding America. It has also contributed more than $2 million within the past two years in support of active service members, veterans and their families through programs such as Operation Gratitude and USO. Additionally, the corporation has a partnership with St. Jude's Children's Research Hospital and has raised millions of dollars and driven ground-breaking children's cancer research. 
Make Your Money Work Better for You
On a local level, Target donates Community Engagement Funds to local programs and organizations that help needy families or address other critical needs. It also offers nonprofit 501(c)(3) accredited schools and government agencies an opportunity to request a Target GiftCard donation.
Out-of-Business: 15 of Your Favorite Companies That Have Gone Out of Business
Costco
If you have a membership at Costco, you'll be glad to know that the popular warehouse club donates to various 501(c)(3) nonprofit organizations that support children, education and health and human services in the communities where clubs are located. Organizations must apply to receive donations. However, Costco advises organizations to avoid submitting proposals that exceed 10% of their overall budget. 
Walmart
Walmart and the Walmart Foundation are known for providing more than $1 billion in cash to address some of the most critical environmental, social and economic challenges the world faces today. Walmart also gives local community grants ranging from $250-$5,000 to eligible nonprofit organizations.
Discover: 25 Companies Making the Most Money From Coronavirus

Office Depot
One of Office Depot's community initiatives is its Start Proud! community investment program, which most recently delivered over 18,000 brand-new backpacks and school supplies, worth collectively over $1.5 million, to students at more than 25 Title I schools. It also announced a $1.5 million donation to Feeding America to help it assist food banks in communities impacted by the pandemic. Office Depot also has an annual Season of Service campaign during which employees volunteer with various service organizations. And in 2020, the brand donated over $100,000 to support Boys & Girls Clubs nationwide.
Make Your Money Work Better for You
State-by-state: The Most-Loved Company in Every State

JCPenney
If a brand that makes a difference in the lives of youth does your heart good, you'll now enjoy shopping at JCPenney even more. Not only does the brand grant funds to The Y, Girls & Boys Clubs of America and After-School All-Stars, but it also furnishes homes for wounded veterans and contributes to the Armed Services YMCA, which provides respite care for children with military parents when they are called to duty. JCPenney also provides more than $1 million in product donations each year to VolunteerNow, which makes the products available to veterans, military personnel, first responders, nonprofits and local school districts.
Macy's
Macy's is a champion of donating to worthy charitable organizations and causes — too many to list here.
It recently donated $1.78 million to the Make-A-Wish Foundation to help children's dreams come true. It also supports the UNCG & Black Girls Code to ensure that Black children and teens have access to the educational and professional opportunities they deserve. Additionally, for over two decades, Macy's has provided millions of meals to the needy via emergency food assistance programs, local food banks and summer lunch programs.
Make Your Money Work Better for You
In 2021, the brand donated over $2 million to the March of Dimes in support of the health of mothers and their babies. And each fall, Macy's donates one new coat for each coat purchased online, which adds up to 295,000 coats since 2013.
Tech: 5 Startup Tech Companies Changing the Scope of the Industry
Whole Foods
Since 2005, Whole Foods Market has donated over $50 million to communities on both a local and global level through its three foundations. For example, the Whole Planet Foundation donates funds to microfinance institutions that specialize in helping the world's poorest people in their endeavors to buy a home or expand a business. The Whole Kids Foundation gives edible education grants to schools to transform school food choices and has also partnered with Lettuce Grow to offer over $500,000 worth of hydroponic growing systems to schools and nonprofits across the nation. Last but not least, the Whole Cities Foundation supports projects, such as community gardens, urban farms, SNAP incentives and farmer's markets through grants.
More From GOBankingRates
Make Your Money Work Better for You