What Is a Business Credit Score? Your Guide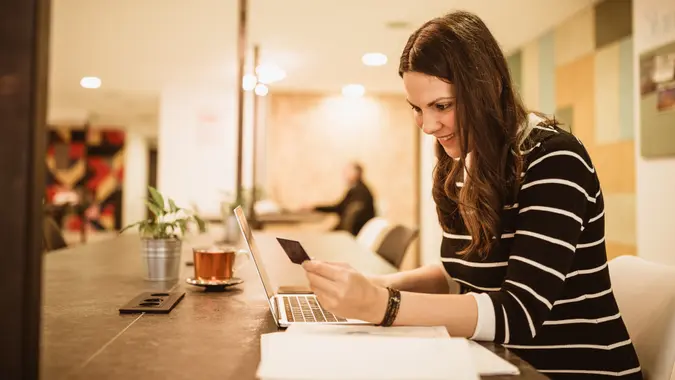 NoSystem images / Getty Images
A business credit score indicates whether or not your business represents a good credit risk to lenders. Like your personal credit score, your business credit score shows lenders that you pay your bills on time. A high business credit score can open doors to low-interest business loans, rewards credit cards, better payment terms with vendors and even better rates on business insurance.
Read: How To Build Your Savings From Scratch
Is There a Score for Business Credit?
As with personal credit scores, multiple companies provide business credit scores and business credit reports. The three main companies that provide business credit scores are:
Dun & Bradstreet
Equifax
Experian
TransUnion, one of the three major credit bureaus for individuals, does not track business credit.
What Is a Good Credit Score for a Business?
While FICO credit scores for individuals are pretty clear cut, ranging from 300 to 850, business credit scores have many more elements and different ranges depending on who is issuing the score. Here are each of the credit bureaus and the ranges of business credit scores. This will explore what constitutes a "good" score from each company.
Dun & Bradstreet
Dun & Bradstreet's PAYDEX score corresponds roughly to a FICO consumer credit score, since it's mainly based on making on-time payments to vendors and lenders. The PAYDEX score ranges from 1 to 100. A score of 0 to 49 is considered bad, meaning there's a high chance you will make late payments. A score of 50 to 79 shows "moderate risk," according to D&B, which would correspond with an average to good credit score. Scores of 80+ show low risk, corresponding to very good or excellent credit.
Make Your Money Work Better for You
D&B also uses other scores, with ratings of 1 to 5, to evaluate other aspects of financial reliability, with 1 being the best rating and 5 indicating a high chance of risk.
These scores include:  
The Delinquency Predictor
Failure Score
Supplier Evaluation Risk Rating
Maximum Credit Recommendation
D&B Rating
Cyber Risk Rating  
Equifax
Equifax also uses multiple business scores to determine a company's financial stability and its reliability when it comes to paying its bills. Risk Classes of "5" indicate a good credit score. Higher scores indicate less risk, except in the case of the Early Default Score, where a score of zero indicates very low risk and 100 indicates the highest risk.
These are the other Equifax business credit scores, their ranges, and what they mean:
101-660: Business Credit Risk Score risk of delinquency of 91+ days within the next 12 months
1-5 (risk categories): Business Credit Risk Class — likelihood of 91+ day delinquency
224-580: Business Delinquency for Other — likelihood of severe delinquency to creditors in categories other than financial services within the next 12 months
101-750: Business Delinquency Financial Score — risk of severe delinquency on financial services accounts
1-5 (risk categories): Business Delinquency Risk Class — risk of severe delinquency on any account
1-5 (risk categories): Business Delinquency Financial Risk Class — risk of several delinquency on financial services accounts
0-100: Early Default Score — likelihood of delinquency within first four months of opening an account, on a scale of 0 to 100, with 100 indicating the highest risk
Equifax also provides a business failure score with a range of either 100 to 1604 or 1,000 to 1,880. Higher scores indicate a business is less likely to fail within the next 12 months.
Experian
Experian uses the Intelliscore Plus, along with a Financial Stability Risk rating, to gauge the creditworthiness of a business. The Intelliscore Plus ranges from 1 to 100, with 100 being the highest possible score.
This is Experian's score range:
1-10: Indicates a business carries high risk of late payments or delinquencies
11-25: Shows medium to high risk
26-50: Indicates medium risk, or an average score
51-75: Corresponds with a good score, indicating low to medium risk
76 or higher: The business has an excellent credit score, and represents low risk to lenders.
Make Your Money Work Better for You
Experian's Financial Stability Risk rating shows the likelihood of a business going bankrupt or defaulting on its loan obligations through a risk score and risk class. The score ranges from 1 to 100, with 100 being the best. There are five risk classes, with Class 1 indicating the lowest risk of bankruptcy and 5 indicating the highest.
Therefore, a score of 66 or higher indicates a good financial stability rating and would put a business in the risk class of 1.
How To See Your Business Credit Score
You can get your business credit score and credit reports from all three bureaus.
Dun & Bradstreet
To access your D&B credit scores, you'll first need to apply for a DUNS number, which is free. Then, sign up for D&B Credit Signal–free for 14 days–to view your PAYDEX Score, Financial Stress Score, Delinquency Predictor Score and Supplier Evaluation Risk Rating. You can also call 844-598-0583 for help viewing your business credit file.
Equifax
To obtain your Equifax business credit report, visit https://www.equifax.com/business/product/business-credit-reports-small-business/ and submit the contact form to speak with the sales department about the cost to obtain your credit report.
Experian
Experian makes it easy to get your business credit score. Simply visit the home page for Experian business services at https://smallbusiness.experian.com/. Enter your company name, city, and state and then click "get your report now." For $189 annually you can access your Intelliscore and Financial Stability Risk Rating and receive real time alerts each time your score changes.
Does an LLC Have Its Own Credit Score?
Businesses of any type, including limited liability corporations, have their own credit scores through Experian and Equifax. The credit bureaus use your Employer Identification Number, or EIN, to determine your business credit score. So, any loans or lines of credit you have applied for using your EIN are usually reported on your business credit reports and will be used to calculate your business credit score.
Make Your Money Work Better for You
To create a credit file through Dun & Bradstreet, you will first have to apply for a DUNS number. A DUNS number offers additional advantages, such as a listing in the Dun & Bradstreet Business Directory.