How Much Is Best Buy Worth?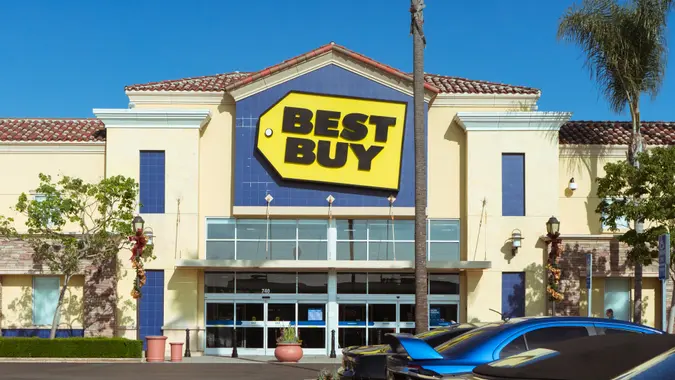 Sue Hwang / GOBankingRates
Best Buy sells a bevy of appliances and electronic products from many well-known brands, such as Apple AirPods and Samsung Galaxy smartwatches. But it's the home electronics and home entertainment inventory that has best served the retailer since the pandemic made working and streaming content at home a permanent part of many Americans' lifestyles.
Of course, that alone doesn't make it a good investment, particularly in light of stiff competition from Amazon, high inflation and concerns that the U.S. is headed for recession. Here are some figures to help investors understand whether to invest in this business or the retail industry as a whole.
| About Best Buy | |
| --- | --- |
| Headquarters | Richfield, Minn. |
| Year Founded | 1966 |
| CEO Corie Barry | $1,278,462 base pay (2022) |
| What Best Buy Is Worth | |
| --- | --- |
| Share Price, 52-Week Range | $64.29-$141.97 |
| 2021 Revenue | $47.26B |
| 2021 Profit | $1.8B |
| GOBankingRates' Evaluation of Best Buy's Net Worth | $34.89B |
All information on the 52-week range is accurate as of Aug. 31, 2022.
Best Buy's Market Cap: $15.917B
Market capitalization considers all of a company's stock in order to gauge its worth. The higher the cap, the more value investors find in the company.
Best Buy's market cap of $15.917 billion is based on its closing price of $70.69 on Aug. 31 multiplied by the number of shares it has outstanding, which is 225.17 million. The market cap has fluctuated significantly over the past year.
Best Buy's Net Worth: $34.89B
Although market cap can give you an idea of what the market values a company at, it's based on market sentiment, which, in turn, is based on a multitude of consumer variables and market players.
Make Your Money Work Better for You
The GOBankingRates Evaluation of a company's net worth, however, takes into account the company's full-year revenue and profits from the last three years, along with its assets and debts. Based on these factors, Best Buy is worth almost $35 billion.
Best Buy's Earnings Results
Best Buy is currently in the third quarter of its fiscal year 2023. After a disappointing start to the current fiscal year, when quarterly revenue, profits and same-store sales declined, albeit not as much as analysts had predicted, Barry announced that Best Buy had scaled back its outlook for the year because of lower demand. 
In a July 27 financial release for Q2 2023, Barry reiterated that the company had started the year "expecting our fiscal 2023 financial results to be softer than last year as we lap government stimulus support and unusually strong consumer electronics industry demand." Barry noted that while financial results failed to meet expectations, sales were higher than before the pandemic.
Although Best Buy has temporarily halted stock repurchases, it said it "remains committed to its quarterly dividend of $0.88 per share."
According to the company's Aug. 30 earnings release for Q2 2023, enterprise-wide, comparable sales fell 12.1%, mostly as a result of negative growth in domestic sales. 
Revenue dropped 12.9%, to $10.33 billion, but analysts surveyed by Refinitiv had expected a drop to $10.24 billion, CNBC reported. Earnings per share of $1.54 beat the $1.27 analysts had predicted but represented a 48% decrease compared to the same quarter last year. 
In its guidance for the rest of 2022 (fiscal year 2023), Chief Financial Officer Matt Bilunas reiterated the company's assumption that comparable sales would decline about 11%. For Q3 2023, Bilunas said Best Buy expects a slightly larger decline than the 12.1% it reported for Q2 2023.
Make Your Money Work Better for You
Shares dropped 2.2% in after-hours trading following the earnings release on Aug. 30 and had fallen another 3% by midday on Aug. 31.
Best Buy's Recent CEOs
Best Buy experienced a nearly 29% plummet in share prices at the end of 2013 due to poor holiday sales, the result of a then-stagnant smartphone market and price-cutting competitors. The company saw shares rise 19% in August 2016 after it reported a higher quarterly profit than it had anticipated, according to Reuters. This increase was thanks in part to a burgeoning smartwatch market. Later, in 2017, the Nintendo Switch launch helped bring the company a boost in sales.
MPR News reported in 2016 that, according to a Morningstar retail analyst, Best Buy's CEO Hubert Joly stabilized the company. It's hard to argue with facts; after taking over in 2012, Joly helped increase Best Buy's share price by 271%. Fiscal year 2018 saw Best Buy's revenue increase by $2.7 billion from 2017, for a total of just over $42 billion. Best Buy share prices gained steadily during that period — a trend that continued for the rest of Joly's tenure.
In a move the company termed part of the board's "ongoing succession planning process," CNBC reported, Joly was replaced as CEO by former chief financial officer Corie Barry in June 2019, just six months before news of COVID-19 began making headlines. Barry is Best Buy's first female CEO.
Barry can be credited for leveraging the momentum Joly built, at least initially. After a brief dip in spring 2020, when the pandemic essentially shut down the economy, the stock rose over the next several months and held steady until Nov. 22, 2021, when it saw its highest-ever price of $141.94 before closing at $138. However, a downward trend that began shortly after that has yet to ease, and the stock has lost all the gains it made earlier in Barry's tenure.
Make Your Money Work Better for You
Best Buy's History and Investors
In 1966, Richard Schulze founded Best Buy, then known as Sound of Music. The name held until 1981, when a fateful tornado changed everything. After weathering the disaster, Sound of Music employees gathered in the parking lot to sell damaged goods, attracting spectators who wanted to see the storm's aftermath as well as customers who wanted to get the "best buy." Two years later, Sound of Music changed its tune and rebranded itself as Best Buy.
Best Buy operates more than 1,000 stores in North America as of August, and it has its own Best Buy credit card products. More than 80% of Best Buy's stock is held by institutions. Financial service companies The Vanguard Group Inc. and BlackRock Inc. hold the most shares as of August, with more than 46 million shares between them.
Sean Dennison contributed to the reporting for this article.
Data is accurate as of Aug. 31, 2022, and is subject to change.
Methodology: The GOBankingRates Evaluation assesses a company's net worth based on the company's total assets, total liabilities, and revenue and net income from the last three years. Base value is established by subtracting total liabilities from total assets from the company's last full fiscal year. Income value is established by taking the average of the revenue from the last three full fiscal years, plus 10 times the average of the net profits from the last three full fiscal years, and then calculating the average of those two figures. The final GOBankingRates Evaluation number is the sum of the base value and the income value.
Make Your Money Work Better for You
Our in-house research team and on-site financial experts work together to create content that's accurate, impartial, and up to date. We fact-check every single statistic, quote and fact using trusted primary resources to make sure the information we provide is correct. You can learn more about GOBankingRates' processes and standards in our editorial policy.