How Much Is Walgreens Worth?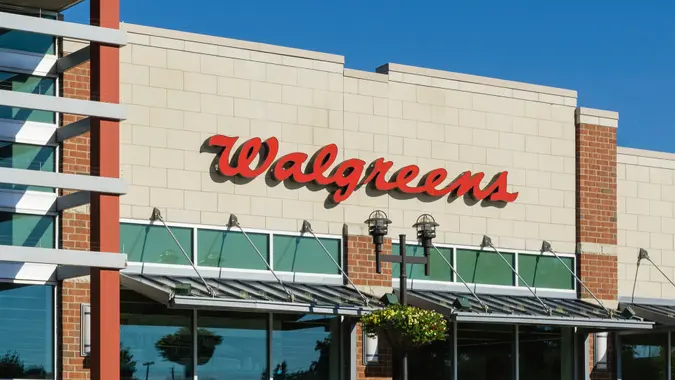 RiverNorthPhotography / Getty Images
Walgreens Boots Aliance calls itself the first global pharmacy-led health and wellness alliance. The name is an amalgamation of the well-known U.S. retailer Walgreens with Boots, which serves Europe and Asia. The company owns a number of retail and business brands, including Duane Reade and Rite Aid. The portfolio also includes beauty brands like No7, Soap & Glory, Liz Earle and YourGoodSkin.
Walgreens is one of the largest pharmacy chains in the U.S., second only to CVS in terms of store volume and prescription revenue. And like CVS, Walgreens has ventured into healthcare delivery. But Walgreens has a larger share of the U.S. health and beauty specialist retail market, according to Seeking Alpha. Is that enough to give it an edge? Here are some figures to help investors decide whether this company is a good investment.
About Walgreens
Headquarters
 Deerfield, Ill.
Year Founded
1901
CEO Roz Brewer's Base Salary
 $1.5 million
What Walgreens Is Worth
Share Price, 52-Week Range
 $43.11-$57.05
Fiscal Year 2021 Revenue
 $132.5B
Fiscal Year 2021 Profit 
 $2.5B
GOBankingRates' Evaluation of
Walgreens' Net Worth
 $97.8B
Information on 52-week range is accurate as of Jan. 7, 2022.
Walgreens' Market Cap: $42.208B
Market capitalization, which is calculated by dividing the number of shares a company has outstanding by its share price, considers all of a company's stock in order to gauge its worth. The higher the market cap, the more value investors find with the company. As Walgreens' stock price fluctuates, so does its market cap.
There has been a significant decline in the company's stock price since late 2018. However, the stock — and thus Walgreens' market cap — has made gains over the last year, likely due to demand for COVID-19 testing and vaccines.
Make Your Money Work Better for You
Walgreens' Net Worth: $97.8B
Although market cap gives you a sense of what the market values a company at, it is based entirely on market sentiment, which, in turn, is based on a multitude of consumer variables and market players. The GOBankingRates Evaluation of a company's net worth, however, only considers solid figures like assets and revenue, taking into account only full-year profits and revenue from the last three years and the company's assets and debts.
Based solely on Walgreens' revenue and profits from the last three years, Walgreens is worth almost $98 billion.
Walgreens' Expansion Through Mergers and Acquisitions
Walgreens has been expanding its business reach geographically and through other strategic business moves since the early 2000s. It launched its online pharmacy in 1999, and over the next several years acquired Happy Harry's and Duane Reade drugstore chains. At the same time, it began offering health clinics in its stores. Meanwhile, Alliance Boots emerged from a European merger and established its presence in wholesale pharmaceuticals, retail pharmacy and optical care. Walgreens partnered with Alliance Boots in 2014, fully combining the two companies. Walgreens' robust growth culminated in its purchase of Ride Aid in 2017 in a move similar to that of rival CVS, whose own expansion included purchasing all of Target's pharmacies in 2015.
As it was expanding its brick-and-mortar business, Walgreens also took steps to increase its digital presence by acquiring Drugstore.com and Beauty.com in 2011.
As of January 2022, Walgreens Boots Alliance has 13,000 locations in the U.S., Europe and Latin America.
Walgreens' CEO
Walgreens' CEO is Roz Brewer, who succeeded Stefano Pessina in March 2021. Pessina now serves as the board's executive chairman.
Brewer previously served as chief operating officer, group president and board member at Starbucks Corporation, where she was credited with accelerating growth and expanding the company's global reach. Her total compensation at Walgreens Boots Alliance includes a base salary of $1.5 million and a signing bonus of $25 million, according to the Chicago Tribune.
Make Your Money Work Better for You
Walgreens Announces First-Quarter Earnings for 2022
Walgreens is off to a strong start in 2022, beating analysts' estimates for earnings and increasing its forecast for the year, CNBC reported. Whereas it initally expected flat earnings per share for 2022, the company revised its full-year guidance as online sales and demand for COVID-19 tests and vaccines bolstered sales. However, Walgreens admits it's facing challenges related to labor costs. Chief Financial Officer James Kehoe said the company will have to invest an additional $120 million in wages folllowing a drop-off in prescription volume caused by staffing shortages.
Sean Dennison contributed to the reporting for this article.
Data is accurate as of Jan. 7, 2022, and subject to change.
Methodology: The GOBankingRates Evaluation assesses a company's net worth based on the company's total assets, total liabilities, and revenue and net income from the last three years. Base value is established by subtracting total liabilities from total assets from the company's last full fiscal year. Income value is established by taking the average of the revenue from the last three full fiscal years, plus 10 times the average of the net profits from the last three full fiscal years, and then calculating the average of those two figures. The final GOBankingRates Evaluation number is the sum of the base value and the income value.
Our in-house research team and on-site financial experts work together to create content that's accurate, impartial, and up to date. We fact-check every single statistic, quote and fact using trusted primary resources to make sure the information we provide is correct. You can learn more about GOBankingRates' processes and standards in our editorial policy.