PayPal Working Capital: How To Borrow Money on PayPal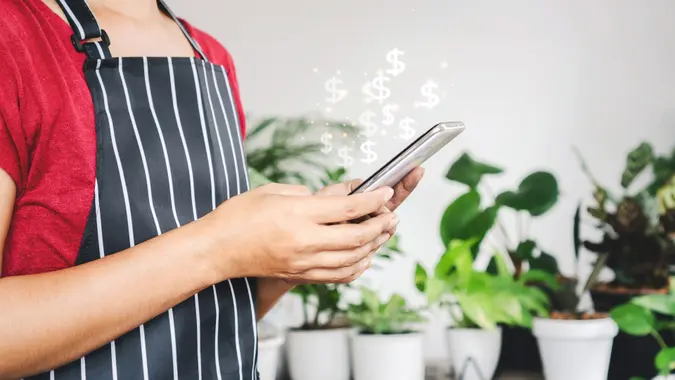 Doucefleur / iStock.com
If you are a business owner, you know that sometimes there are moments when your business needs a bit of extra funding. Whether it's because a key client is late with their invoice or you would like to purchase more products, sometimes business owners may need to borrow a bit of working capital. 
While there is always the option of a traditional bank loan or line of credit, business owners can also look to PayPal's Working Capital service. Keep reading to learn more.
What Is PayPal Working Capital?
Businesses often need to borrow money to run or expand the business. PayPal Working Capital gives businesses the option to borrow money without needing to get a traditional bank loan. While a traditional loan comes with recurring interest, PayPal Working Capital works on a different model. 
Instead of paying interest, you pay a single, fixed fee that is determined at the start of the loan. PayPal Working Capital is available to businesses that have had a PayPal Premier or Business account for at least 90 days. In addition, they need to use PayPal as a payment processor and have had sales above $20,000 on a Premier account or $15,000 on a Business account within the last year.
The maximum loan amount depends on your PayPal sales history and account behavior. The repayment process is done by automatically deducting a certain percentage from your PayPal account whenever you make a sale. If you don't have sales coming in, you will need to make a minimum payment every 90 days. This is beneficial for businesses as during slow periods, repayments will be lower, and during busy periods, you'll pay back more.
Make Your Money Work Better for You
Benefits of PayPal Working Capital
Quick access to funds: One of the key advantages is the speed at which you can access the funds. Traditional bank loans often require a lengthy application and approval process, while PayPal Working Capital often provides funds within minutes of approval.
Flexible repayments: As repayments are based on a percentage of your sales, this can make it easier for businesses during slow periods. If you have an exceptionally slow period, you will need to make a set minimum payment every 90 days.
Fixed fee instead of interest: Knowing upfront what the cost of the loan is can be beneficial for budgeting and planning.
PayPal Working Capital Requirements
To be eligible for PayPal Working Capital, businesses must:
Have a PayPal Business or Premier account: You need to have a PayPal Business or Premier account for at least three months. 
Minimum sales requirements: Your account must process at least $15,000 in PayPal sales annually for a Business account and $20,000 for a Premier account. 
Good account standing: Your PayPal account must be in good standing with no outstanding issues or limitations. 
Repayment of previous loans: If you have taken a PayPal Working Capital loan previously, you must have repaid it to be eligible for another loan.
How To Apply for PayPal Working Capital
The application process for PayPal Working Capital is relatively simple:
Log in to your account: Log in to your PayPal Business or Premier account. 
Visit the Working Capital page: Go to the PayPal Working Capital page and click on "Apply Now." 
Complete the application: Provide the necessary information regarding your business. PayPal will assess your eligibility based on your account's sales history. 
Choose your loan amount and repayment percentage: If approved, you will be given options for the loan amount and a repayment percentage that suits your business. 
Review and agree to terms: Review the terms, including the fixed fee, and if you agree, accept the loan. 
Receive funds: Once approved, the funds are transferred quickly to your PayPal account.
Make Your Money Work Better for You
Risks and Considerations
While PayPal Working Capital offers numerous benefits, there are also risks and considerations that you should keep in mind:
Limited growth capital: PayPal Working Capital is meant to be a short-term solution. The amounts available may not be sufficient for significant business expansions. 
Automatic deductions: Automatic deductions could affect cash flow if not properly managed. 
Early repayment doesn't lower cost: The fixed fee remains the same even if you repay early. There's no benefit in terms of reduced costs for early repayment.
PayPal Working Capital Availability
Currently, PayPal Working Capital is available to all eligible U.S. business owners who are not based in one of the following regions: North Dakota, South Dakota, American Samoa, Guam, Puerto Rico, Virgin Islands, Northern Mariana Islands and Nevada. PayPal Working Capital is also available in France, Australia, Germany, the Netherlands and the United Kingdom.
PayPal highlights that state-by-state availability is subject to change, so double-check availability in your region before including PayPal Working Capital in your business plans.
Takeaways
PayPal Working Capital can be a great alternative to a traditional loan for many businesses. If you meet the eligibility requirements, you can take a look at PayPal the next time your business needs to borrow some money. As with any financial decision, weigh the pros and cons and consider speaking with a financial advisor if you have any concerns or need more information on how this could impact your business.
FAQ
Here are the answers to some of the most frequently asked questions regarding PayPal Working Capital.
What does Working Capital mean on PayPal?

Working Capital is a service offered by PayPal to business clients. The company allows businesses to borrow money to run their business and repay it by paying a percentage of future PayPal transactions.

What is an example of Working Capital on PayPal?

If you are a business owner who receives payments through PayPal and you need a loan to cover bills before you receive payment or pay any other business expenses, you can request a loan through PayPal Working Capital. PayPal will approve or decline you based on your past transaction history. Then you will repay the loan by giving PayPal a share of future sales until the loan is paid in full.

How much can I get with PayPal Working Capital?

If this is your first time requesting a loan from PayPal Working Capital, you may receive between $1,000 and $150,000. If you're a returning borrower, you may get up to $250,000.

Why am I not eligible for PayPal Working Capital?

If you are not a business owner who has a history of sales with PayPal, you will not be eligible for PayPal Working Capital. You may also not be eligible because you already have a PayPal Working Capital loan you have not repaid.
Make Your Money Work Better for You
Information is accurate as of June 16, 2023. 
Editorial Note: This content is not provided by any entity covered in this article. Any opinions, analyses, reviews, ratings or recommendations expressed in this article are those of the author alone and have not been reviewed, approved or otherwise endorsed by any entity named in this article.