Small Business Owners Predict What's Next for 2022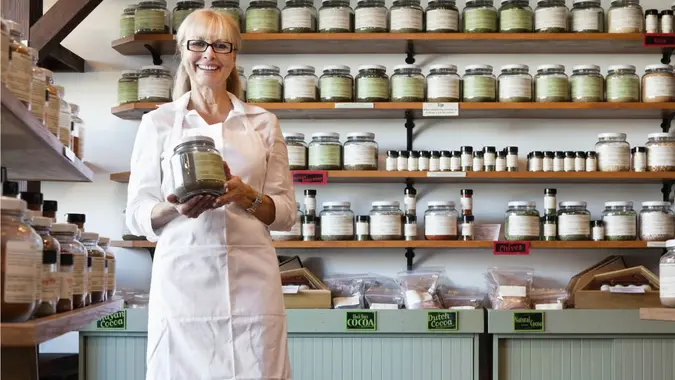 With a new variant on the rise and a new year on the horizon, change is inevitable — especially for small business owners. And change is nothing new; small business owners have been rolling with the pandemic punches since early 2020. 
First, it was the shutdowns and then it was the financial strife. Then, once the shutdowns eased, it was struggling to get employees and customers to return and also dealing with those customers who were angered by social distancing requirements and mask mandates. 
So what will happen next? Although no one can predict the future with 100% certainty, these small business owners seem to have a pretty good idea of what's to come in 2022. 
More Small Businesses Will Move Online
"As a small marketing agency owner, I would say a solid 50% of my business is stemming from brick-and-mortar shops that are realizing they need to transition to more online sales — and fast," said Clair Jones, CEO and creative director of LoudBird Marketing. "Foot traffic has dwindled consistently, and people are just buying online more and more instead of going to the shops. So I'm helping businesses that never wanted or needed to be online make the transition. I think even after COVID, this will continue to be a huge priority because the pandemic got people who hadn't shopped online a ton very used to the convenience factor that online shopping offers."
Make Your Money Work Better for You
More Focus on Mental Health Resources
"One other change I am anticipating is dedicated resources for mental health," said Jones. "Not just insurance coverage, but internal education and outreach programs to help our employees cope with both the new isolation of remote work. 
"There are also the possible strains of returning to work part-time or full-time — and conflicts that naturally arise as a result: i.e., to mask or not to mask. The whole workplace dynamic has shifted, and we have to be prepared to facilitate these kinds of hard transitions."
Rent Increases Are Possible
"Rent increases have been very hard on small business owners in 2021, and this issue is only going to compound in 2022," Jones said. "My entire team is remote, and I think this is just a reality of any service-based business like mine moving forward. If you don't need the office space, dump it and go remote. Spend those funds on new technologies that can make remote work more fun and efficient. Also, consider perks you can offer your existing employees, like virtual mental health services or virtual fitness membership. These are the types of things modern employees really appreciate."
Workaholism Will Increase
ZenBusiness founder and CEO Ross Buhrdorf said that to be a better small business boss, you need to learn how to unplug. 
"Opportunities for entrepreneurs will be abundant in 2022, but 'workaholism' will also be on the rise," Buhrdof said. "During the pandemic, entrepreneurs worked more, not less. The time that people used to spend driving to the office, taking a lunch break or just chatting with colleagues is now spent working. A big challenge people are going to have in 2022 is fatigue and knowing when to shut off from work."
Make Your Money Work Better for You
Prioritizing Health Will Still Be Important
"Too often employees (in all industries) feel guilty about working and do it even when they don't feel well," said Charlie McKenna, founder and chef of Lillie's Q, an award-winning Southern BBQ restaurant company and CPG brand. "It's better for everyone if they are upfront about it; that shows true leadership and is something that I really appreciate and encourage across the company. We have to consistently prioritize the health and safety of our staff and guests, or we're not meeting the high standards of hospitality that we set out to make the norm even before COVID-19."
Mask Mandates May Come Back
"As for masks, we have to simply ask customers to work with us," said McKenna. "It's not our call; we just want people to be as safe as possible. If customers can cooperate and work with us on that, everyone will be much happier. Creating problems around it makes it harder for everyone. But if there's cooperation, it's really not as big of a deal as it may seem. If they are really against it, we advise ordering takeout to make everyone's lives easier."
Disc
It Will Be an Employee's Market
"When you're building a business, you tend to first focus on customer experience at the expense of burned-out employees," said Chris Ronzio, founder and CEO of Trainual. "Add to that the fact that the job market is so frenzied right now, with record numbers of employees handing in their notice and seeking greater fulfillment, the power dynamic has shifted; it is now employees who have the upper hand. With so much opportunity out there, businesses can no longer expect employees to work crazy hours and sacrifice so much personally. Moving forward, companies need to pay more attention to employee experience to retain top talent."
Make Your Money Work Better for You
Customers Will Favor On-Demand Goods and Services
"The pandemic has created a lot of uncertainty, and a general move away from buying in bulk or becoming overly committed," said Ronzio. "Consumers want to purchase things as they need them. So, think about what your business offers and the ways in which you could break your offerings into even smaller packages. Accommodating your customers with more flexibility in terms of "bite-sized purchases" will allow them to sample your offerings before making a bigger commitment, which will lead to greater customer loyalty in the long term."
Options: 
Communication and Connection Will Become More Important
"You can no longer take communication and connection for granted," said Ronzio. "With more businesses hiring and working remote team members, the gap between your best intentions and your team's perceptions is growing wider than ever. Those casual conversations in the office, thinking-out-loud discussions, and over-the-shoulder questions aren't there like they used to be, so as business owners, we have to be more proactive than ever about keeping our people in the loop and finding ways for them to get together more casually. Arranging in-person meetings, travel, remote events, breakout rooms, all-hands meetings and internal newsletters has never been more important."
More From GOBankingRates
Make Your Money Work Better for You