Opening During a Pandemic: How This Zero-Waste Store in Brooklyn Did It
We here at GOBankingRates want to help get our nation's small businesses back on their feet after the COVID-19 pandemic. To do that, we're highlighting readers' favorite small businesses around the country, and shining a spotlight on what makes them special to their customers and their towns. 
In this edition of our Small Business Spotlight series, we're featuring La Nature, a zero-waste store located in Brooklyn, New York. Owners Hayley and Peter founded La Nature with a goal in mind — to make eco-friendly everyday products more accessible and to encourage more people around the world to decrease their ecological footprint by switching to sustainable, zero-waste alternatives. Here, we chat with them about starting a business during the pandemic, how they utilized their backgrounds in journalism and marketing to fuel their company's growth, and why location is so important when opening up a storefront.
2021 Small Business Spotlight: Check Out Our Small Business Stories, Plus the Nominated Businesses Near You
Was there a particular moment or experience that inspired you to start your business?
Over the course of the pandemic, some of the worst sides to our previous jobs were made very clear to us. The idea of returning to the standard 9-to-5 grind inside an office made us sit down and seriously consider our priorities. It felt like the right time to put our careers on hold and try something completely new — something that would not only excite and fulfill us, but that would ultimately have a positive effect on others in a direct way. So we did a ton of research, created an LLC, signed a commercial lease and painted our door green… and here we are.
Make Your Money Work Better for You
More Stories: A Musical Couple Teaches Kids of All Ages How To Rock Out
What did you take from past experiences or jobs that you knew you wanted to be a part of your new business?
Luckily for us, we've been able to use much of the experience from our respective backgrounds in journalism and marketing to help our initial business growth. Being able to shape our site and social media presence before opening has been one of the things that's allowed us to garner the attention we've needed to enter with a splash. Having a ton of experience using products like ours in our normal lives has also made the ordering process much more calculated, and simply knowing how to chat with people enhances everything!
Keep Reading: This Virginia Hair Supply Store Wants To Give Everyone the 'Courage To Be Beautiful'
What has been the most rewarding aspect of being a business owner?
One of the most rewarding parts of opening our store has been the support we've received from the local community. We knew going in that the types of products we planned to offer would mesh with the identity of the community and other nearby businesses, but what we didn't anticipate was how thrilled folks would be about the shop. People have been recommending us to their friends and colleagues on all of the local social media groups, other business owners from the neighborhood have stopped in and helped where they could, and locals have wasted no time donating supplies and furniture to us and even offering to volunteer around the shop. NYC can be an intimidating place to begin a new venture like this, but the warm reception from the community has filled the whole experience with levity and a feeling of belonging.
Make Your Money Work Better for You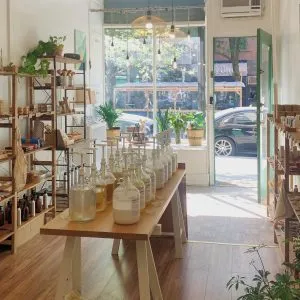 See: Japanese Burger Restaurant Provides a Respite for Patrons Amid the Pandemic
How has the pandemic affected your business?
Our experiences working and living amid the pandemic were actually what inspired us to start the business in the first place. We opened our shop just before social distancing guidelines, mask-wearing restrictions and business curfews were (mostly) lifted in NYC, so during this first month or so, we're enjoying a return to normalcy along with the rest of the city. Businesses on our block that we've spoken to have said that the last year or so has been a struggle, of course. Some of them were forced to close down and others saw their sales dip dramatically. Things seem to be on the comeback now though, and the future of our business and this neighborhood seems bright.
Check Out: Arizona Couple Turns a Family Ranch Into a Lavender-Filled Oasis
How can people continue to support your business during this time?
Folks in NYC can always stop by our store! We're open every day from 11-7, and are always rotating in new products and updating our refill station. For non-New Yorkers, our website lanaturestore.com has recently been stocked with nearly all of our in-store items, and we ship internationally!
Make Your Money Work Better for You
Read More: This Midwest Mom Credits Her Daughter for Inspiring Her Bath & Body Business
What advice would you give to someone who wants to start their own business?
Do your research! Good ideas are hard to come by, but harder still is the process of planning ahead to ensure your business will succeed. Scouring different locations, demographics and local community groups made a huge difference when we were deciding on where to plant ourselves and which products to offer, and it's quickly led to an incredible amount of support from folks in the area. Going to where the people already are rather than thinking up ways to make them come to you, whether in their neighborhood or in online spaces, helps immensely.
This interview has been edited for clarity.
Last updated: June 2, 2021
Make Your Money Work Better for You