Start These Businesses Now To Be Rich in 10 Years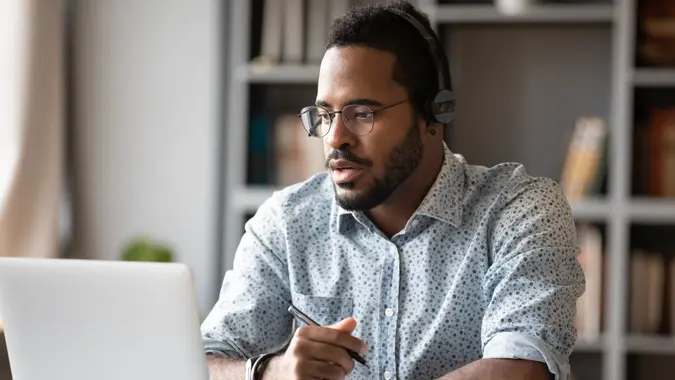 fizkes / Getty Images/iStockphoto
The post-pandemic era is the "Golden Age of Entrepreneurialism," according to Forbes, and if you're looking to launch a business that can make you rich a decade from now, there's only one that will get you there.
"The one you are passionate about," said Lapitha Gonasinghe, director of the lean management education and certification firm Center for Lean Excellence. "The one where you have a unique value added that nobody else does. The one that you will be thinking about at 10 p.m. before you go to sleep and brainstorming ways to better serve your customers on your commute. There is no way to game the system. The only way to create a sustainable, long-term successful business is by building something of real value that solves a problem that you personally care about. Otherwise, there is no way you'll make it 10 years."
With that in mind, today's emerging trends will define the world in 2033 — and the entrepreneurs who launch the following businesses now have a good shot at cashing in by then.
SEO and Digital Marketing Services
No matter what kind of business you launch, it won't succeed if no one knows about it. This is why you'll eventually have to hire a digital marketing/search engine optimization (SEO) pro to put you on the radar of customers searching for what you sell. That nearly universal need is precisely what makes it such a good business to pursue.
Make Your Money Work Better for You
"Marketing has always been an in-demand skill, but with the rise of the internet and digital platforms, the need for effective SEO and marketing tactics has become even more pronounced," said Marc Hardgrove, CEO of the digital marketing firm The HOTH.
According to Research And Markets, the SEO industry will grow by 9.6% to become a $122.11 billion industry by 2028 — just don't expect to get rich quickly
"Though this field carries the risk of slow growth, once you establish your credibility and build a strong client base, the potential for long-term success is high," said Hardgrove.
AI/ML Development and Application
If you feel like you can't go a day without hearing how artificial intelligence (AI) and machine learning (ML) are changing a new industry, that's because their applications are nearly limitless. 
"The potential for growth in this sector is enormous," said Milosz Krasinski, a business growth and digital marketing professional. "Healthcare, for instance, is already seeing advancements in AI-powered diagnostics and personalized medicine. In transportation, self-driving technology is becoming more sophisticated. In entertainment, AI and ML are helping to create highly personalized user experiences."
According to Fortune Business Insights, the global ML market is projected to grow from $26.03 billion in 2023 to $225.91 billion in 2030. Statista predicts the AI market will grow twentyfold from $100 billion to $2 trillion during the same period.
Of course, building a business around creating or implementing these emerging technologies is not something everyone can do — and capitalistic Darwinism will weed out many who can.
Make Your Money Work Better for You
"This potential comes with a substantial level of risk," said Krasinski. "For one, AI and ML are highly complex fields that require a deep understanding of not only the technologies themselves but also how they can best be applied in different contexts. Moreover, the sector is highly competitive, with many well-funded startups and tech giants investing heavily."
Then there's the challenge of regulation, which is inherent to any disruptive technology that makes people nervous. 
"As AI and ML technologies become more embedded in our lives, they're coming under increasing scrutiny from regulators," said Krasinski. "Businesses must be prepared to navigate a landscape of rules that can vary greatly by jurisdiction and that are continually evolving as these technologies advance."
Remote Training, Education and Certification 
As the CEO of Stepful, which provides online training for healthcare professionals, Carl Madi built a business based on remote learning that's cheaper, more convenient and more accessible than higher education. In the post-COVID world, that model isn't going anywhere.
"One of the best kinds of businesses to start right now is any kind of online training for skills that can be easily and effectively learned through video and interactive content, especially if the alternative for learning those skills is going to college," said Madi. "Online training businesses can specialize in a variety of fields, from coding and digital marketing to graphic design and healthcare." 
He said the key is to identify a niche where there's a significant demand for learning but a lack of accessible, high-quality resources. 
Make Your Money Work Better for You
"For instance, many people are interested in learning how to code, but the cost and time commitment of a computer science degree can be prohibitive," said Madi. "An online training platform that offers comprehensive, easy-to-understand coding courses can fill this gap and attract a large number of learners."
According to Statista, online learning revenue is set to grow from $166.55 billion today to $239.26 in 2027 — if another entry on this list doesn't get in the way.
"The most obvious risk to this business model — as with almost any other digital-dependent business — is artificial intelligence, which has made it much easier for consumers to learn about topics and for businesses to create training programs," said Madi. "While it's likely still very hard to self-teach many of the subjects mentioned using AI, it may not be so inconceivable in three, five, or 10 years."
More From GOBankingRates