American Productivity Drops in 4th Quarter of 2020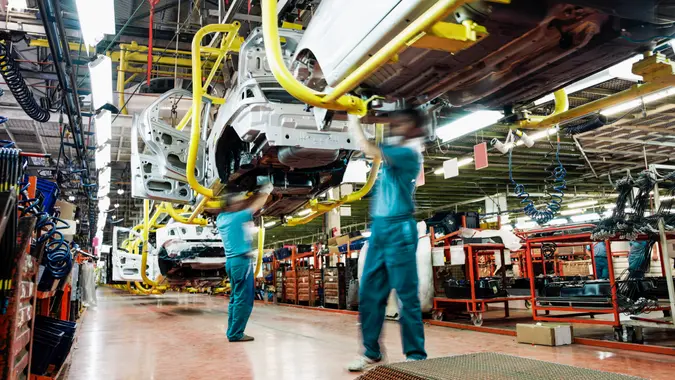 gerenme / iStock.com
If you've been struggling with working from home while guiding your children through remote or virtual learning, you probably see that your productivity during the pandemic has taken a big hit. Well, you're not alone.
See: Economy Explained: Understanding US Productivity and All the Ways It Affects You
Find: The Economy Is at Its Lowest Point Since World War II in Final GDP Report from Trump's Presidency
Overall, U.S. productivity, which represents the amount of work per hour of output, dropped 4.8% in the fourth quarter of 2020, the U.S. Bureau of Labor and Statistics reported. The decrease marks the biggest quarterly drop since 1981, when productivity declined by 5.1%, according to the Associated Press.
Meanwhile, hand-in-hand with the productivity drop, labor costs rose by 6.8% year-over-year in the fourth quarter of 2020. In the third quarter, labor costs had fallen by 7%.
It's important to note that productivity relates less to any individual's output during the workday, although certainly, individual Americans were less productive overall as we shifted to a work-from-home economy, juggled homeschooling and battled the stress of the pandemic.
See:  How to Avoid Work Burnout During a Pandemic
Find: Biden Prioritizes Schools, Childcare, Small Business with $2.04 Trillion COVID Strategy Plan
Make Your Money Work for You
However, these economic indicators refer to the overall productivity of American companies as a whole. When unemployment falls faster than output, as it did in the second quarter, productivity may show an increase. That's because there are fewer people in the labor force, and they must maintain minimum outputs for companies to keep supply chains rolling and stay profitable.
High productivity is an important indicator of a healthy economy, but it must be considered alongside unemployment rates and inflation. High productivity can boost living standards because a more efficient workforce enables companies to pay higher wages without driving inflation, according to the AP report.
See: Biden to Sign "Made in America" Executive Order
Find: Economy, Labor Market to Improve 'Rapidly' in 2021, According to Congressional Budget Office
In 2020 overall, productivity rose by 2.6%, higher than the 1.7% increase in 2019 and 1.4% increase in 2018. Hours worked and employment levels fell even faster than productivity for the year, resulting in the net gain.
See: Economy Explained — What Is the GDP, and What Does It Have to Do With You?
Lydia Boussour, lead U.S. economist at Oxford Economics, told the AP that, "The rapid digital adoption driven by the covid crisis could provide a boost to productivity growth in the long run." In addition, rapid vaccination rollouts and another stimulus package could also boost productivity. However, factors such as low mobility within the labor force could hamper productivity in the future.
Make Your Money Work for You
More From GOBankingRates:
Make Your Money Work for You