Baltimore vs. Washington, DC: Which City Is Doing Better?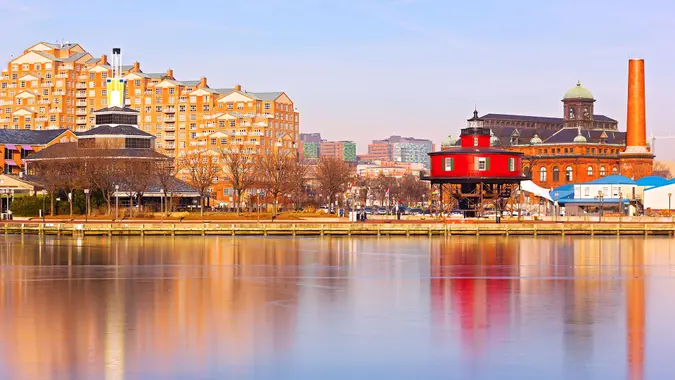 amedved / iStock.com
Just 35 miles apart, Baltimore and Washington are located on the Chesapeake Bay at the mouths of major rivers. You can drive between the two in roughly an hour if the traffic congestion isn't too bad.
There are plenty of reasons why residents of each city love where they live. But which of these cities is in better shape at the moment? And, how do they stack up against each other in terms of incomes and living costs?
Keep reading for a quick inside look at the numbers on these two mid-Atlantic gems.
Washington Is Larger and Richer Than Baltimore
Washington is the bigger city, with an estimated 702,756 people calling it home, while 601,188 people live in Baltimore. That's just for the cities proper, though.
The surrounding metro areas, where you'll find the most expensive zip codes in the state, have an even larger difference: There are over 6 million inhabitants in the Washington-Arlington-Alexandria area, compared to 2.8 million people in the Baltimore-Columbia-Towson metro area.
And that gap is widening. As of the 2010 census, Baltimore was actually the larger city, boasting 620,961 residents to Washington's 601,723. However, in the past eight years, estimates have pegged the population growth for Washington at 16.8 percent while Baltimore actually shrank by 3.2 percent, making it one of just five cities among the country's 100 largest that has had a population decline during that time period.
Financially speaking, Washington's citizens are generally in much better shape, with a median household income of $72,935 — over 30 percent more than the national figure of $55,322 — and a poverty rate of 17.9 percent. Baltimore, meanwhile, has a median household income of just $44,262 and a poverty rate of 23.1 percent.
Make Your Money Work for You
Likewise, unemployment is a much larger issue for Baltimore, with an unemployment rate of 4.6 percent compared to just 3.6 percent for Washington.
See: Cost of Renting vs. Owning a Home in Every State
But Washington Is Also Much More Expensive
Baltimore residents can take solace in the fact that their paychecks stretch a lot further in Maryland than they would in the nation's capital.
Washington's overall cost of living is 59 percent higher than the country as a whole, on average. Meanwhile, Baltimore is 10 percent cheaper. That's partly why it only takes $72,194 to live comfortably in Baltimore but $90,811 in Washington.
Find Out: Cost of Living in the City vs. Suburbs Across America
While the costs for utilities, transportation, healthcare and groceries aren't all that different between the two, the cost of housing in Washington is very high — over two and a half times the national average. Baltimore residents are paying over a third less than the rest of the country to secure housing.
That situation is consistent whether you're renting or buying. Baltimore's median rent is $1,298 a month, just about half of the $2,583 a month you need to rent a median-priced apartment in Washington. This makes Baltimore one of the best cities for renters in the country, found a previous GOBankingRates study.
If you're hoping to buy a home, it's an even more pronounced difference. Baltimore's median home value of $125,500 is less than a fourth of the staggering $553,600 median value of a home in Washington. This makes Washington one of the U.S. cities where more than half of the households can't afford a home.
Baltimore Wins in Other Areas, Too
Of course, the make of a city has to do with a lot more than just facts and figures, and both Washington and Baltimore have more to offer.
Make Your Money Work for You
More than just sharing geography, both cities are steeped in American history. Many of the country's most prominent landmarks and museums call the nation's capital home. Baltimore is the birthplace of Edgar Allen Poe and Babe Ruth, and where Francis Scott Key wrote the "Star Spangled Banner" while watching the bombardment of nearby Fort McHenry.
Baltimore can also claim the mantle of the better city for retirees looking to spend less. Baltimore is among the cities where your retirement nest egg will stretch the furthest, and the Baltimore suburb of Perryville is among the best suburbs to live in retirement.
Washington, meanwhile, is one of the worst places to start a small business, mostly due to those high housing costs, according to a previous study.
And let's not forget this little fact: Baltimore has the more recent Super Bowl win, with the Ravens taking home the title twice (2001 and 2013) since the last time Washington won in 1992.
Keep reading to find out if you earn enough to own a home in your state.