Cybercrime Predicted To Hurt Economy by 2025 — These 5 Things Will Be Hit the Hardest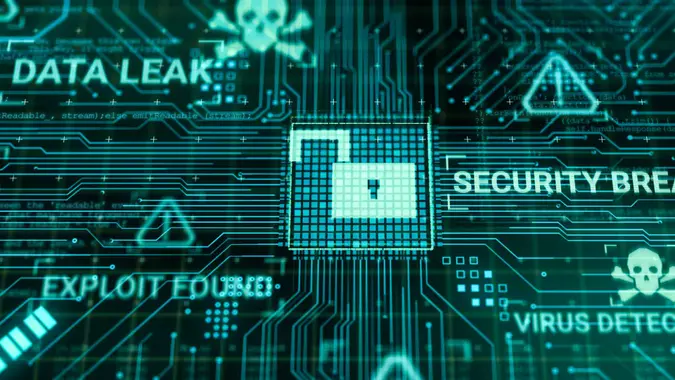 Black_Kira / Getty Images/iStockphoto
Cybercrime is expected to cost the global economy as much as $10.5 trillion dollars by 2025, according to a report from Cybersecurity Ventures. A recent Gartner survey revealed that, by that time, a lack of talent or human failure will cause more than half of all cybersecurity attacks.
Which areas are most at risk, and how can consumers protect themselves against fraud and other cybercrimes?
Small Businesses
One report from Barracuda Networks, spotlighted by Forbes, found that small businesses experience three times more cyberattacks than larger organizations. Often, these attacks are preventable through employee training. Smaller companies experience 350% times more social engineering attacks than a business with more than 100 employees.
Threats span every industry, but reports show that most attacks focus on user data, putting companies in the retail and e-commerce, healthcare and finance industries in the most danger.
Some of the most common attacks, according to Designveloper.com, include:
Malware.
Phishing.
Insider threats.
Attacks through public WiFi networks.
Worker Productivity
Cyberthreats don't just pose financial risk, they also hurt worker productivity. More than half of small businesses said their website was down for up to 24 hours following an attack. Data breaches can also create increased workplace stress and hurt employee morale.
Healthcare
The healthcare industry faces dire threats from cyberattacks. Although healthcare companies in the U.S. must follow specific standards — termed HIPAA regulations, to protect patient data — healthcare remains one of the most highly targeted industries for cyberattacks, based on research from Nozomi Networks.
Make Your Money Work for You
Financial Services
For obvious reasons, the financial services industry is also at greater risk of cyberattacks than many other sectors. A report from Boston Consulting Group found that financial firms are 300 times more likely to fall victim to cyberattacks than other types of organizations. Seventy percent of those attacks target banks, according to IBM X-Force, while 16% target insurance companies.
Online and traditional banks use FDIC insurance to protect deposits against bankruptcy or failure. But, before you choose a financial institution, review their policies on fraud protection and see if they carry insurance to protect your deposits against cyberattacks.
Energy
Nozomi Networks spotlighted the energy industry as one of the top five sectors at greatest risk of cyberattacks. The ransomware attack on the Colonial Pipeline, which closed down a key source of fuel in the U.S. in 2021, stands as an example of this risk.
Keep in Mind: Cybersecurity Starts at Home
The onus lies on companies to implement cybersecurity measures to protect their customers. But as a consumer or an employee, you can also play a role in preventing cyberattacks — especially when it comes to protecting your own financial or health data.
Follow these easy tips as a first line of defense against fraud and cyberattacks:
Never share personal information, including passwords, on public WiFi networks. Conduct banking or shopping online at home, over a secured network.
Likewise, refrain from sharing personal information, including financial information or passwords, with AI programs like ChatGPT.
Use a password manager to set strong and secure passwords and, when available, utilize programs with 2-factor authentication at work and at home.
Make Your Money Work for You
More From GOBankingRates