Experts: What the Economy Will Be Like Post-Recovery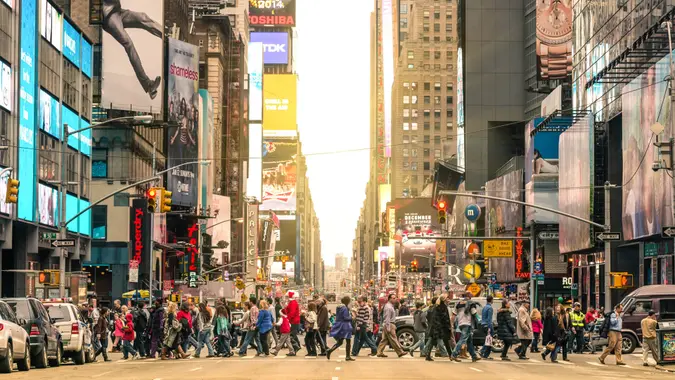 View Apart / Shutterstock.com
The coronavirus pandemic has wreaked havoc on the economy, causing a decline in the gross domestic product, millions of lost jobs and an unpredictable stock market. It also changed how we work, spend and save.
COVID's Financial Impact After 1 Year: See All Our Coverage
As the vaccine continues to be rolled out across the U.S., we continue to inch closer to a post-pandemic reality — and as of now, we don't know exactly what that will look like. I asked experts across a number of fields to share their best guesses for what the economy will be like after we recover. Here are their predictions for the post-pandemic economy.
Unemployment Will Remain an Issue Even After the Pandemic Is Over
"The more we get COVID-19 into the past, the faster we'll see an economic recovery. But with 10 million unemployed as a result of the pandemic, it will likely take the rest of this decade for the unemployment rate to return to pre-virus levels," said Ric Edelman, founder of Edelman Financial Engines.
Read More: 22% of Americans Who Lost Their Jobs During the Pandemic Remain Unemployed, Survey Reveals
Toby Mathis, author of "Infinity Investing: How the Rich Get Richer And How You Can Do The Same," believes that low-wage workers, in particular, will continue to deal with unemployment.
"I would expect that the first to be released from their jobs will be the last to be rehired," he said. "The pandemic hit the lowest wage earners the hardest. According to data from Earnin, Intuit, Kronos and Paychex, lower-income workers such as restaurant and other 'non-essential' workers saw their unemployment rate dramatically increase during the pandemic, while the most affluent saw their unemployment rates recover from an early drop, and have now actually decreased during the overall pandemic. The unemployment assistance may be fueling some of this as unemployment benefits sometimes prove more valuable than working for lower-wage workers, but the fact remains that the wealth gap for workers in America increased significantly during the pandemic."
Make Your Money Work for You
Americans Will Have More Savings — And They'll Spend More, Too
"I would expect to see more money overall in the bank accounts of average Americans — significantly more than pre-pandemic," Mathis said, "This is because the stimulus programs were not narrowly crafted to help just those who needed the assistance, but were also dumping money into the savings accounts of people who did not need it. We saw a major bump in the U.S. savings rate during the pandemic because of the economic closures, limited spending options and stimulus payments. Post-pandemic, I do not see this changing."
See: Nearly Half of All Americans Missed Rent or Mortgage Payments Due to COVID-19, New Study Reveals
However, once again, Mathis said that this won't be the case for everyone: "That windfall will remain while the hardest-hit economically will continue to suffer."
Although this may be the case, with more money in the bank for most, "Shark Tank" star and real estate mogul Barbara Corcoran predicts a surge in spending.
Weigh In: Do You Think the Minimum Wage Should Be $15? Take Our Poll
"The economy is going to explode once the pandemic is behind us," she said. "Living life has been put on hold and the fun-starved consumer will come out of the gate spending money on anything and everything to make up for lost time."
Inflation Will Increase
"I would expect to see inflation increase based on the magnitude of U.S. dollars being injected into the economy," Mathis said. "Never in history has the Federal Reserve's balance sheet been this bloated. The federal discount rate sits at a quarter of a percent, meaning interest is almost non-existent for banks, and there is a shortage of building materials and affordable housing. From what I can tell, gas prices are back at pre-pandemic rates and most everything we need to live is slightly more. It only makes sense that we will have significantly more inflation in 2021 than we saw during the pandemic."
Make Your Money Work for You
The Way We Work Will Be Changed Permanently
"The pandemic catalyzed fundamental changes in how we work and collaborate," said Gaurav Tewari, managing partner at Omega Venture Partners. And many of these changes will be permanent, he predicts.
Mathis also believes this will be the case: "I expect the workforce to be changed forever — hopefully for the better," he said. "In my business, we are seeing over half of our employees express a desire to work from home even after the pandemic. Surveys I have seen show that to be right in line with what employees nationwide are stating."
Find Out: Should Employers Require Workers To Take Time Off?
In 2019, just over 3% of the U.S. workforce worked remotely. This number jumped to over 30% during the pandemic. Mathis believes this percentage will remain over 20% in the coming years.
"This is a monumental shift in officing with the new needs needing to be serviced," he said. "I expect strip malls and unused commercial offices to become flexible workspaces and 'Zoom' rooms where remote employees can handle important meetings on a temporary basis, as opposed to having a full-time office. Things we never would have imagined a year ago as far as telecommuting and remote work have become reality."
Related: Handshakes and More Office Rules Changed by COVID
Marc Anidjar, senior partner at Anidjar & Levine, believes working from home will continue to be common because it also benefits employers, who will save money on physical office spaces.
"Corporations are learning that they can trim expenses significantly by reducing the size and scope of their physical locations," he said. "By allowing their staff to work remotely, they lease smaller offices that serve as meeting points. The savings on fixed costs like rent, parking and the like can be better earmarked for aggressive growth of the company."
Make Your Money Work for You
Jason Zuccari, vice president of business development and external relations at Hamilton Insurance Agency, agrees.
Learn More: How To Protect Yourself When You Return to Your Office
"The new work-from-home playbook means less overhead and more opportunity for companies to create leaner business models," he said.
This can especially benefit small businesses with smaller budgets, who seem ready to adopt this trend permanently: "Sixty-five percent of small business owners now say they'll allow at least some employees to work remotely," said Mark McKee, president and COO of OnPay.
Clint Padgett, author of "How Teams Triumph: Managing By Commitment," disagrees. He does not believe that that remote work will become the norm and predicts that many workers will return to the office at some point: "The need for face-to-face collaboration and social contact will require it," he said. However, he predicts other changes.
"Flex schedules will likely replace the 'butts-in-seats from 9-5' mentality," he said.
The Gig Economy Will Continue To Thrive
"We will continue to see the gig economy grow as more professionals embrace freelance work, whether by choice or necessity," said Chalmers Brown, CTO of Due.
Ryan Napierski, president of Nu Skin, also believes that this will be the case: "I think the post-pandemic economy will continue to empower people with more opportunities to make a living outside of the traditional 9-5 jobs," he said.
Read: An Economist Reflects on the Damages Caused By One Year of COVID-19
Other industries will need to adapt to ensure that gig workers get the same benefits as those working full-time jobs.
Make Your Money Work for You
"Eventually, this will significantly impact healthcare and retirement options," Brown said. "Those industries should start planning for this shift now, and develop more options for individuals and families instead of companies alone."
E-Commerce Will Continue To Play a Vital Role in the Retail Space
The pandemic caused a surge in online shopping, with companies like Amazon and Target benefiting from the boom. Now, even small businesses will need to have an online presence to stay competitive, said keynote speaker John Hall.
Discover: All the Creative Ways Small Businesses Have Stayed Open the Past Year
"We've seen small business retailers shift to online over the last year, and I expect that trend to continue," he said. "Before, if a small business didn't have a website or social media presence, they were considered indie and exclusive. Now, if a business doesn't have an online presence, they will suffer a profit loss, even if that doesn't mean shutting their doors."
In the News: Don't Miss These 4 Tax Breaks in the $1.9 Trillion Stimulus Plan
Even service-based companies will be expanding their online offerings, said Stephen Dalby, founder of Gabb Wireless: "Most entrepreneurs won't be creating products; instead, the focus will be on services they can offer online," he said. "For example, with gyms being more restrictive, online health coaches will increase in number. Podcasting has also seen a jump in the last couple of years, and there is a reliable structure to making an income off of them now."
The Real Estate Market Will Take a While To Cool Down
"The housing market is on fire across the country," said Jon Bradshaw, founder of Codebase. "People have spent so much time in their homes over the last year that they're ready for something new and interest rates are low. This will eventually even out as interest rates rise again, but who knows exactly when that will be. Until then, sellers will continue to receive multiple offers the first week their house goes on the market."
Make Your Money Work for You
Gabrielle Olya contributed to the reporting for this article.
More from GOBankingRates