Small Businesses That Pivoted Successfully During the Pandemic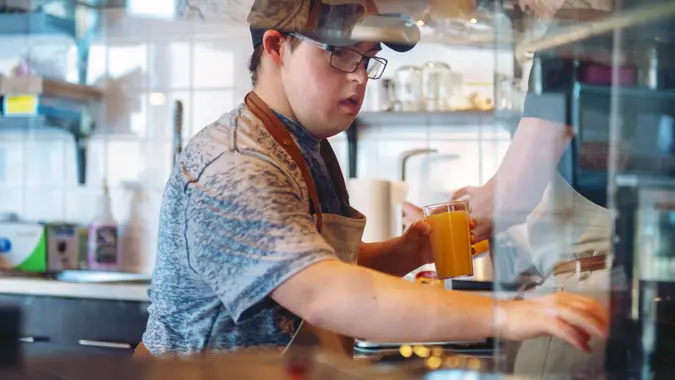 lisegagne / Getty Images
The coronavirus pandemic has dealt a brutal blow to many small-business owners. A recent analysis conducted by the Federal Reserve Board found that the pandemic resulted in the permanent closure of roughly 200,000 more American businesses than are typical during any given year in recent history.
2021 Small Business Spotlight: Check Out Our Small Business Stories, Plus the Nominated Businesses Near You
Related: How To Keep Supporting Your Local Small Businesses
Some small businesses had to get creative to stay afloat, moving traditionally in-person services online, pivoting to provide pandemic essentials like masks and sanitizer or offering new options that catered to a lockdown lifestyle. GOBankingRates spoke to small-business owners across the country to find out the creative pivots they made to keep their companies running over the past year.
Small Business Spotlight: A Texas Photographer Captures All of Life's Meaningful Moments
More Local Stories: Japanese Burger Restaurant Provides a Respite for Patrons Amid the Pandemic
An Escape Room Goes Virtual
Escape rooms are typically an in-person experience, so Palace Games, an escape room company in San Francisco, had to find new ways to keep guests entertained — and keep their business afloat.
"The pandemic forced us to close our doors after five years in operation and on the verge of opening our newest room, which had been two years in development," said Allie Jorde, head of operations at Palace Games. "Once the pandemic hit, we knew that more than ever, people would need a way to socialize and have fun, and if that couldn't be in person, then we would need to go virtual. Our puzzle creators sought to create a premium experience like our physical escape rooms."
Make Your Money Work Better for You
Read More: 22 Side Gigs That Can Make You Richer Than a Full-Time Job
The company's game developers set to work creating multi-player, multi-team competitions that have now been utilized by groups of friends as well as corporate clients.
"We love what we do and we love being a part of the social interactions and joy that comes when playing these games," Jorde said. "We went virtual to continue to provide a space for people to have social and stimulating play, and while it has had its challenges, it has been so worth it!"
A Music Festival-Focused E-Commerce Retailer Pivots To Meet Pandemic Needs
Brian Lim founded the iHeartRaves and Into the AM e-commerce stores to sell clothing and accessories made to be worn at music festivals, so he had to quickly pivot to keep his companies going at a time when festivals around the world were postponed or canceled.
"We pivoted in a couple of ways," he said. "First, we shifted our marketing from mostly festival clothing to focus on other uses of our clothing, such as lingerie or loungewear. Second, we started designing face masks. If your business is suffering, think critically about how you can pivot in these uncertain times. These pivots can turn into permanent revenue streams. Even when COVID-19 is gone, our masks will still be purchased and used by festival-goers to protect their faces from dirt, dust, wind and sun, while staying fashionable at the same."
A Women's Clothing Retailer Connects With Clients Online
Tamara Chaponot, president of the Clever Alice Pop-up Shop, a women's clothing retailer in New York City, wanted to make sure she stayed connected with clients who were unable to shop in person. So she came up with a number of creative ways to stay connected with them virtually.
Make Your Money Work Better for You
See: Small-Business Ideas for a Post-Pandemic World
"We immediately started adding our inventory online," she said. "We also live-stream our new collections, trying on and talking about each piece. Another very effective method has been FaceTime calls where we show new items one-on-one with our clients. It's a great way to see their face, chat a bit and really connect. Lastly, we started a blog where we interviewed our clients about what they do for a living, their tips about getting through COVID-19 and fashion. It kept the connections between our clients and us as more than just a clothing store, but a place to socialize — even if we weren't in person."
A Toy Company Doubles Down on Amazon Sales
With Amazon sales soaring, Hassan Alnassir, founder and owner of the toy company Premium Joy, took the opportunity to cash in on the trend.
Find Out: Shopping Mistakes You're Making and How To Stop
"We adapted the business to the pandemic by simply focusing more on selling through Amazon rather than our standalone website," he said. "Amazon is the default place for online shoppers, especially during the pandemic when people are staying home and ordering stuff on the internet. To boost our conversions on Amazon, we enrolled our products in their Vine program, which helped to get more customer reviews. We also invested in Amazon [pay-per-click] ads to expose our product listings to more eyeballs, which resulted in almost doubling the usual monthly traffic we get."
A Food Tour Company Starts Hosting Virtual Ice Cream Socials
Lauren McCabe Herpich, founder and owner of the Oakland, California-based food tour company Local Food Adventures, had to put a pause on in-person tours when the pandemic began. So she came up with new ways to bring in revenue.
Make Your Money Work Better for You
Did You Know: The Best Grocery Delivery Service for Your Budget
"I transitioned my in-person guided food tours to a virtual ice cream social experience," she said. "In working with many mid- and large-scale companies with employees working from home across the Bay Area and the United States, I have seen groups use our one hour to just turn off work, recharge and have fun together."
Herpich also created ice cream gift box sets that can be shipped nationwide.
A Professional Wedding Officiant Builds an Outdoor Chapel
Alan Katz, owner of the company Great Officiants in Long Beach, California, hosted numerous weddings at his company's on-site chapel before the pandemic hit.
Learn More: How To Effectively Start Planning Your Wedding Now Risk-Free
"We decided to renovate our outdoor space to make it into a beautiful outdoor tropical terrace since we couldn't do anything indoors for safety reasons," he said. "In the space of the year, we would do maybe about 500 weddings a year in the chapel. But [during COVID-19], we were able to more than double that amount at our beautiful outdoor chapel and create a safe experience for our couples to get married."
A Pole Dancing Fitness Studio Starts Renting Out Poles
Tamar Forman-Gejrot co-founded Fly Together Fitness, a pole fitness studio with locations in Somerville, Massachusetts, and Boston, right before the pandemic hit.
"We opened our studio in December 2019 and only a few months later had to move all our in-person classes online," she said. "We've since reinvented much of our business and explored new offerings — we are now renting out home poles and have created a virtual eight-week performance preparation course. We've also created a library of on-demand tutorials."
Make Your Money Work Better for You
A Tea Company Heads To TikTok
Prior to the pandemic, TikTok had just under 40 million users in the U.S. as of October 2019; by August 2020, it had more than 100 million, CNBC reported. Steve O'Dell, co-founder and CEO of Tenzo matcha tea, saw an opportunity to use the platform's popularity to grow his customer base.
How To Make Money on TikTok: 7 Effective Ways
"TikTok took social media by storm and it was only fitting that we jumped in on the trend," he said. "TikTok has given our business a platform to showcase the fun that can be had with our product. Through light-hearted videos, we have gained a following in the platform that embodies a community of our customers online. If you are a small business without a social media presence, I encourage you to start and have fun with it."
An Oral Care Company Starts Producing and Selling Sanitation Supplies
Dr. Pooneh Ramezani co-founded the oral care company, Dr. Brite, with her sister in 2015.
"Since the beginning of the pandemic, we pivoted 180 degrees and began producing essential sanitation products to the mass market," Ramezani said. "That was a very challenging pivot as our company was an oral care company."
Read: 15 Times You Should Splurge, Settle or Skip When Shopping
The company now sells hand sanitizer, multi-purpose cleaners, alcohol wipes, soap and face masks, in addition to oral care products.
"We saw the need, and instead of procrastinating, we viewed it as a once-in-a-lifetime opportunity and executed on it right away," Ramezani said. "We grew our business and customer base astronomically in a short period."
Make Your Money Work Better for You
More From GOBankingRates
Last updated: June 15, 2021