An Economist Reflects on the Damages Caused By One Year of COVID-19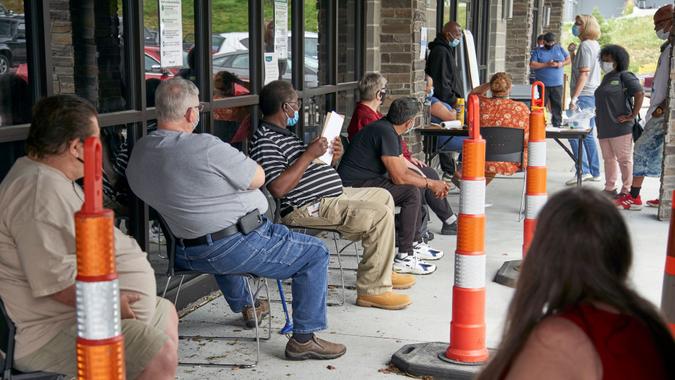 Nati Harnik/AP/Shutterstock / Nati Harnik/AP/Shutterstock
It's amazing how much things can change in a year — and in the case of the economy, not for the better. The coronavirus pandemic has affected nearly every aspect of the global and American economy, from the gross domestic product to employment rates and household spending. To put things into perspective, GOBankingRates spoke to Ryan Severino, chief economist at JLL.
COVID-19 Has Been the Worst Event for the Gross Domestic Product Since WWII
"The pandemic has produced a dramatic negative impact on GDP, resulting in the worst contraction since the demobilization effort at the end of World War II," Severino said. "The impact occurred most acutely during the second quarter of 2020 when GDP contracted at an annualized rate of about 31% — the single worst quarter since the U.S. began tracking GDP quarterly in 1947."
Related: Almost Every State Is In Debt Thanks to COVID-19 — What Now?
Last spring's dramatic dip ended the longest U.S. economic expansion on record — nearly 11 years, the Associated Press reported. Since the GDP's initial tumble, thousands of businesses have closed, over 10 million people remain out of work and more than 500,000 Americans have died from the coronavirus, according to the latest data from the Bureau of Labor Statistics and the Centers for Disease Control and Prevention.
Make Your Money Work for You
The Pandemic Has Cost Widespread Job Loss — But Some Sectors Have Been Hit Harder Than Others
"The pandemic resulted in the loss of millions of jobs, pushing the unemployment rate up to a record-high level of 14.8% last May," Severino said.
Employees in certain sectors were hit particularly hard as a result of stay-at-home orders and government-mandated closures.
Read More: How COVID-19 Changed Retirement for Everyone
"While almost no corner of the labor market came through this unscathed, the pandemic has hit service, leisure and hospitality industries hardest, particularly those that require human interaction, such as food services and drinking places, accommodation, amusements, gambling and recreation," Severino said. "Many people are avoiding those activities and some governments have either shut them down for a period of time or restrict their capacity. That has reduced the need for workers in those industries."
Unfortunately, job loss has affected already vulnerable populations the hardest.
Learn More: COVID-19 Made All of Us More Broke – Here's How We're Struggling with Money at Every Age
"Generally, lower-wage households, particularly those that earned their primary income from leisure and hospitality, have suffered the most because of the significant job losses," Severino said. "Some of these losses were temporary, but an increasing number are becoming permanent as businesses continue to fail or permanently downsize."
Make Your Money Work for You
Household Spending Decreased, Particularly on Discretionary Goods and Services
"Initially, household spending declined dramatically, but continues to recover," Severino said. "However, spending remains well below trend levels. This is creating a situation where consumers have built up significant pent-up demand to spend. By one study's estimate, that totals roughly $1 trillion dollars of underspending during 2020."
Looking Ahead: Beaten-Down Stocks Likely To Bounce Back After COVID-19
Americans have tended to cut back in particular areas of spending, which has hurt certain industries more than others.
"Very discretionary industries, such as leisure and hospitality have suffered significantly," Severino said. "As consumers largely remain home, they are not going to out bars and restaurants, taking vacations, going to the movies or to see live performances, etc. Those industries have suffered significant negative impacts over the last year."
Women, in Particular, Have Suffered From the Economic Effects of the Pandemic
"The recession has hit women, especially mothers, particularly hard," Severino said. "Women often assume more of the caretaking responsibilities so with many schools closed and children learning from home, many women have left the labor force, reversing many of the gains from the last decade."
Make Your Money Work for You
Give Back: How To Keep Supporting Your Local Small Businesses During COVID-19
Nearly 2.4 million women have exited the workforce since last February, compared with less than 1.8 million men, NBC News reported. In addition to those exiting the workforce voluntarily for caregiving duties, women have been particularly vulnerable to coronavirus-related layoffs because they are more likely to work in leisure and retail industries.
Older Workers Have Also Left the Labor Force in Large Numbers
"The recession has forced some older workers from the labor force, either voluntarily or involuntarily, which reduces the supply of older, experienced workers," Severino said.
Read: COVID-19 Is Changing How (and Whether) We Take Care of Ourselves — and Our Healthcare Dollars Tell the Story
A report by the Retirement Equity Lab found that workers age 55 and older were 17% more likely to lose their jobs than younger workers during the first six months of the pandemic. In addition, unemployed workers were being rehired more slowly than their younger peers. Job loss among older workers could affect their long-term financial security in retirement, AARP reported.
School Closings Could Effect the Future of the U.S. Workforce
"The long-term impacts on children's education during the last year remains unclear, but research indicates the effects have largely been negative," Severino said. "That could pose problems for the economy down the road if the future workforce is undereducated."
The Road to Recovery
Although the consequences of the COVID-19 pandemic on the economy have been dire, Severino does believe we will bounce back — and relatively quickly.
Be Prepared: Where Your Money Should Go To Prepare You for More COVID-19 Restrictions
"If we define recovery as back to the year-end 2019 levels, U.S. GDP should recover this year," he said. "Office-using employment should also recover this year. But it will likely take at least a couple more years for non-office-using employment to recover. But economic growth in the U.S. looks set to grow significantly, well in excess of pre-pandemic capacity for a number of years. I expect solid performance as pent-up consumer demand is unleashed and businesses continue investment in beneficial technology."
More from GOBankingRates
Make Your Money Work for You