Fed Will Pause Rate Hikes as Early as Next Week, Says JP Morgan Chief Investment Officer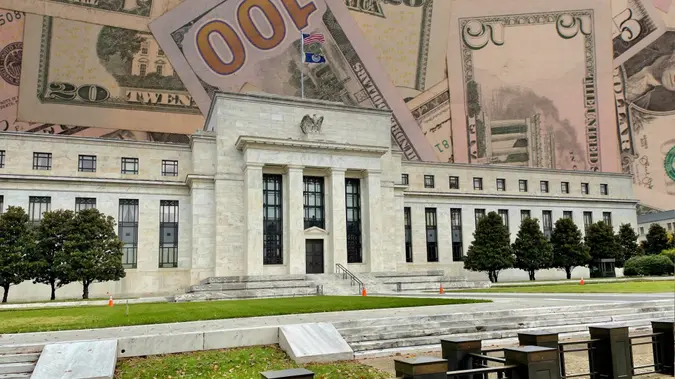 Douglas Rissing / Getty Images/iStockphoto
At least one financial expert expects the Federal Reserve to pause interest-rate hikes as early as next week, though that's not necessarily good news for the U.S. economy.
Bob Michele, chief investment officer of fixed income at J.P. Morgan Asset Management, expects the Fed to end the series of rate hikes it began last year to help tame inflation. He believes the pause will happen next week, Bloomberg reported.
Michele said inflation is "yesterday's battle," and that the Fed should prioritize financial stability as a way to deal with the current banking crisis. That crisis has already caused the collapse of Silicon Valley Bank and Signature Bank and has also impacted Credit Suisse Group, First Republic and other banking companies.
"You're going to get those long and variable, cumulative and lagged impacts hitting the market further. I think this is the tip of the iceberg," Michele said on Bloomberg TV Wednesday. "I think there's a lot more consolidation to come. Lot more pain yet to come."
Make Your Money Work for You
Michele also warned that a recession is "inevitable," and recommended that investors put their money in high quality bonds.
He's not the only one who thinks the Fed will (and should) pause interest-rate hikes. As previously reported by GOBankingRates, several economists believe that the central bank should stop tightening, and that the consequences of not doing so could be severe. One of those consequences is higher borrowing costs for consumers and businesses.
"Inflation is probably slowing enough for policymakers to pause after that. They might even cut later in the year if current trends continue," said David Russell, Vice President of Market Intelligence at TradeStation.
Charlie Ripley, senior investment strategist at Minneapolis-based Allianz Investment Management, has a similar view. In an email statement shared with GOBankingRates, Ripley said last week's better-than-expected inflation report "should provide a runway for the Fed's conditional-pause in rate hikes as further progress on bringing down inflation is evident."
But others are taking more of a wait-and-see approach. Mace McCain, chief investment officer at Frost Investment Advisors, said that while the latest inflation report was "modestly better than expectations," it still remains well above the Fed's target. 
Make Your Money Work for You
Take Our Poll: Are You Concerned About the Safety of Your Money in Your Bank Accounts?
Learn: The 15 Biggest Bank Failures in US History
"More troubling is that Core CPI remains stubbornly above 5.5%," McCain wrote in an email shared with GBR. "Four months into 2023, there has been no progress bringing inflation toward the Fed's year-end target of 3.6%. If core inflation remains sticky, the newly data-dependent Fed will be faced with the prospect of more rate hikes, contrary to market expectations of rate cuts. The futures market projects three rate cuts by year end."
More From GOBankingRates
Make Your Money Work for You