4 Ways the Fluctuation of Gas Prices in 2022 Affects You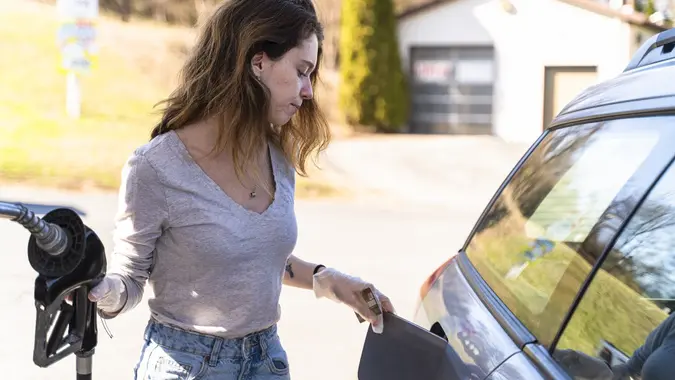 Alex Potemkin / iStock.com
Gas prices in the U.S. hit all-time highs this year thanks to high demand, low supply and economic and global unrest. According to AAA, 2022 started with the average price of gas at $3.28 per gallon — a far cry from the new record in June at $5.016 per gallon (and $5.816 per gallon for diesel).
Since then, gas prices have decreased in most states, but many Americans — especially those in many western states, Hawaii, Alaska and Illinois — are still paying $3.959 to $5.439 per gallon. These price hikes have taken a toll on many Americans' finances.
According to a June 2022 Harris Poll, 81% of hourly workers said having to pay more for gas negatively affected their ability to cover other expenses. Nearly half (49%) found it difficult to pay for groceries, 40% had a hard time paying their utility bills, and another 34% struggled to cover their rent or mortgage payments.
So how will these fluctuating gas prices continue to affect your everyday life? GOBankingRates spoke with several experts to get answers.
You Can Expect the Cost of Everyday Goods To Keep Rising
Rising gas prices don't just affect the cost of transportation. Ron Cogan, a writer and analyst for over 30 years at Green Car Journal, said it increases the cost of other goods, too.
"More expensive gas and diesel means transporting goods to distribution centers and retail outlets is costlier, bringing rising retail prices," he said.
Your housekeeper, yard maintenance company and other service providers have likely already raised their prices as the cost of transportation threatens to eat into their profits, as well.
Make Your Money Work for You
Although inflation is showing signs of slowing down, these higher costs may stick around for a while. As a result, more people may begin shopping in bulk at stores like Walmart or Costco and opt for less expensive generic brands over name brands.
You May Have To Cut Back on Savings and Luxury Expenses
As the cost of goods rises, you may find you have less money to put toward savings or spend on discretionary goods and experiences. Ian Lang, senior car advice editor at Bumper, said people may cut out miscellaneous spending habits such as the nail salon, online shopping or dining out.
"The average or total amount someone can save up from each paycheck may also be affected by gas prices," he said. "If your tank costs $20 more to fill up than you normally account for, that could be $20 less you have to add to your savings each week."
You May Find It Easier To Get a Job
Although rising gas prices have put a strain on many Americans' finances, not all the news is negative. Barry Weinstein, founder and CEO of VolatilityMarkets Newswire, said some people may find it easier to get a job in today's economy.
"Project managers often have to decide the most cost-effective mix of machinery — also known as capital — and labor," he said. "When the price of gasoline goes up, it becomes more expensive to run machines and comparatively less expensive to use human labor. Increases in the price of gasoline can lead to a shift in the mechanization of job sites and increase the use of human labor."
Make Your Money Work for You
You May Need To Consider Other Modes of Transportation
If gas prices are hurting your finances, consider driving less and using other forms of transportation.
"Buses, public rental bikes, or carpooling could all be options available to cut down on your transportation costs, depending on where you live," said Lang. "If you have to drive on a regular basis, try to limit unnecessary trips."
You may find it helpful to go grocery shopping only once per week or to use one trip to complete multiple errands that are near each other.
Lang also recommends signing up for fuel rewards or gas station membership programs. Several apps — such as GasBuddy, GetUpside, and Gas Guru — can also help you earn rewards and find the cheapest gas stations.
"If you can, stick with one brand that has a good fuel points system to ensure you're racking up as many savings as possible," he said.
More From GOBankingRates