Grocery Costs 2023: Is Inflation the Only Reason Prices Are Soaring?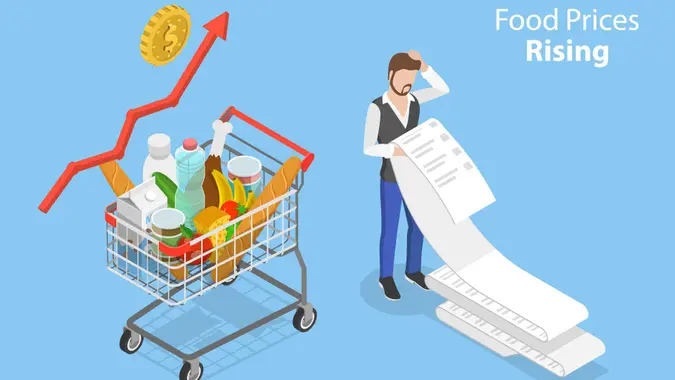 TarikVision / Getty Images/iStockphoto
Grocery shopping lately has been costly for the average American, and many price increases at the supermarket have been explained by ongoing inflation. The "food at home" category was up a record-making 13.5% year-over-year in August 2022, an increase not seen since the late '70s, per the U.S. Bureau of Labor Statistics.
Numbers have come down since then — particularly the past few months, with food at home now sitting around 10.2% and overall inflation cooling to 6%, according to the latest consumer price index report.
So, with inflation coming down, why are grocery prices still incredibly high and climbing? And why are pantry and refrigerator staples currently double the rate of inflation? As Vox pointed out, white bread is up 22%, flour costs 21% more and butter has increased a whopping 31%.
It's a conundrum that has many guessing. Per CBS News, "On social media, consumers complain about being 'baffled' by food prices, as well as stressed over the challenge of budgeting for ever-higher grocery bills."
Some Blame Corporate Greed or Price Gouging at the Grocery Store for Price Hikes
Food price hikes at the supermarket could simply boil down to corporate greed, some critics argued. According to CBS, "Food producers may be raising costs simply because they can." CBS pointed out a corporate watchdog group that has "accused food manufacturers and retailers of boosting prices unnecessarily because that was more feasibleat a time when consumers are braced for inflation."
Vox added, "The inflation narrative offers the perfect jumping-off point for companies to raise prices, and major food manufacturers are taking advantage of the moment to boost their profits." Add to that the chorus of supply chain issues and the ongoing Russia-Ukraine war, food prices may be influenced by a variety of factors. However, while these struggles have hampered food production, some suggest they are also being used as another rationale for pure profit-making.
Make Your Money Work for You
Vox gestured toward huge profits that many of the leading food providers in America reported in 2022. Cargill reported revenue of $165 billion, with $6.68 billion of that being direct profit. Tyson Foods "doubled its profits" between 2021 and 2022, while cereal and packaged goods giant General Mills reported their profits increased 97% in 2022.
Grocery Store Mergers May Also Be To Blame
Recent grocery store mergers are also resulting in monopolies that drive up prices. If the Kroger-Albertsons merger currently on the table goes through, Vox claimed it would result in that new cooperative and Walmart, together, controlling 70% of the grocery industry. The article pointed out that Kroger's profits in 2022 were above $4 billion.
Even with real implications like supply chain issues, crop disasters and avian flu ravaging the egg industry, "There's disagreement on whether the higher costs that have resulted from those woes should be passed on to consumers — which is largely what has been happening," Vox declared.
These are real questions facing Americans who have made impossible decisions when it comes to feeding their families. According to Vox, citing a survey by Propel, nearly a third of families are "skipping meals, eating less or relying on food banks" as prices skyrocket. Adding to the issue is the fact that the pandemic-era boost to food stamps will soon come to an end, leading to about $95 less per month to spend on food for many SNAP recipients.
Though, CBS News reported there could be improvements as 2023 continues with food price increases leveling out more around 8% rather than the double digits consumers have seen over the past two years.
Make Your Money Work for You
More From GOBankingRates