Has the Car Price Bubble Popped?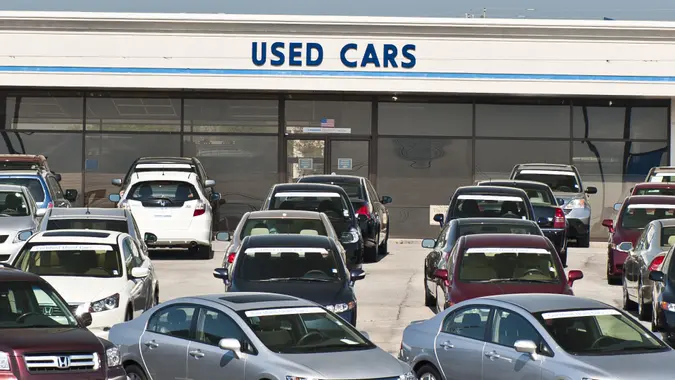 WendellandCarolyn / Getty Images
In mid-July, CBS News reported that vehicle repossessions had surged, with repos doubling even among buyers with good-to-excellent prime credit. In many cases, pandemic stimulus helped defaulters buy cars, but when the checks stopped and inflation surged in 2022, they couldn't keep up with the payments. In other cases, people got into trouble by taking out more expensive loans after the Fed raised interest rates.
See: How Much Cash To Have Stashed at Home at All Times
More: 7 Surprisingly Easy Ways To Reach Your Retirement Goals
The trend is a troubling sign that industry experts worry indicates a market bubble poised to burst. Gradually falling MSRPs would be welcome news, but a sudden cratering of prices would leave many people who bought at the bubble's peak underwater with cars worth less than the balance of their loans.
So is there a bubble? Has it burst or will it soon? GOBankingRates asked the experts.
Make Your Money Work for You
First, the Bad News
According to CoPilot's Return to Normal Index, the average price of a used vehicle is $33,341. That's lower than the March peak, but only by $172.
If standard depreciation patterns still applied, the average price would be $23,295, which means used car buyers are paying an average of $10,046 more thanks to the auto market bubble.
Although used prices are only a hair less than during the bubble's peak, the new car market is even uglier. At the end of last month, Kelley Blue Book reported, "New car buyers paid an average of $48,182 in July." It was the highest figure KBB had ever recorded.
"The auto market is still short on supply and high on demand," said automotive expert and industry analyst Lauren Fix of Car Coach Reports. "Beyond the chip shortage, there are shortages in tires, wiring harnesses and plastic components. One dealer I spoke to has new cars in their lot but are not saleable because they are missing inner wheelhouses or chips for safety features. In conversation with many automakers, they don't see any relief of these supply chains until 2024."
Make Your Money Work for You
Take Our Poll: Do You Think You Will Be Able To Retire at Age 65?
Demand Is Falling, and Prices Shouldn't Be Far Behind
The $172 drop in average used car prices isn't exactly grounds for celebration, but it could be a sign that the storm clouds are starting to clear.
"Prices may finally be starting to cool a little bit," said David Chou, who previously led corporate strategy at CarMax and Edmunds and is now the CEO and co-founder of used luxury automotive platform Motorenn. "There will be a price drop in the short to medium term, then a mild recovery in the next six to 12 months before a likely glide back down to normalcy."
Same as with every industry, it's all about supply and demand.
"While supply is still limited compared to the steady state of new car production before the pandemic, demand has also been depressed," said Chou. "With inflation, a potential recession and resulting changes in financing — such as higher interest rates, more consumers underwater with their leases or loans, and higher default rates — the number of new and used car sales has slowed down."
Make Your Money Work for You
Matas Buzelis, an auto expert at carVertical and president of the Association of Automotive Intelligence, agrees that demand is falling because cash-strapped consumers are putting off buying, but he thinks car sellers are responsible for falling prices, too.
"It is also initiated by dealers that are struggling to sell some vehicles and are in urgent need of cash flow."
Where the New Market Goes, the Used Market Will Follow
During the height of the auto shortage — when used cars routinely sold for more than comparable new cars and new cars had months-long waiting lists — analysts discussed the two markets as if they existed independently.
They do not.
"The new car market sets the pace for the used car market," said Buzelis.
However, prices in the used and new markets can and do change at different rates for different reasons, and the used market will probably loosen up first.
"With the slower supply of new cars, some used car transactions are lagging," said Buzelis. "It is by far less likely the prices of new cars will decline. Manufacturers have already adapted. It used to be volume businesses, where bigger profits could be made by increasing the production numbers. But now car makers can sustain their gains without accelerating the speed of their assembly lines."
To Buy or Sell, or Not To Buy or Sell?
If you were considering selling a car and you believe that the bottom is about to fall out of the market, now would be the time to pull the trigger. If you're looking to buy, wait a while.
"The used car bubble is absolutely about to burst, if not by the end of this year, by the beginning of 2023," said Geoff Cudd, consumer advocate and owner of Find The Best Car Price. "This is going to help a lot of folks out who simply cannot afford to purchase a new car. Since it hasn't happened yet, I would advise those in the market for a used car to hold off for a few more months if they can. As for those looking to sell their cars, I say sell now. Since that bubble is about to burst, you will get less and less for your used car as time goes on."
In the end, of course, the decision to buy, sell, or trade in a car is a personal one that's often driven by necessity.
"The best time to buy a vehicle is when you need one," said Mike Rumple, owner and CEO of Your Car Buying Advocate. "Just like it's not wise to try to time the stock market, I tell all my clients this: If you need a car, buy a car. If you don't need it and don't have to buy one, don't buy one."
More From GOBankingRates
Make Your Money Work for You