Here's How Much It Costs for the Secret Service to Protect Trump's Family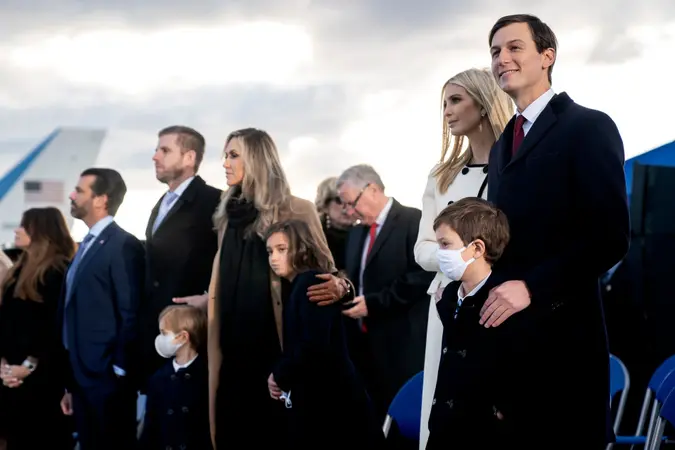 Stefani Reynolds/POOL/EPA-EFE/Shutterstock / Stefani Reynolds/POOL/EPA-EFE/Shutterstock
In the days leading up to his departure, former President Trump requested Secret Service security protection to be extended for the next six months to Trump's adult children, according to a Washington Post article.
See: What Does It Cost to Live in the White House?
Find: What Is Joe Biden Costing You This Week?

Under federal law and under the Former Presidents Act, which was enacted to "maintain the dignity" of the Office of the President, former presidents are provided certain benefits, including Secret Service protection for themselves, their spouses and their minor children under the age of 16, according to the United States Secret Service website.
Under the law, only Trump, his wife and their 14-year-old son would then be entitled to the protection. However, because of the former president's unusual request, "the expensive, taxpayer-funded security will continue for his daughter Ivanka Trump and her husband, Jared Kushner; son Donald Trump Jr.; son Eric Trump and his wife, Lara Trump; and daughter Tiffany Trump," according to The Washington Post.
Make Your Money Work for You
See: How Much Would Trump's Coronavirus Treatment Cost Taxpayers?
Find: How Much Is President Donald Trump Worth?
The extended protection could cost taxpayers millions of dollars because of how many people are being protected and how often they travel, The Post says.
For example, according to the U.S. Government Accountability Office, the Secret Service incurred about $396,000 in expenses, "primarily for temporary duty costs, while protecting Donald Trump, Jr. and Eric Trump during three international trips taken in January and February 2017. Eric Trump traveled to Uruguay and the Dominican Republic and Donald Trump, Jr., Eric Trump, and their spouses traveled to the United Arab Emirates."
See: President Trump's 18 Surprising Spending Habits
Find: What Will Trump's Finances Look Like After He Leaves Office?
The Post also reports that from 2017 to 2019, Trump family members took more than 4,500 trips requiring the Secret Service to travel alongside them, at a cost of tens of millions of taxpayer dollars.
In Trump's first four trips to Mar-a-Lago in 2017, the Secret Service alone spent about $1.3 million on each visit, and for just one month in 2017, Trump's travel costs totaled $13.6 million, including expenditures by the Secret Service, the Department of Defense and the cost of renting space and equipment, The Post notes, adding that Trump had made 22 more trips to Mar-a-Lago since then, at a cost of an additional $28 million if the Secret Service's costs remained constant.
Make Your Money Work for You
In 2017, the Secret Service asked Congress for an additional $60 million for its 2018 budget to cover presidential travel, according to The Post.
More From GOBankingRates:
Make Your Money Work for You