How Is Inflation Affecting Those Already Living in Poverty?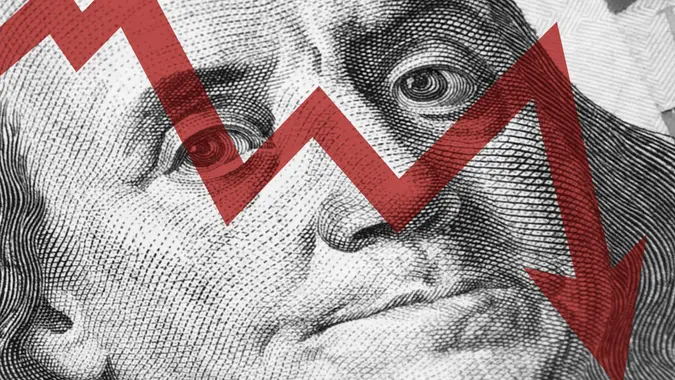 anilakkus / iStock.com
Inflation is a normal — and usually, healthy — part of the economy. In fact, the Federal Reserve aims to maintain an inflation rate of about 2% annually. But for the last couple of years, inflation has been rising well beyond that target.
Be Aware: 9 Bills You Should Never Put on Autopay
Dollar Tree: 5 High-Quality Items To Buy Now
Though it's beginning to slow, the inflation rate still stood at 8.5% year over year as of July. There are several reasons why inflation is rampant, many of which are a result of the COVID-19 pandemic. And unfortunately, like many other consequences of the pandemic, the nation's poorest citizens are being hit the hardest.
How Inflation Disproportionately Impacts the Poor
"High inflation is inarguably bad for all," said Kunal Sawhney, CEO of investment research firm Kalkine Group. "But the impact of high inflation is always bigger on the bottom of the pyramid."
For one, he said, lower-income families typically spend a larger portion of their income on fulfilling their basic needs such as food, shelter and clothing, and are left with a minimum surplus after providing for these necessities. "When prices of these necessities go up in a high inflationary scenario, poor people struggle to meet their basic needs — inflation reduces their real income."
Make Your Money Work for You
Additionally, poorer households may actually experience higher rates of inflation than wealthier households, according to the Brookings Institute. Inflation is typically measured according to the consumer price index (CPI), which is produced by the Bureau of Labor Statistics and tracks prices on a basket of goods and services that are supposed to be representative of the average consumer. However, the way people spend their money tends to differ based on their income. 
For example, the lowest-income households spend a much higher percentage of their incomes on food than the wealthy. Additionally, the national average energy burden for low-income households is three times higher than for non-low-income households. Food and energy also happen to be among the spending categories hardest hit by inflation, meaning these price increases disproportionately impact the poorest households. 
Take Our Poll: Are You Concerned That Social Security Benefits Will Be Reduced During Your Lifetime?
High-income consumers are also more easily able to switch from higher-quality to lower-quality goods, as well as employ cost-cutting strategies such as buying in bulk — options that many poor Americans don't have. "Those who live more comfortably have the option of making switches or choices to lower their budget that doesn't involve compromising necessities," explained Anessa Custovic, chief investment officer and investment advisor representative at Cardinal Retirement Planning, Inc. 
Make Your Money Work for You
For example, wealthier individuals may have reigned in spending on entertainment or cut down the number of times they eat out regularly. "When you are living in poverty and all of your money goes to essentials, you will have to make choices like transportation vs. food or housing vs. food instead of simply cutting out spending on dining out or the new tv you may have wanted," she said. 
Finally, wealthier households often have more access to affordable financial products and tools that can protect against inflation. Poor consumers, on the other hand, are often faced with higher fees for even basic financial services, such as checking accounts. In the U.S., the 25% wealthiest households are five times as likely to have a certificate of deposit than the poorest households. They're also six times as likely to have savings bonds, and 12 times as likely to own investment funds.
"For those who are already living a comfortable life, high inflation will lead to lower savings and discretionary spending," Sawhney said. "But those who live on a fixed budget are certainly going to feel the inflation pinch."
More From GOBankingRates
Make Your Money Work for You
Make Your Money Work for You