How the Price of a Super Bowl Ticket Has Skyrocketed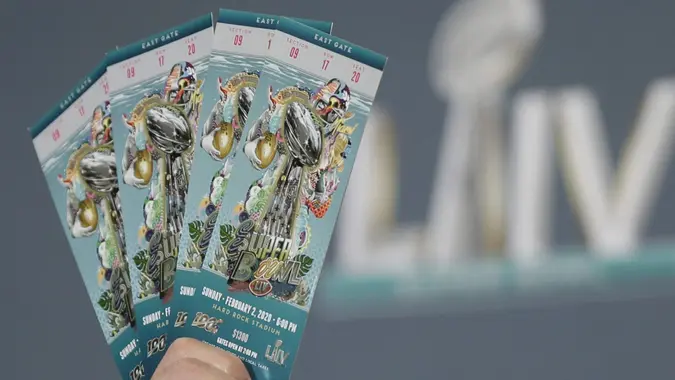 John Angelillo/UPI/Shutterstock / John Angelillo/UPI/Shutterstock
The average ticket to Super Bowl LVI at SoFi Stadium in Los Angeles was selling for $10,237 as of Feb. 1, USA Today reported. That was more than double the average from the same time just one year earlier during the run-up to Super Bowl LV — and that had been the most expensive Super Bowl ever.
A ticket to the biggest annual event in American sports and television was not always exclusive only to the richest people and companies in the world. In fact, things didn't really start getting outrageous until 10 years or so ago.
Related: The Cost To Go to the Super Bowl the Year You Were Born
Also See: $300 Parking and Other Outrageous Expenses at This Year's Super Bowl
The Super Bowl Was a Treat, Then a Luxury, Now an Extravagance
Even when adjusted for inflation, Super Bowl tickets cost less than $100 in today's money throughout most of the 1970s, according to The Sporting News. The average ticket cost less than $200 in today's money through most of the 1980s and less than $500 in the 1990s.
Make Your Money Work for You
In fact, the average ticket to the Super Bowl didn't breach $1,000 — again, adjusted for inflation in today's dollars — until 2008, and it stayed under $2,000 until 2015.
Just seven years later, it has broken into five figures. Needless to say, the most expensive Super Bowl tickets ever have been sold in the last few years. That's because the most expensive ticket from even just a few years back might not be enough to get you into the tailgate party today.
$85,000 to See Brady's Last Hurrah
In late January 2021, the Buccaneers were gearing up to take on the Kansas City Chiefs at Raymond James Stadium in Tampa, where the Bucs would become the first team in history to play a Super Bowl in their home stadium. The Rams will become the second this year.
It would be the site of Tom Brady's last Super Bowl, and demand for tickets was at an all-time high. On Jan. 25, a local ABC affiliate reported that one ticket had sold for $84,838, calling it "the most expensive Super Bowl ticket yet."
Make Your Money Work for You
Super Question: Is Hosting the Super Bowl Worth It for Cities?
Six-Figure Super Bowl Tickets?
On Feb. 1, NewsNation reported that StubHub was listing upper sideline tickets to this Super Bowl for $99,999 each. Once you tacked on fees and expenses, the price jumped to over $126,000, making them some of the most expensive Super Bowl tickets in history. Although it's unclear whether any have sold at that price, it seems unlikely.
Pricing can be volatile on the secondary market; the same ticket can sell for different prices on two platforms. But upper sideline tickets are a far cry from sitting on the 50-yard line. On Feb. 7, Yahoo News reported that front-row tickets behind the Bengals' bench were going for $62,095 each. Seats just 14 rows back on the 50 behind the Rams' bench — in a VIP section, no less — will cost you just $52,829.
The Million-Dollar Super Bowl Suite
Local businesses usually purchase most of the premium seating in any given NFL stadium in advance. But, according to Sportico, when a stadium hosts the Super Bowl, those local businesses are priced out as the biggest corporations and highest net worth individuals in the world compete for limited space in luxury boxes.
In 2021, the NFL made history when it sold its first $1 million suite for this Super Bowl. It crushed the previous record from the 2020 Super Bowl in Miami, which was $750,000 — this despite SoFi Stadium having 90 more suites than Florida's Hard Rock Stadium.
Make Your Money Work for You
That report was from November 2021; even by that early date, the NFL already had sold several seven-figure suites and expected prices to rise as inventory dwindled.
Also Know: How Much It Will Cost To Attend Super Bowl LVI — Plus $5K at Least for Tickets!
Want to Drop Some Real Money? Go to a VIP Super Bowl Party Instead
If you have money to burn but stadium seating isn't your thing, consider an alternative way to tear through cash on Super Bowl Sunday. The most exclusive Super Bowl parties are celebrity-studded, anyone-who's-someone affairs that the world's elite pay fortunes to attend.
The top packages cost at least $2 million, according to Fan Hospitality, and include accommodations in palatial mansions manned by full staffs, complete with limo transportation to and from the Super Bowl. Tickets for the best seats are all part of the deal.
They allow access for groups of 40 or more to luxury suites and the highest-end VIP treatment at all the top Super Bowl parties in the city, including Rolling Stone, Maxim, Playboy and Shaq's Funhouse — entry into Shaq's Funhouse alone can cost $1 million.
As early as 2014, Forbes was reporting on $2 million ultra-VIP weekend packages that included $10,000 tickets to the Super Bowl — and that's back when $10,000 was still considered expensive.
More From GOBankingRates
Make Your Money Work for You