How Will Car Loans Be Impacted by the Fed Raising Rates?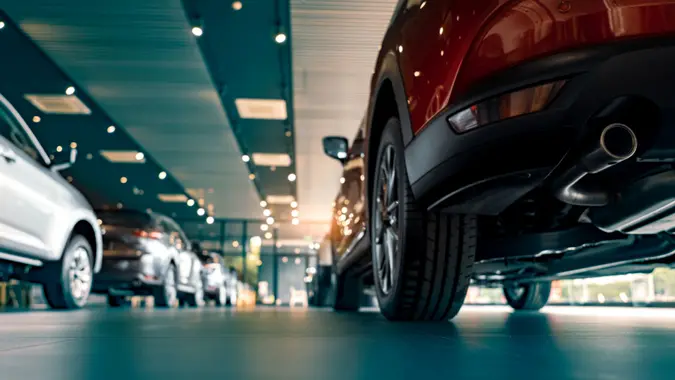 Fahroni / Getty Images/iStockphoto
If you're in the market for a new car, be prepared to pay more to finance it than you would have a few months ago. The Federal Reserve's announcement this week that it will hike the federal funds rate for the eighth straight time means the interest you pay on car loans will also move higher.
At its latest meeting, held Jan. 31-Feb. 1, the Fed approved a 0.25% interest rate increase in its ongoing effort to tame inflation. That's a smaller hike than the 0.50% increases the central bank approved in previous meetings, but it will still have an impact.
If you're planning to buy and finance a car, you'll probably have to spend more in the coming months. The average interest rate on a five-year new car loan is currently 6.18%, which is up from 3.96% last year, CNBC reported. The rate could go even higher after the Fed's latest move, meaning that already pricey car loans will get even more expensive.
Make Your Money Work for You
Data from Edmunds shows that if pay an annual percentage rate of 6% instead of 4%, you'll end up spending $2,672 more in interest over the course of a $40,000, 72-month car loan.
"The ever-increasing costs of financing remain a challenge," Ivan Drury, Edmunds' director of insights, told CNBC.
How this impacts car sales remains to be seen, but the news on that front is not cheery — at least for automakers and dealers. Full-year new-vehicle sales in 2022 were expected to fall about 8% from the previous year, according to data from Kelley Blue Book.
Some Experts Suggest Car Sales To Remain Hot
However, some industry experts downplay the impact of higher APRs on auto sales.
Increased rates will have "no material impact on car sales," said Jonathan Smoke, chief economist at Cox Automotive, adding that the global microchip shortage will have a much bigger impact. If anything, higher rates might push sales slightly higher.
"As rates begin to go up, it usually juices demand a bit as consumers try to get in before the rates go too high," Smoke told GOBankingRates in an email.
Make Your Money Work for You
Higher overall rates might not have a huge impact on the loan terms car buyers get, either, because those are usually more influenced by factors such as a customer's credit score and credit history. Much of it depends on how lenders react to the Fed's rate hikes.
"It is possible that the rates offered by lenders continue to be relatively favorable relative to what the Fed is doing and what the bond market is doing, but lenders are likely to manage risk in other ways if yield spreads do not expand," Smoke said. "For example, higher down payments could be required, terms offered could be shorter thus increasing payments, or lower credit applicants may have a harder time getting approved."
As for consumers who are worried about the combination of higher rates and rising sticker prices: The best strategy is to be flexible with what you're looking for in a car.
"Consumers looking to save money can be flexible as to color, trim-level and other options," Smoke said. "And you will likely score a better deal if you shop a sedan vs. an SUV or a pickup."
Make Your Money Work for You
More From GOBankingRates