Impeachments, Firings and Stock Losses: Less Than a Week After Capitol Hill Riots, Fallout Continues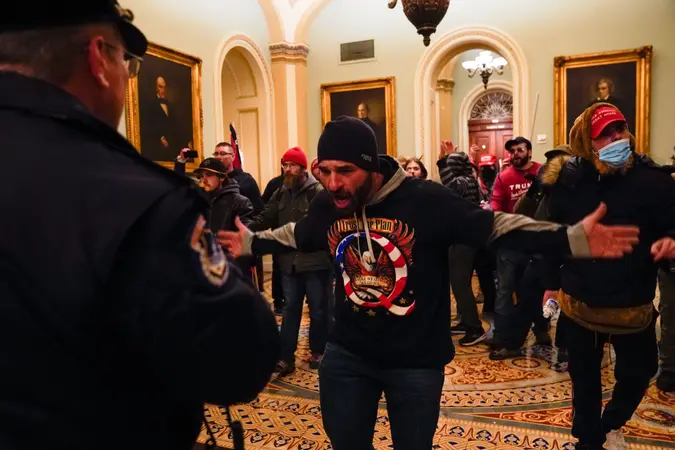 Manuel Balce Ceneta/AP/Shutterstock / Manuel Balce Ceneta/AP/Shutterstock
The pandemic has had far-reaching effects on our nation's economy, finances and mental health since March 2020. And now, in the second week of 2021, we're picking up the pieces from the Jan. 6 riots at Capitol Hill. As Washington, D.C. works with the government to secure the area for the presidential inauguration on Jan. 20, the fallout from last Wednesday extends far beyond the city's borders.
See: How the Pandemic is Controlling Our Finances and Other Things We learned in 2020 StudiesFind: Pence to Attend Biden's Inauguration, But at What Cost?
Second round of impeachment underway.
The U.S. House of Representatives has charged Trump with "inciting an insurrection," an article of impeachment that could lead to a trial, likely to be held after President-Elect Joe Biden takes office. If he's found guilty, Trump could lose his retirement package and could, potentially, be prevented from holding office again.
Social media uproar leads to stock hits.
Twitter stock fell 7% after permanently banning President Donald Trump from the social media platform. Analysts told Bloomberg that the decision to ban the incendiary personality demonstrates the company is making editorial decisions. "In the U.S., it's about how are these companies being regulated, are they regulated, should they be regulated?" Mirabaud analyst Neil Campling speculated in Bloomberg.
See: The First Step of Impeachment Is Officially Underway — And It's Actually Cheap for TaxpayersFind: As Trump Loses Access to Facebook and Beyond, Social Platforms Brace for Drop in Revenue
 Parler loses its voice.
The messaging app Parler fared even worse than Twitter this weekend, when Google and Apple both removed Parler from their app stores. Amazon Web Services then pulled the plug on Parler, shutting off its access to the company's servers.
Make Your Money Work for You
PGA changes championship venues.
The PGA of America board of directors announced that it would not be hosting the 2022 golf championship at Trump National Golf Club Bedminster in New Jersey, one of Trump's courses. Similarly, the R&A, the U.K. counterpart to the PGA, announced it would not hold the British Open at Trump's Turnberry course in Scotland.
See: CEOs Send Strong Rebuke of Capital Riot as Multiple Trump Staffers ResignFind: Wall Street Journal Latest Financial Powerhouse to Call for Trump's Resignation
Rioters lose jobs.
Actions have consequences, and many people allegedly involved in the Jan. 6 events are feeling that deeply. Companies are firing rioters after these employees have been identified on video or social media. Some protestors boasted about their actions on social media, making it easy for employers to uncover the proof they needed for termination. Many companies who fired rioters made public announcements on social media, calling out the individuals to show that such behavior would not be tolerated by the organizations.
More From GOBankingRates: