U.S. Capitol on Lockdown Due to Protests; Stock Market Rallies as Electoral College Vote Certification Delayed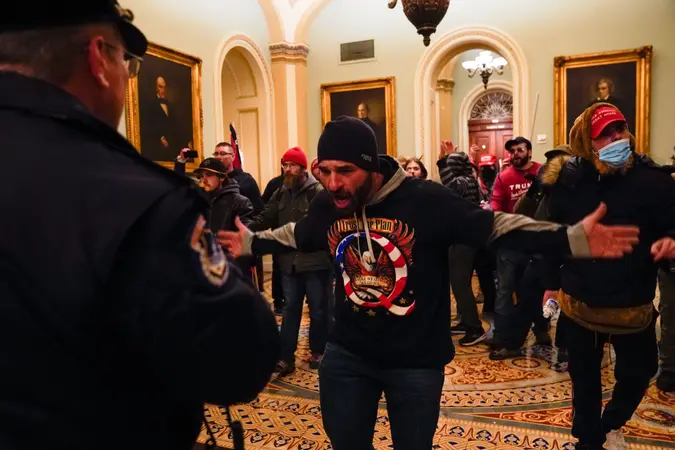 Manuel Balce Ceneta/AP/Shutterstock / Manuel Balce Ceneta/AP/Shutterstock
Today, the Senate was in session to certify the Electoral College vote. Drama was expected – in the form of lots of speechifying.
Drama has taken place, but in a most unusual way. Protestors who want to stop President-elect Joe Biden from taking office have broken into the U.S. Capitol. According to CBS News, the Senate has been evacuated, with senators going to an undisclosed location. The chamber doors to the House of Representatives have been closed and members of congress were told to get under their desks and put on gas masks kept there.
See: Leaders from the NBA, Goldman Sachs and Nearly 200 Top Companies Urge Congress to Certify Election Results
Find: Democrats (Appear to) Win Georgia Senate Race – Here's What That Would Mean for Your Wallet
It seems as though the protestors broke fortified glass on the doors to the Capitol Visitors Center. It is unclear what is happening within the building. The Capitol Police are there, and Speaker of the House Nancy Pelosi (D-CA) has asked the National Guard to deploy. In the District of Columbia, the National Guard is under the jurisdiction of the Secretary of the Army, as there is no governor. The cost to deploy the National Guard for the Black Lives Matter protests last summer was about $21 million, according to an Axios report.
Make Your Money Work for You
Democracy will win today. We are not scared and will do our part.

— Rep. Val Demings (@RepValDemings)

January 6, 2021
This has never happened before in U.S. history. It is unclear what will happen. From a procedural perspective, the senate can either meet wherever they are or vote to adjourn for the day and then reconvene tomorrow. The Mayor of Washington, D.C. has called at 6:00 pm curfew.
See: The Highest- and Lowest-Paying Positions in Congress
Find: Here's Why Biden's Lockdown Plan Wouldn't Hurt the Economy
The financial markets do not seem to be spooked, with Dow Jones Industrial Average and S&P 500 both up as of this writing, by +418.69(+1.38%) and+24.48(+0.66%) respectively. Meanwhile, the cost of contested elections for the American taxpayer could cost millions if pursued.
More From GOBankingRates:
Make Your Money Work for You