How Long Will It Take Las Vegas to Recover from COVID?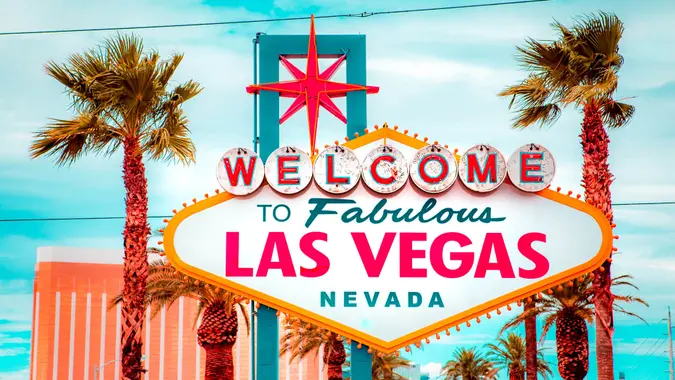 bluejayphoto / Getty Images/iStockphoto
Since the coronavirus pandemic began in March 2020, the hospitality industry has seen tremendous losses totaling double that of any other industry. According to the Bureau of Labor statistics, employment in the leisure and hospitality industry has dropped by 23.2% since February of last year, trailed by mining and logging (11.8%) and information (9.3%).
See: Pandemic Job Losses Hitting Gen Z the Hardest
Find: Private Sector Unexpectedly Lost 123,000 Jobs in December as Pandemic Rages On
Las Vegas thrives on hospitality industry income. Financially, it's been the hardest hit region since the coronavirus pandemic started last year. Will it ever recover from the latest blow, losing the 2021 Consumer Electronics Show?
CES traditionally brings in $169 million, on average, to the Las Vegas economy. Hourly wage workers would cash paychecks for working 80-hour weeks in preparation for what the Consumer Technology Association, the organization that produces the show, calls "the most influential tech event in the world." With 170,000 consumer and industry attendees, it's not just the millions that CES directly brings in that kick starts the year for Vegas-based businesses. The Las Vegas Sun reported that the total economic impact on the city equaled about $283 million last year.
Make Your Money Work for You
This year, CES 2021 was held virtually, with product demos, panel discussions and live chats taking place entirely online. This follows a year of reduced tourism and hotel, resort and restaurant closings across the city.
See: Domino Effect — 10 Surprising Disasters Caused by COVID-19
Find: What's In Store for the Restaurant Industry in 2021?
Las Vegas' hotels, resorts, casinos and restaurants officially reopened June 4, 2020. But complete recovery may not happen until 2023, Forbes reports. Multiple things stand against a quick and successful recovery, even with the prospect of widespread distribution of a coronavirus vaccine on the horizon.
Airline travel has slowed due to the pandemic.
Most of the city's tourism relies on airlines, and people may still be reluctant to fly. A significant percentage of Vegas visitors fly in, which leads to other challenges related to travel regulations across borders due to COVID-19.
People can't afford to splurge on a Vegas vacation.
A trip to Vegas is a luxury that many people may not be able to afford or would hesitate to splurge on in this economy.
Make Your Money Work for You
See: 40 Pandemic Airport Secrets Only Insiders Know
Find: How the Pandemic Is Controlling Our Finances and Other Things We Learned in 2020 Studies
Loss of business travel hit the city hard.
Here's where losing CES comes into play. Over half of Las Vegas' visitors travelled to the city for business, pre-pandemic. Thanks, in part, to conventions from every industry, guests would fill hotel rooms to over 85% capacity on weeknights. Of course, a trade show, convention, or business meeting in Vegas means dining, shopping and gambling in the city.
Large-venue events like sports and concerts may not return this year.
Even with a vaccine, large-scale gatherings have been off the plate for a while and may not return until mid-year or next year. As an example, in June, Cirque du Soleil, a staple on the strip, filed to "restructure and restart" under Canada's Companies' Creditors Arrangement Act. How many acts will return to Vegas, and when? These shows represent a significant source of revenue and employment for the city.
Make Your Money Work for You
See: Almost Every State Is in Debt Thanks to COVID-19 — What Now?
Find: Experts Predict What the Economy Will Look Like at the End of 2021
It's worth noting, too, that tourism and gaming taxes contribute 47% to Nevada's total budget.
As time goes on, the overall economy rebounds and people become more comfortable with crowds and traveling, Vegas may once again become a vibrant mecca of entertainment. But, as with nearly everything related to COVID-19, recovery is going to take some time.
More From GOBankingRates:
Make Your Money Work for You