National Hispanic Heritage Month: Why Our Economy Would Crumble Without Latinos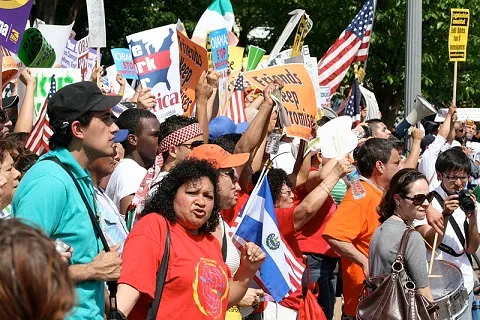 With an estimated 52 million Latinos currently living in the United States, Hispanic Americans are unequivocally the largest minority population in the country.
In honor of National Hispanic Heritage Month, we took a look at how Latinos impact the U.S. economy as consumers, taxpayers, laborers and business leaders.
With the Hispanic-American population projected to grow to 132.8 million — 30 percent of the total U.S. population — by 2050, Latinos will most certainly continue to contribute to, and substantially impact, the overall growth and output of the U.S. economy.
Latinos as a Growing Consumer Base
In recent years, more companies and advertisers have launched marketing initiatives designed to specifically attract Latino consumers, and with good reason. The purchasing power of Latinos is expected to grow 48.1 percent by 2016, reaching $1.6 trillion in consumer purchases, according to a 2011 study by market analyst IBISWorld.
Conversely, the growth rate for the purchasing power of the general U.S. population is projected to only be 27.5 percent, according to the same study.
Companies that have consistently devoted more of their advertising budgets to Latino media have seen a sustained revenue growth across a five-year period, according to a report from the Association of Hispanic Advertising Agencies.
Make Your Money Work for You
General Motors, Google, T-Mobile and Kraft Foods are just a few major U.S. companies that have in-house Latino-oriented marketing teams. And with an estimated 32 million Latinos reportedly accessing the internet in 2011, their significance as an online consumer base is equally substantial for the U.S. economy.
Increasing Tax Contributions From Latinos
The median household income for a Latino is $37,759. Fifteen percent of that amount, roughly $5,660, goes back to the U.S. government in the form of tax returns each year.
In 2011 there were 10.7 million Hispanic family households in the United States, and Latinos are expected to account for 40 percent, or 5 million, of the estimated 12 to 14 million new households within the next decade. This places the Latino population at the forefront as a growing U.S. taxpayer base.
A report from the Center for American Progress also stated that unauthorized immigrants — 76 percent of which are Hispanic — paid $11.2 billion in state and local taxes in 2012.
Latinos in the Workforce
As of 2011, there are approximately 23 million Latinos in the American workforce, and in many industries they make up a significant portion of the labor force. According to a report from the U.S. Department of Labor, Latinos make up 24.4 percent of the workforce in construction, 10.9 percent in health and social assistance, and 9.5 percent in education services.
Make Your Money Work for You
The Hispanic workforce also grew by 53 percent from 2000 to 2010, the largest increase for a minority population.
Citizenship Costs for Immigrating Latinos
The Center for American Progress reported that $1.5 trillion would be added to America's cumulative gross domestic product over the next 10 years if a comprehensive immigration reform plan included the legalization of all undocumented immigrants currently living in the United States.
In contrast, it would cost the U.S. government $285 billion to remove the entire undocumented population from the country over a five-year period, including continuing border and interior enforcement efforts.
Meanwhile, $2.6 trillion would disappear from America's cumulative gross domestic product over the next 10 years if all undocumented immigrants were deported. Additionally, it costs the United States approximately $23,482 to apprehend, detain, process and transport one individual for deportation proceedings.
Prominent Latino Business Leaders
From national and community banking to healthcare and automobile services, there are numerous Latino business leaders nationwide who make financial decisions that contribute to the growth of the U.S. economy each day. The following are a few Latino business leaders whose accomplishments span a variety of industries and economic sectors.
Make Your Money Work for You
Priscilla Almodovar: COO, Chase Community Development Banking
As the Chief Operating Officer of community development banking business at JPMorgan Chase & Co., Almodovar focuses on capital markets and complex financial transactions for a wide range of clients, including commercial banks, insurers and investment funds.
Paul Diaz: CEO, Kindred Healthcare
Diaz is the CEO of one of the largest providers of health-care services in the country. Kindred Healthcare has revenues of $6 billion and 76,000 employees in 46 states.
Jose Robles: President and CEO, United Services Automobile Association
As the president and CEO of USAA, Robles oversees a corporate organization that includes USAA's property and casualty insurance group, federal savings bank, life insurance company, investment management company and financial planning services.
Paul Fabara: EVP and Head of Global Credit Administration, American Express
Fabara is responsible for worldwide credit, collections and fraud operations for American Express, a wide-reaching global credit card company.
Gabriel Torres: VP and General Manager of Southeast Region, T-Mobile
Torres is responsible for consumer and small-business sales, along with retention for many southern states.
Revenue Generated From Latino Businesses
The number of Latino-owned businesses increased by 43.7 percent to 2.3 million between 2002 and 2007, according to a report form the U.S. Census Bureau. That's more than twice the rational rate of 18 percent during that same period, and this trend has been regularly sustained for the last decade.
Make Your Money Work for You
The amount of revenue generated from these businesses was $345.2 billion, up 55.5 percent from 2002. According to Forbes, many experts believe the total revenue contribution to the U.S. economy by Latino-owned businesses will increase by 8 percent annually from 2005 to 2015, which is three times the average growth for all businesses.
With numbers like these trending dramatically up, the next decade will see even more growth for Latino businesses, businessmen and the U.S. economy at large.
Photo credit: Wikimedia Commons
Editorial Note: This content is not provided by Chase. Any opinions, analyses, reviews, ratings or recommendations expressed in this article are those of the author alone and have not been reviewed, approved or otherwise endorsed by Chase.