Pelosi's Stimulus Proposal: 4 Numbers To Know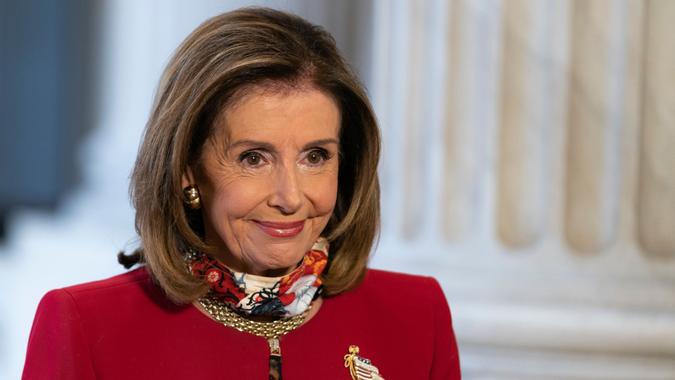 ALEX EDELMAN/EPA-EFE/Shutterstock / ALEX EDELMAN/EPA-EFE/Shutterstock
After a summer of deadlock, there's hope again that Congress will pass another stimulus bill in 2020. Speaker of the House Nancy Pelosi and Treasury Secretary Steven Mnuchin spoke on the phone Monday, renewing negotiations on the critical bill that could offer much-needed relief for the many Americans struggling with the pandemic. Here's a quick look at four essential numbers to know regarding the current talks.
$2.2 trillion — While the original bill passed by House Democrats included $3.4 trillion in funding, Pelosi says she is making good on a promise to find a compromise that would pass the Senate and that President Donald Trump would sign. The haircut means less money going to state and local governments and the Postal Service. However, the new Democratic bill is substantially larger than the one floated by Republicans, so the new number represents a coming together of the Republican and Democratic plans.
$1,200 — Another one-time direct cash payment of $1,200 for (almost) every American is once again on the table. The influx of cash this produces is seen as a way to both support those in the greatest financial need while also juicing the economy with additional spending from those people lucky enough to still be working.
$600 — The extra money in unemployment relief would be coming back in the Democrats' plan. This would help support those hit hardest by the crisis and increase unemployment payouts until January 2021. This includes an extension of the Pandemic Unemployment Assistance Program that specifically targets business owners and the self-employed. The Republican Senate has balked at this in the past, worrying that some workers might make more from unemployment than they would while working.
$225 billion — Funding for schools is a major part of this new bill. That includes $182 million for K-12 schools and just shy of $40 billion for colleges and universities, and it's not contingent on those schools reopening for in-person classes — a previous point of contention. Many schools are currently struggling with reopening as they lack the funding to execute as full and robust a plan as some would prefer.
More From GOBankingRates
Make Your Money Work for You