Lesson Not Learned: Americans Are Hurting the Economy To Prepare For the Next Recession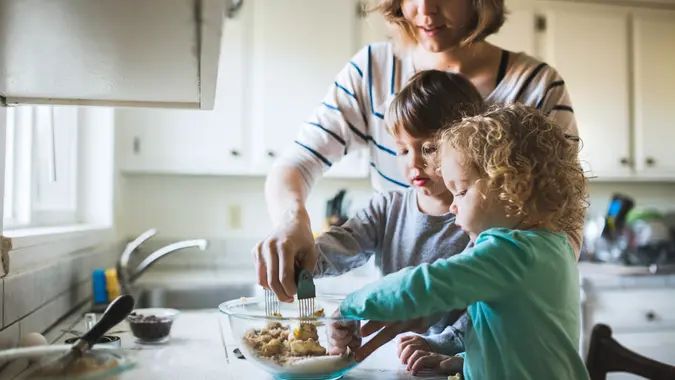 RyanJLane / Getty Images
The economy is experiencing its longest expansion in U.S. history, having recorded more than a decade of consistent growth. But, based on historical patterns, the country's finances fluctuate between flush periods and stretches when ramen trumps ribeye on the menu — and many economic indicators are pointing to leaner times.
According to a GOBankingRates survey of 1,002 American adults ages 25 and older, 44% said those times are coming within the next six to 12 months. Many are already taking steps to protect their financial futures before the next economic downturn, from establishing an emergency fund to avoiding debt altogether. After all, 43% of respondents said they were personally affected by the Great Recession of 2008.
Still, more than half of all respondents said they don't know how to safeguard their finances in a recession. Learn more about "recession-proofing" your money, and get additional tips from financial advisors on how to protect your savings and your portfolio in hard economic times.
Americans Are Cutting Back On Spending To Prepare For a Recession
Many people who were personally impacted by the 2008 recession have already taken steps to prepare themselves for another economic downturn. Close to 47% of these experienced Americans said they've cut back on spending, and nearly 40% said they've avoided accruing additional debt or taking out loans.
Survey question: Have you done any of the following to prepare for a potential recession or economic downturn? Select all that apply.
| | |
| --- | --- |
| Answer Choice | Response Rate (All Americans) |
| I've established multiple streams of income | 9.28% |
| I have an emergency fund | 21.96% |
| I've paid down most of my debt | 26.85% |
| I've avoided taking out loans and taking on more debt | 32.14% |
| I've taken steps to protect my investment portfolio | 9.38% |
| I've cut back on my spending | 36.33% |
| Other | 0.9% |
| None of the above | 37.62% |
Make Your Money Work for You
These were the two most common preparatory practices across all age groups with the exception of millennials, 39% of whom put a premium on establishing an emergency fund. In comparison, nearly 53% of respondents ages 65 and older said they've cut back on spending to prepare for a recession, along with almost 51% of 35- to 44-year-olds.
Among the respondents who weathered the last recession, women also emphasized avoiding debt and trimming spending. More than 49% of females have already reduced their spending compared with just over 44% of males. And, 41% of women said they shy away from adding debt versus 38% of men.
Americans who felt the impact of the Great Recession were even more likely to say that they'll slash spending once an economic downturn actually takes hold, with nearly 58% responding that they'd cut back. Additionally, Gen Xers are the most likely to trim their budgets in a downturn — more than 65% said they're prepared to make spending sacrifices compared with 59% of respondents ages 65 and older, who were the second-most budget-conscious age group. Women were also far more likely to say that they'd stifle spending in a recession, with nearly 61% reporting that they'd ax some spending compared with about 54% of men.
Related: Are You Prepared For the Next Recession?
Why Cutting Spending Is Actually Detrimental to the Economy
Reducing expenditures may boost your personal bank balance, but it tends to have negative effects on the economy, which leans heavily on consumer spending. In fact, consumers drive about 70% of the country's gross domestic product. They kept the economy humming softly in the second quarter of 2019, increasing spending by 4.7% and driving up the national GDP by an annual rate of 2%. However, while some consumers aren't taking their foot off the gas, many other economic indicators point toward a slowdown.
Make Your Money Work for You
Businesses' budgets tightened in the second quarter of 2019 with investment spending declining at an annual rate of 0.6%, a factor that helped slow GDP growth from 3.1% in the first quarter. Companies are also bracing for higher tariffs and further fallout from the U.S. trade war with China and other nations. Tellingly, a majority of economists — 74% — surveyed by the National Association for Business Economics said they anticipate the economy moving into a recession by the end of 2021. In this environment, consumers can't keep the economy going on their own, said Scott Pederson, a financial advisor and founder of Harmony Wealth Management in Crown Point, Indiana.
"Cutting consumer spending would have a definite impact on the economy," Pederson said. "If we start to see a decrease in company earnings that lead to an increase in initial jobless claims and higher unemployment, this will lead to less income and less spending by the consumer, which drives our economy."
Afraid of a Recession?: Get a Job in These 10 Industries
Not Enough Americans Are Taking Steps To Protect Their Investments
Avoiding debt and cutting costs won't help Americans protect their portfolios when the bear market strikes. However, many people don't understand how to safeguard their investments from a recession, and even fewer have taken the necessary steps to do so. Overall, only about 53% of survey respondents who have investments said they know how to "recession-proof" them. And, less than 10% of people polled said they've actually made moves to protect their portfolios. 
Make Your Money Work for You
"The last 10 years have been an incredible stock run. Most people, especially those who were really young in 2008, don't remember what a recession feels like," said Dallen Haws, a financial advisor and founder of Haws Financial Planning in Sierra Vista, Arizona. "But as we know, market corrections are just another part of the economic cycle." 
The best way to navigate the ups and downs of that cycle is to have a diversified portfolio that fits your investment needs. For instance, older investors nearing retirement might start shifting their portfolios toward more conservative asset classes like bonds, whereas younger investors who have decades to ride out a recession might elect to keep more of their cash in the stock market.
"It is important to note that you want your investments to be diversified among many industries and asset classes," Haws said. "This protects you from major disruptions in individual industries. For example, if you were only invested in the real estate market in 2008, you would have lost everything."
Likewise, selling stocks when the economy is already showing signs of a slowdown — or worse, selling after a full-fledged stock market crash — is one of the biggest money mistakes that investors can make, according to Matthew McKee, a financial advisor with the Samalin Group in Chappaqua, New York. And, savvy respondents in GOBankingRates' survey seem to agree. Only about 7% said they'd pull the plug on their stock portfolios if a recession were to hit the U.S. in the near future.
Make Your Money Work for You
"The problem is knowing when the recession will occur, and likewise when it will end," McKee said. "If investors move their savings after the market responds to signs of a recession, it is likely they hurt themselves twice: once by selling when the market is low, and again by missing the rebound. Investors should speak with a professional to understand their risk capacity based upon their personal circumstances, and develop a plan that meets their goals within the context that market fluctuations can and will happen."
Find the Right One: The Best Robo-Advisors
Here's How You Can 'Recession-Proof' Your Finances
GOBankingRates' survey reveals that most people could use some professional advice in the personal finance realm, considering about 58% of those polled said they don't know how to recession-proof their finances. What's more, nearly 52% of respondents who were impacted by the 2008 recession said they still don't understand how to protect their money from an economic downturn. It's dangerous — in more ways than one — to leave your finances vulnerable to a recession.
"Unfortunately, market corrections aren't always just about stock prices dropping," Haws said. "It is usually accompanied by less business activity and higher unemployment rates."
The good news is that you can take certain steps to help prepare for the next recession:
Differentiate yourself in the job market. "

If you have spent the time and energy to acquire knowledge and skills that are valuable in the marketplace, you will become even more valuable in a recession because companies will be desperate for talent that will help them get through the tough times," Haws said.

Establish multiple streams of income. Less than 10% of the respondents in GOBankingRates' survey said they have different sources of income, though about 15% have plans to diversify their paychecks should another big recession strike.
Increase the amount that you put toward savings. Roughly 1 in 5 Americans plan to pad their savings accounts in the event of an economic downturn, and about the same number have emergency savings in place, according to GOBankingRates' survey.
Protect your investment portfolio. Beyond diversifying your investments, you can shop around for the best brokerages to avoid unnecessary fees and other costs.
Make Your Money Work for You
"Right now the economy is flourishing and everyone is spending lots of money. While this is good for the economy as a whole, individuals must remember that it may not always be this good," Haws said. "They need to be getting out of debt and saving for a rainy day. Things always come up, whether that's in the economy or in our personal lives. If someone thinks it is hard to pay off the credit cards and save money now, just wait until a recession hits."
More on Protecting Your Investments
Methodology: GOBankingRates surveyed 1,002 Americans ages 25 and older from across the country between Aug. 14-29, 2019, asking six different questions: (1) Were you personally affected by the Recession of 2008/Great Recession? (2) Do you believe a recession is coming within the next 6-12 months? (3) Do you know how to "recession-proof" your finances? (4) Do you know how to "recession-proof" your investments (stocks, real estate, etc.)? (5) If the U.S. were to experience another big recession in the near future, would you do any of the following? Select all that apply; (6) Have you done any of the following to prepare for a potential recession or economic downturn? Select all that apply. GOBankingRates used Survata's survey platform to conduct the poll.