Why Your Next Purchase Should Be From a Small Business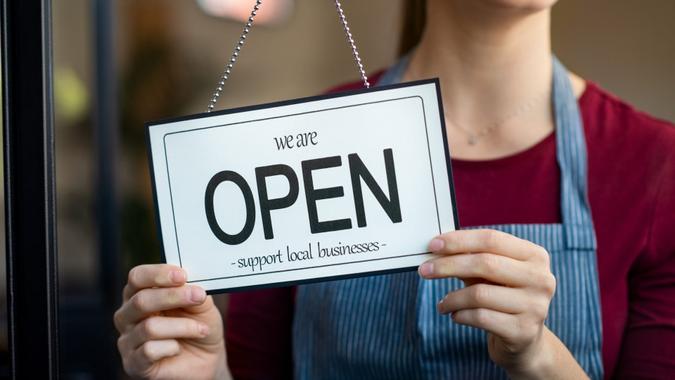 Ridofranz / Getty Images/iStockphoto
Though shopping locally is something many people mean to do,  convenience often wins out in today's busy world. So we end up going to big box stores, or clicking same-day delivery on Amazon.
Generation Z: The Future of Finances
Learn More: Gen Z Has Strong Opinions on Capitalism -- Do Experts Agree?
That convenience is so important that 80 percent of shoppers surveyed want same-day shipping, while 61 percent want their packages even faster–within 1-3 hours of placing an order
The impact of shopping local goes far beyond feeling good about ourselves. It helps enrich the local economy and cut down on global waste. Of course there are instances where you'll have to order something from a corporate seller, but choosing to buy local most of the time can have a massive ripple effect of positivity on the community.
Going Shopping? 11 Things You Should Never Buy New
Money From Purchases Goes Back Into Your City's Pocket
When you buy something from a vendor in your area, you're building a future for the neighborhood. For every $100 you spend at a local business, nearly half goes back into the community and its tax base. Compare that with when you spend $100 at a chain store, less than 15 percent is recirculated. You're not only injecting money into your local economy, you're ensuring that members of your community are employed and that more jobs can be created to keep the people around you working. In fact, 64 percent of new private-sector jobs exist because of small businesses. Plus, local businesses are more likely to donate to local charities, helping to lift up those who need help. Opting to make a purchase at a small business near you versus a big name retailer helps keep the local economy healthy and increases the quality of life for your neighbors. 
Make Your Money Work for You
Small businesses also require less public infrastructure, which means you pay less in taxes for them to exist than a large retailer to set up shop. Infrastructure costs for a local organization come down to a business license and securing a space, but when a corporation comes to a city, there are zoning requirements, city planning discussions and other resources that are soaked up, costing the average American more in taxes to support these businesses. 
Find Out: Explore the Cost of Education in the United States
Follow Along: 31 Days of Living Richer
You're Supporting Sustainability 
Many small businesses obtain their working materials from other local retailers, cutting down on packaging, waste, and shipping. Additionally, when you shop from a local business, you're helping to reduce travel emissions from planes and trains that are involved with bigger stores' shipping practices and creating less of a carbon footprint. This is especially true with local grocery stores, which often sell items grown in the community, giving your next meal a fresher farm-to-table experience than shopping at a corporate grocery store. Buying from a locally-run produce seller also helps keep nearby farmers working. In the past, developers for bigger companies have bought the land and destroyed the plant and wildlife that's thriving there, but keeping farmers in business prevents these types of situations from happening.
Make Your Money Work for You
Check Out: Shopping Mistakes You're Making and How To Stop
You're Coming Away With a Unique Experience
Local businesses offer craftsmanship and care that can't be found anywhere else. If you're looking for a unique gift, you can always find a one-of-a-kind item when you shop locally. In certain stores, you might be able to connect with a local artist directly, and commission an item to make it more personal for the recipient.
A dining experience at a local restaurant may open your eyes up to a new cuisine, with the ability to get insight from the owners and chefs themselves.  Plus, you're buying these items from people who live and work in your community, who are dedicating their lives to their business. This means you won't be dealing with a customer service agent thousands of miles from the store, but with someone who knows and deeply cares about the business and your experience with it. 
These local businesses are also helping to diversify the community as a whole and imbue it with an identity that makes it more attractive not only to its residents, but for visitors as well. The more tourists that are brought in, the more money there is for the city to flourish.
More From GOBankingRates
Make Your Money Work for You
Last updated: Oct. 12, 2021