Reaganomics vs. Bidenomics: Which President Had the Strongest Economy?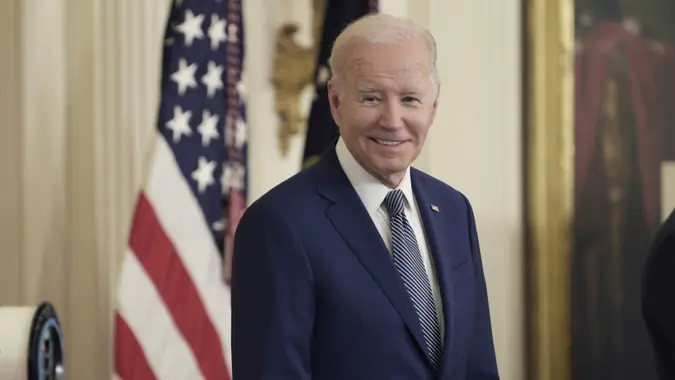 Lenin Nolly/NurPhoto/Shutterstock / Lenin Nolly/NurPhoto/Shutterstock
As President Joe Biden kicks his 2024 re-election campaign into higher gear, one of the messages he'll need to deliver is how his economic policies have improved the lives of Americans. Biden plans to do that on Wednesday, June 28, when he is scheduled to give a speech in Chicago that will address the role "Bidenomics" has played in the economy.
See: States Whose Economies Are Failing vs. States Whose Economies Are Thriving
Find: How To Build Your Savings From Scratch
You can expect the president to tout job growth and low unemployment, ABC News reported, along with an overall theme of growing the economy at the grassroots level.
"Bidenomics is rooted in the simple idea that we need to grow the economy from the middle out and the bottom up — not the top down," two of Biden's senior advisers, Anita Dunn and Mike Donilon, wrote in a Monday memorandum.
The mention of "bottom up" instead of "top down" is likely a direct reference to economic policies adopted under former Republican President Ronald Reagan in the 1980s — and favored by the GOP mainstream ever since.
Reagan pushed a "trickle down" economic agenda designed to benefit businesses through deregulation and tax cuts. The theory was that this would boost corporate profits — and those profits would trickle down to workers and the population at large.
How Has Biden Done on the Economy?
More than two years into Biden's term, it's a good time to look at how the economy has fared on his watch versus how it fared when Reagan was in the White House. There are similarities between the two. Both entered office during periods of economic distress — Reagan during a recessionary period with double-digit inflation, and Biden during the COVID-19 slowdown.
Make Your Money Work for You
Reagan was first elected in 1980, when the U.S. gross domestic product fell 0.3%, according to data from the World Bank. During his first year in office (1981) the GDP grew 2.5%, but during his second year in office the GDP declined 1.8%.
Based on those metrics, the Biden economy has fared better. When Biden was elected in 2020, the GDP was in the midst of a 2.8% retraction, according to Statista. During Biden's first year in office (2021) the GDP rose by 5.9%. It kept growing in 2022, but at a slower rate of 2.1%.
Biden still has about a year-and-a-half left in his current term, and some economists are warning of a possible recession. That didn't happen during the final two years of Reagan's first term — in fact, it was quite the opposite. The U.S. economy grew by 4.6% in 1983 and another 7.2% in 1984.
As previously reported by GOBankingRates, Bidenomics has generally outperformed Reaganomics in terms of GDP growth and unemployment (so far), while Reaganomics holds the edge in terms of inflation and disposable income.
Here's a look at how they stack up:
Ronald Reagan (1981-1989)
GDP growth: 2.1%.
Unemployment rate: 5.4%.
Inflation rate: 4.7%.
Poverty rate: 13.1%.
Real disposable income per capita: $27,080.
Disposable income per capita (adjusted for inflation): $60,887.
Joe Biden (2021-Present)
GDP growth: 2.6%.
Unemployment rate: 3.5%.
Inflation rate: 5%.
Poverty rate: 12.8%.
Real disposable income per capita: $46,682.
Disposable income per capita (adjusted for inflation): $46,557.
One thing you can be sure of moving forward is that Biden's economic policies will have little in common with Reagan's. In a recent column for the Daily Beast, David Rothkopf, CEO of The Rothkopf Group media company, detailed that the Biden administration has already made "bold" moves such as creating a minimum tax for corporations — something the Reagan administration is unlikely to have embraced.
Make Your Money Work for You
Meanwhile, Biden has greatly expanded government investments through the American Rescue Plan, the Bipartisan Infrastructure Bill and the Inflation Reduction Act. Such measures go against the philosophy of Reagan, who famously said during his inauguration speech, "Government is not the solution to our problem — government is the problem."
More From GOBankingRates