5 Reasons We Should Expect an Economic Recession in 2023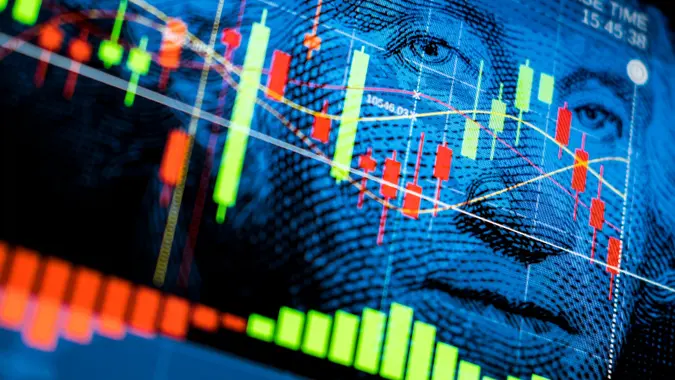 D-Keine / iStock.com
Economists are pointing toward a global economic recession in 2023.
Although some definitions of a recession require two successive quarters of the GDP for a country falling, with unemployment rising to 6% or more, these markers can vary.
Consumer Price Index: Has Inflation Made Dining Out Cheaper Than Groceries?
Take a Look Back: 2022 Year in Review
The Collins English Dictionary has already declared 2022 a "permacrisis," according to an article on the Economist website. The definition is "an extended period of instability and insecurity."
Much of this instability is political, but could have economic ramifications. Experts are pinpointing five reasons we may expect an economic recession to begin in 2023.
1. Soaring Energy Costs
The turmoil in the Ukraine has exacerbated the world energy crisis, increasing fuel costs at the pump and placing further strain on the world's already struggling supply chains.
Make Your Money Work for You
2. Higher Interest Rates
Since mid-2022, economists noted that the Fed's interest rate hikes could spark a recession if not handled carefully. Forbes recently reported that, out of a survey of 54 countries, nearly all are similarly tightening their monetary policy. These changes could lead to even greater impacts, creating a worldwide recession.
3. Rising Food Prices
The interest rate hikes that caused double-digit inflation in the U.S. have especially affected food costs. Meanwhile, increased prices at the pump have led to higher costs to transport food. Since rising energy costs are a worldwide problem, so are rising food costs.
4. Rising Unemployment
For now, U.S. employment figures based on the latest jobs report remain low. But major tech companies have already begun laying off workers. If the trend continues, unemployment could rise, which is another factor that points to a recession.
5. Global Uncertainty and Instability
The Economist pinpointed three "shocks" affecting the world in 2022 and into 2023:
Economic or commodity shock
Geopolitical instability
Energy instability
Of these, global uncertainty could be the biggest driver of a recession in 2023. "Economic decoupling between the world's two biggest economies is becoming a reality; a Chinese invasion of Taiwan is no longer implausible," The Economist wrote. The fragile alliance between the U.S. and Saudi Arabia could also crack under pressure.
Make Your Money Work for You
As the world has largely merged into a closely connected global economy, these factors could have more affect on the U.S. economy than ever before.
See: How High Will Mortgage Rates Get in 2023?
EV Tax Breaks: When You Don't Actually Benefit
However, many experts are asserting that the U.S. recession will be "mild and short." A strong labor market and healthy consumer and business balance sheets could help bolster economic health, according to The Conference Board, a global, non-profit think tank.
More From GOBankingRates
Make Your Money Work for You