Senate Democrats To Vote on Raising Debt Ceiling Today — One Day Before Deadline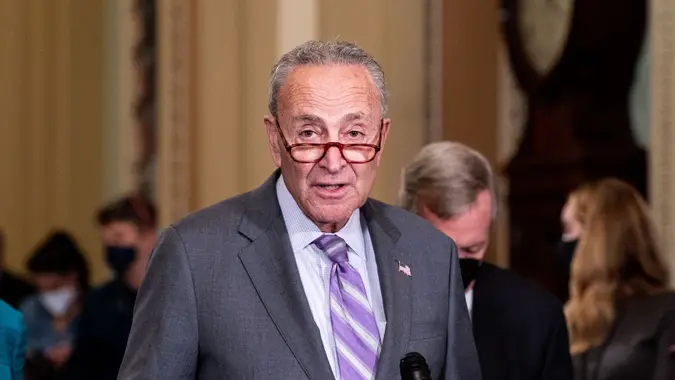 Michael Brochstein/SOPA Images/Shutterstock / Michael Brochstein/SOPA Images/Shutterstock
Senate Democrats are set to pass a vote to raise the debt ceiling on Tuesday, Dec. 14, just one day short of the Dec. 15 deadline. The move is expected to calm a turbulent economy and anxious investors in the U.S. marketplace.
See: Debt Ceiling: Congress, Senate Pitch Plan to Avoid Government Default
Find: Fed Likely To Hike Interest Rates in June 2022 To Combat Spiking Inflation
"Last week Democrats and Republicans came together to pass legislation, setting up a fast-track process for addressing the debt limit," Senate Majority Leader Chuck Schumer said in a floor speech on Dec. 13, according to Barron's. "Today we're going to complete that process."
The legislation being considered by the Senate would raise the debt limit by $2.5 trillion, enough to get the Treasury comfortably past the mid-term elections and into 2023, per Barron's. Should the Senate approve the measure, it heads to the House of Representatives for a final vote before it can be signed into law by President Joe Biden.
"The resolution we will vote on will provide for a raising of the debt limit to a level commensurate with funding necessary to get into 2023," Schumer said of the vote, according to MarketWatch.
Make Your Money Work for You
The debt ceiling's deadline had been extended to Dec. 15 — from Dec. 3 — after Treasury Secretary Janet Yellen gave Congress nearly two additional weeks to come to an agreement last month.
In a letter to Speaker of the House Nancy Pelosi in November — a letter which provided an update on the Treasury's ability to continue to finance the operations of the federal government under the constraints of the debt limit — Yellen revised her debt ceiling estimate, which initially targeted Dec. 3.
Learn: How Much Money Should You Budget for Home Maintenance in 2022, Based on Inflation?
Explore: Consumer Restraint Could Be Saving the U.S. Economy From Inflation
Her revised timeline stemmed from President Joe Biden's signing of the Infrastructure Investment and Jobs Act, "which appropriates $118 billion for the Highway Trust Fund."
More From GOBankingRates
Make Your Money Work for You