Sports Betting in America: Where It's Legal, Where It's Not, and Why It Matters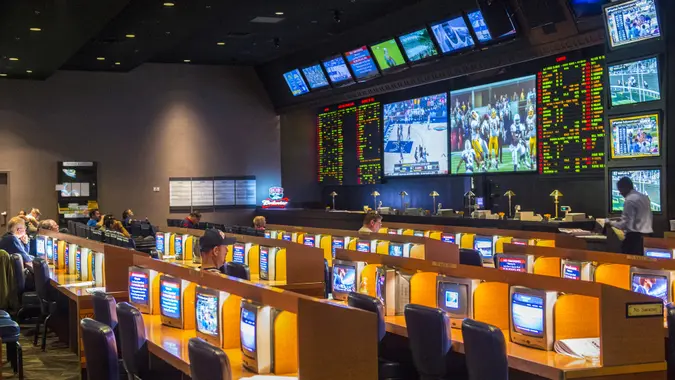 Kobby Dagan / Shutterstock.com
The NFL is already in its post-pandemic glory, with regular-season viewership at its highest since 2015, the conference championship games earning blowout ratings, and some Super Bowl ads selling for a record-smashing $7 million per 30-second spot.
It's not just the NFL and the television networks either. Bookies are raking it in too, because football is a gambler's sport — and America is placing its bets.
See: How Much Do These 30 Star Athletes Pay in Taxes?
Find: Who Are the Richest Quarterbacks in 2022?
According to the American Gaming Association, 31.4 million Americans will wager on the Super Bowl this year — that's an increase of 35% over last year and nearly one-third of the game's usual 100 million viewers. Together, they'll plunk down $7.6 billion in bets, an increase of 78% over last year.
In terms of gambling holidays, the Super Bowl is Christmas and New Year's Eve at the same time, and sports betting in general is quickly becoming America's vice of choice. Let's explore the U.S. sports betting landscape.
Make Your Money Work for You
It's Now Legal in More States Than Not
In 2018, the Supreme Court struck down the Professional and Amateur Sports Protection Act (PASPA), which banned sports betting almost everywhere except for Nevada. Since then, it's been off to the races, with one state after the next making it legal to put a little action on the game — either at a physical sportsbook location or on a sports betting app or site — and opening up huge new tax revenue streams along the way.
Today, around 100 million Americans can bet on their favorite teams where they live, according to Forbes. In fact, more than half the country has already legalized sports betting. The last year has witnessed a frenzy of expansion, with the number of legal states climbing from 19 to 32, plus Washington, D.C., in 12 months.
Related: 25 Things To Know About Gambling on Sports
Legalized Betting Is Winning Over America
Nebraska, Ohio, Wisconsin and Maryland are in the process of launching their own sports betting programs now, according to Forbes, and Florida's program has been tied up in court since it debuted last year. ESPN reports that Louisiana, Oklahoma, Maine and more than a dozen others are proceeding with legislation to allow sports gambling in their own respective states in the near future — most notably, the huge population centers of Texas and California.
Make Your Money Work for You
That leaves only two states where sports betting is not legal and no legislation is pending to change the status quo. Idaho has no public bills pending, but who knows what the future holds. Then there's Utah, America's stickler state, which has resisted all forms of legalized gambling for decades and has anti-gambling language written into its state constitution. So while it's unlikely Utah will be involved in the future of legalized sports betting anytime soon, it might be alone.
In short, it's very likely that America will soon have moved from sports gambling being illegal almost everywhere to being illegal almost nowhere in less than five years.
Learn: How Large Is the Sports Gambling Industry in America?
Some States Prohibit Certain Formats
You can't always place your bets the same way from one place to the next, even where sports betting is legal. According to NJ Advance Media, you can — or will soon be able to — place bets in person at retail locations only in:
Arkansas
Nebraska
New Mexico
North Carolina
South Dakota
Wisconsin
Make Your Money Work for You
In Oklahoma, online betting is illegal but retail and mobile are not. In Tennessee, online and mobile betting are legal but retail betting is not. The rest of the states where betting is legal all allow retail, mobile and online betting.
Read Next: Pro Athletes Who Have Lost Millions of Dollars
Some States Have Tribal Stipulations 
A handful of states allow legalized sports betting, but only at select tribal casinos. They are (or will be):
New Mexico
North Carolina
Oklahoma
Washington
Wisconsin
Also, many states prohibit gambling on in-state college athletics.
The Economic Impact of Legalized Sports Gambling
The most recent addition to the sports-betting revolution is New York state, which launched a mobile betting service in early January. Residents of the Empire State placed a record $603.1 million in wagers in the first two weeks alone, and it's expected to top $1 billion in the first month, according to Front Office Sports.
Millions of dollars that almost certainly would have wound up in the pockets of criminal bookies will now be in New York's public coffers as new tax revenue.
Most states tax sports betting at a rate of between 5% and 20%, according to the National Conference of State Legislatures (NCSL), but some, like Pennsylvania, take as much as one-third. States try to get as much tax revenue as possible without raising rates so high that it drives gamblers back to the black market. States also make millions off of licensing fees.
Check Out: What is Tom Brady's Net Worth?
On the Opposite Side of Revenue is Gambling Addiction
Just as with drugs, prostitution and every other vice, the argument in favor of legalizing sports betting centers on tax revenue and the reduction of black-market demand. The revenue numbers speak for themselves and there are certainly compelling arguments for revisiting the legal status of vices, in general — but none of that matters to someone who has ever had a gambling addict in their household.
Organizations that advocate for problem gamblers, like Ohio For Responsible Gambling, are understandably worried that the nationwide scramble to legalize sports betting could create a new generation of gambling addicts. Even before cell phones, gamblers could always call their bookies. But modern mobile and online sports betting is addictively gamified, and it offers one-click, palm-of-hand, linked-credit-card ease that increases both temptation and access — and it's never farther away than your pocket.
Whether America's rebirth as Sportsbook Nation will lead to an increase in gambling addiction is yet to be seen, but many states are building the possibility into their budgets. Ohio law, for example, requires 2% of casino tax revenue to be distributed to organizations and programs that treat or prevent gambling addiction.
More From GOBankingRates
Make Your Money Work for You