What Summer 2021 Could Look Like for Industries Hurt by the Pandemic, According to Experts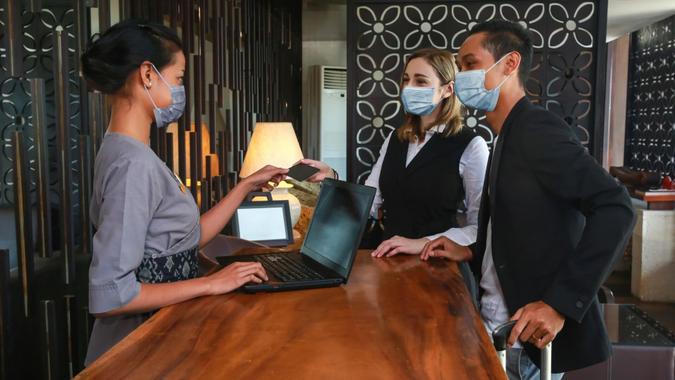 Space_Cat / iStock.com
2020 was a year that the travel, tourism and hospitality industries will never forget — as many of these businesses barely survived it (and some did not). Public health mandates and lockdowns devastated airlines, hotels, entertainment venues and restaurants, to name a few, bringing about a recession worse than any the U.S. has seen since the late 1940s.
Read: 25 Companies Laying Off the Most People Thanks to Coronavirus
An analysis by Tourism Economics revealed that by the end of 2020, travel spending in the U.S. experienced a 42% annual decline from 2019. While travel spending has increased since then, from its low point of $17 billion in April 2020, to a high of $62 billion by August 2020, travel spending is still clawing its way back to pre-pandemic levels in 2021 and probably won't meet those levels until 2022 and beyond.
A Slow Rebound
Things looked bleak until recently, according to internationally recognized hotelier Robert A. Rauch, a certified hotel administrator and CEO/founder of RAR Hospitality in San Diego, California. "I think people are going to travel very heavily for the next six months," he said. "A long summer of pent-up family, friends and get-the-hell-out-of-Dodge travel."
Indeed, according to the team at Khoros, a customer engagement software company that analyzes trends, with the increase in vaccines, and the Centers for Disease Control and Prevention's updated guidelines allowing for vaccinated people to gather together, "people are hungry to get out of their bubbles."
Make Your Money Work for You
See: What's Next for Disney and Other Big Companies in 2021
Airlines
Airlines will be the biggest beneficiaries of this travel bug, Rauch said, and they are already increasing their number of domestic flights as more and more consumers receive vaccines and the confidence to travel, though they still have serious financial holes to come back from. According to the International Air Transport Association (IATA), revenue losses for airlines in North America for the first quarter of 2021 are better than predicted, with only $5 billion loss versus an $11 billion forecast.
According to Tripadvisor, 47% of travelers not only plan to travel but plan to do so internationally in 2021. And 77% of respondents said they are more likely to travel once they're vaccinated.
Check Out: The Best and Worst Airlines for Cheap Flights
Restaurants
Restaurants have been among the hardest hit of all industries since many relied upon in-person dining and alcohol sales for revenue. As of February 2021, seated diners in U.S. restaurants were down by 48.45% from the year before, according to Statista.
Make Your Money Work for You
However, increased travel means restaurants are starting to pick up since locals tend to eat out most often on weekends, but travelers will eat out during the week, Rauch said.
According to Khoros, restaurants that have adapted to COVID-19 restrictions, including such things as outdoor dining and QR code menus, will have the best chance for success into the future, even as indoor dining becomes more possible.
More: 18 Restaurant Chains That Have Filed for Bankruptcy
Hotels
Hotels, in general, are typically prepared for a recession, but COVID-19 blindsided them, Rauch said. "We are always prepared for a 30% correction in a recession. Covid brought us down close to 80%," he said.
They could not pay their mortgage and had to furlough all but a skeleton crew of employees.
The only thing that saved hotels and many businesses in the travel and tourism industry were debt relief, PPP loans, cutting operating expenses and trying to raise more equity from their partners. "Without the help of PPP loans, we wouldn't have been able to stay in business," Rauch said.
Make Your Money Work for You
Related: What Are US Hotels Doing Now To Ensure Guests Can Book With Peace of Mind?
Hotel occupancy levels are bouncing back, too, Rauch said, though he added, "Hotels across the board will not benefit, but those that are in the right places, such as resorts, suburban properties and those who know how to promote to the leisure market." Big downtown convention-center style hotels will probably continue to struggle for another year or so, he said.
And, while overall hotel occupancy is up, rates are still down, Rauch said. Pre-pandemic, in 2019, room rates that averaged $200 a night are still only at about $150 per night, a significant loss of revenue.
In a post-COVID-19 world, consumers can expect changes in how they check-in, check-out and interact with hotel staff. According to a survey by Hotel News, 80% of consumers interviewed reported a willingness to download a virtual check-in app for their hotels. Sixty percent of consumers would prefer this virtual check-in and check-out process.
See: COVID-Safe Travel Plans To Make Now To Save Money
Other Venues
The places that will be slow to rebound include amusement parks and museums. Rauch, who is on a local tourism authority board in San Diego, said that these venues, such as Disneyland, Sea World, Legoland, etc., have taken an even bigger hit because, unlike hotels, they had to close completely and people are concerned about being in environments with large groups of other people.
However, overall Rauch believes that the tourism industry will be mostly recovered by 2022, though some of the convention-style hotels and international travel, may take longer. "I'm elated, it's truly exciting now," he said.
More From GOBankingRates
Last updated: April 29, 2021