When To File Recertification So You Don't Lose Your SNAP Benefits in 2023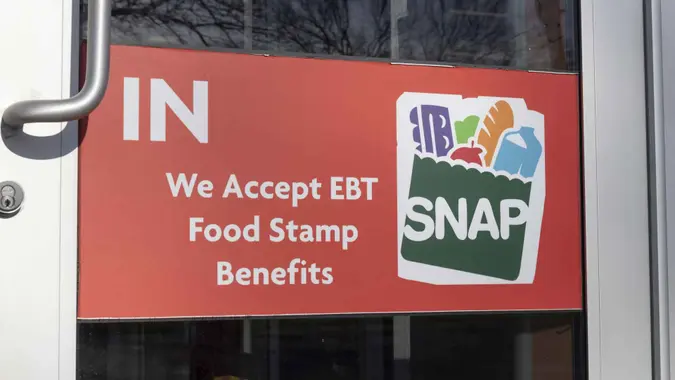 jetcityimage / Getty Images
If you apply and qualify for the Supplemental Nutrition Assistance Program, or SNAP, your benefits don't last forever. As the benefit program is meant to aid those in the most dire need, you'll have to continually recertify your financial standing in order to remain part of the program. Combined with the expiration of pandemic-era enhancements, it's more important than ever to stay up-to-date on SNAP recertification regulations so that you don't lose any more benefits. Here's when you have to file for recertification so that you maintain your SNAP benefits in 2023.
What Is Recertification?
Recertification is simply a process that verifies that you're still eligible for SNAP benefits. As the requirements for the program change from time to time — and your own personal financial situation can also change — each state requires regular recertification. 
As each individual state manages its own SNAP program, specifics for recertification can vary from state to state. In California, for example, participants in the CalFresh program generally have eligibility for 12 months. However, some households may be certified for 24 or even 36 months. An interview — which can often be conducted over the phone — is required for recertification.
Make Your Money Work for You
In New York, on the other hand, certification periods run for either six or 12 months. Interviews are not mandatory, although in some cases they may be required.
When Do You Have To Recertify Your SNAP Eligibility?
To recertify your SNAP eligibility, you have to get in your renewal paperwork before the end of your current certification period. In some states, like New York, you'll have to either mail or fax your application or turn it in in person at your local SNAP office. Other states, like California, add the option of submitting your recertification application online, although you can also drop it off at a local office, mail it or fax it in. Once you've turned in your application, the relevant authority will get back to you regarding whether or not your recertification was approved.
What Happens If You Don't Submit Your Paperwork on Time?
As you might expect, if you don't get your paperwork in on time, you'll likely lose your SNAP benefits. In that case, you'll likely have to reapply to the program using the full application, rather than the abbreviated recertification paperwork. 
Some states may offer some leniency. In California, for example, you can continue to file the recertification paperwork within 30 days of when your certification period expires. However, your benefits are likely to be interrupted in the interim.
Make Your Money Work for You
What Are SNAP Benefit Levels for 2023?
SNAP payments can provide a significant boost to families in need. Just like the income requirements for qualification can change from year to year, so too can the benefit amounts, as they are tied to inflation. Here are the SNAP benefit levels for 2023, based on household size:
One-person: $281
Two-person: $516
Three-person: $740
Four-person: $939
Five-person: $1,116
Six-person: $1,339
Seven-person: $1,480
Eight-person: $1,691
Each additional person: $211
Note that each individual state may have additional assistance programs for lower-income households. Certain individuals may also qualify for the federal Special Supplemental Nutrition Program for Women, Infants, and Children, or WIC, which provides referrals to healthcare, information on healthy eating and nutritious foods to eligible recipients. The WIC program can be combined with SNAP benefits for those who qualify.
The Bottom Line
Recertification requires a bit of extra legwork, but it's a necessary part of the SNAP program. Rather than simply paying out benefits to those who no longer need them, based on the standards of the U.S. government, the recertification process validates that a need still exists and helps maintain the integrity of the program. If your financial situation isn't improving, recertification should be nothing to worry about, as you'll likely be approved for benefits just as you were before. But you should be aware that SNAP qualification is not just a "one-and-done" situation. You'll have to pay attention to the expiration of your SNAP certification period to ensure that you don't miss out on any benefits to which you're entitled. 
Make Your Money Work for You
More From GOBankingRates